By AsiaToday reporter Jina Koh -"Millennials are unprecedented." As former MySpace CEO Mike Jones said, it's hard to define the millennials.
Whether you love them or not, you can't ignore them. As things are little tougher for millennials than their Baby Boomer parents, they are often described as lazy and self-centered generation that desires reward with minimal effort, and has unrealistic expectation of working life. However, they have experienced more innovative and evolving technology than ever before, giving them unique and distinctive characteristics.
And they create a new economy, media, and lifestyle.
'Lazy narcissists.' Millennials are the creators of this age.
- Social networking service and power bloggers
Social media-based services such as Facebook and Instagram have become megatrends in the millennial generation. A social networking service (SNS), where you can share your lifestyle with others and communicate with each other in real time, is a must-have personal item in the 21st century.
A recent study conducted by Kantar TNS surveying the online behaviors of 70,000 people across 57 countries revealed that the use of Instagram and Snapchat rose to 42% and 23% respectively, up from 24% and 12% in 2014. The Asia-Pacific region is led by Naver's LINE with global usage jumping to 91% in Taiwan, 92% in Thailand, and 31% in Japan.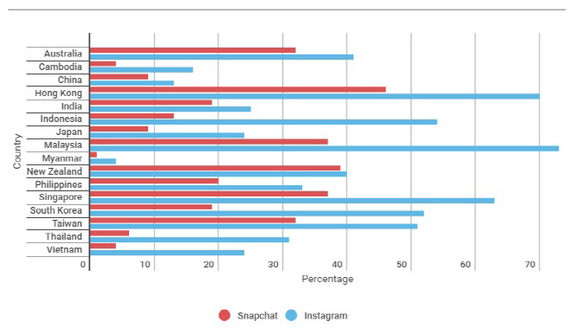 [Snapchat and Instagram penetration in Asia Pacific / Source: Kantar TNS]

[Snapchat and Instagram penetration in Asia Pacific from 2014 to 2016/ Source: Kantar TNS]
Along with LINE, KakaoTalk and WeChat focused on expanding to Asian countries, creating a rival tension with WhatsApp and Facebook messengers. They lead the market in a variety of ways that connect with consumers through a platform strategy that delivers content and services beyond mere functions.
The social networks that millennials use have higher growth rate than conventional industry-based companies. They expand business and receive investment based on an enormous number of users across the continent. Their user data is the most important growth engine for them.
As a result, power bloggers, who run their own blog or social media accounts, have emerged and their role has expanded. China's "Wang Hong" marketing is now widely used in many other countries.
Wang Hong refers to online power users who have a lot of fans, and they have recently become stars of China's e-commerce industry as the products used and recommended by Wang Hong create a strong advertising effect, leading greater sales. Not only they promote and sell products, but also get involved in launching a new product. They also get profit from their fans.
Due to a number of geopolitical shocks, the number of global initial public offering (IPO) in 2016 fell 16% year-over-year to 1,055 and capital raised down by 33% to US$132.5 billion. 2016 was the weakest IPO year since 2013. However, there have been 185 IPOs in the technology sector, leading to unprecedented growth. In particular, Asia-Pacific region continued their busy activity with 638 IPOs, which accounts for 60% of total global IPOs by volume. The explosive use by millennials, who have become the mainstream of the media, also let social media go public.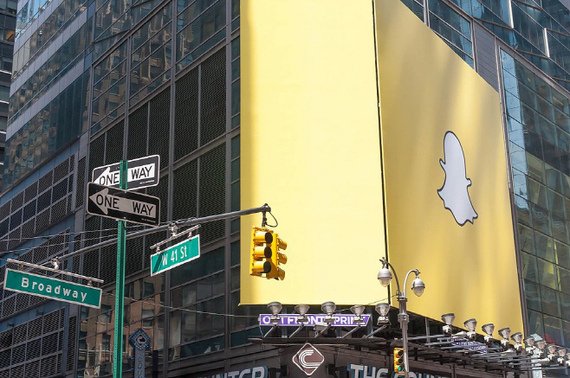 [The logo of Snapchat displayed above Times Square in New York./ Source: Wikimedia]
Snapchat, one of the most popular mobile video messaging and social media apps on the market, is inching closer to an initial public offering. If Snapchat goes public, it would be valued between about $20 billion and $30 billion, making it the biggest US tech IPO since Facebook's public debut in 2012.
Naver's LINE, which boasts 218 million global monthly users, made a successful IPO debut on July 15 in New York and Tokyo. On the first day in Tokyo, LINE closed at 4,345 yen, 32% above the initial public offering price. The market capitalization reached 921.4 billion yen. The IPO raised 1.5 trillion won, making it the year's biggest tech IPO. LINE's users are mainly in Japan, Taiwan, Thailand and Indonesia.
China's popular selfie app Meitu chose the Hong Kong stock market. The IPO raised $629 million, the biggest by a technology company in Hong Kong since Alibaba. The company now has a valuation of $4.6 billion.
- A new renaissance for startups
The ever-evolving information technology (IT) becomes the driving force of all the economies that millennials create. "Asian startups are going through a renaissance," said Vishal Harnal, 500 Startup partner.
China and India are one of the biggest tech start-up hotspots in the world. The number of new startups coming out of China's Silicon Valley rose to 2.61 million in the first half of 2016, a 28.6% jump from 2015.
India has more than 4,200 start-ups. The number of start-ups in India is expected to triple to 12,000 by 2020. Startup funding totaled about $6.5 billion in 2015, tripling from $2.2 billion in the previous year.
Southeast Asia is a new frontier in the digital economy. Its digital economy is expected to reach $200 by 2023, making it a popular investment spot for foreign venture capitalists. 500 Startup expanded its Southeast Asia start-up investment by launching the '500 Durian II' fund in 2015.
The Middle East is keeping up as well. Saudi Arabia showed its Silicon Desert ambition as it prepares itself for the end of oil. Back in October, Saudi Arabia's sovereign wealth fund announced its plans to team up with Japanese IT and telecommunications giant SoftBank to launch a new tech fund, dubbed the SoftBank Vision Fund, that will manage as much as $100 billion.
Millennials, who are poorer than their parents, are building a new money economy by taking advantage of social commerce benefited by technology.
Mobile payments are growing fast as they provide cheaper price than offline market, fast delivery and spread of smartphones, gearing towards a cashless society. Millennials don't have to deal with notes and coins thanks to mobile cards. They also get payment points that provide special benefits. The function of real cash has virtually disappeared.
As a result, Southeast Asia rather than East Asia, which underwent traditional web-based e-commerce economy, is emerging as an attractive market as it is introducing social commerce economy.

[Retail e-commerce sales in select countries in Southeast Asia, 2016 (unit: billions dollar). Source: eMarketer (left) / Bitcoin. Source: Pixabay (right)]
According to market researcher eMarketer, social commerce in Southeast Asia accounts for 30% of total digital sales. In particular, total social commerce sales for six markets in the region - Indonesia, Thailand, Singapore, Malaysia, Vietnam and the Philippines - reached $14 billion last year. It is expected to show double-digit growth over the next four years.
- Virtual currency Bitcoin
Virtual currency Bitcoin is a major achievement of the new money economy. With the trading being reached around $11.7 billion in value, Bitcoin is in the center of the new money economy.
According to the Nihon Keizai Shimbun, the November trading volume reached 174.1 million bitcoins, the highest level ever, surpassing the 148.6 million bitcoins of the March trading volume. The transaction value was about 15 trillion yen.
China is a major bitcoin trading country, with the major three bitcoin exchanges representing some 90% of the global trading volume. Bitcoins with new technologies are coming out one after another. South Korea will see its first virtual currency based on blockchain system by February. The new digital currency called BOScoin, which, it claims, is an improved version of existing virtual currencies such as Bitcoin and Ethereum.
The birth of 'sharing economy' eventually began with poverty. The term, which refers to short-term labor in the digital market, emerged globally due to its advantage of earning income in a short period of time for millennials who suffer from lack of full-time jobs, creating a new concept.
The fruition came from start-ups. The success of Uber and Airbnb sparked new markets such as office-sharing, store-sharing, and house-sharing markets emerged. Now the sharing economy has generated heated controversy as it can lead to more precarious jobs and induce unfair competition.
However, it is in the growth phase. China's Didi Chuxing that defeated Uber in China, and the birth of second Uber such as Grab, Ola, and Go-Jek is still ongoing. And they evolve and adapt to local conditions.
The Philippines, which is made up of thousands of archipelagos, has a local player named Xend that relies on motorcycles and boats. Indonesia has Go-Jek that rearranged the logistics industry. India's Grab provides customized service with cash payments.

[Uber and Airbnb/ Source: Wikipedia]
And there is trust. The key of the sharing economy is putting your trust in complete strangers. The intangible trust built on digital platform has become a brand itself and new economy. In the end, they've been communicating with us through Facebook, Instagram, Twitter and other types of social media.
You buy things through e-commerce websites, and communicate on Facebook. You use Uber to take a ride and book a place on Airbnb. The digital platform is a commerce society that creates intangible money to share with others. Trust in strangers itself has become a value chain.
Popular in the Community