Schools for Sustainability, Inc. Completes an Aquaponic Unit and Over 40 Community Surveys with Arcadia University Volunteers.
Co-authored by Jacquelyn Crutchley, Chief Operating Officer of Schools for Sustainability Inc.
Ever imagine following your heart by taking that trip to Perugia, joining AmeriCorps or starting that small business that you have been day dreaming about? Two years ago the founders, Alyssa Ramos Reynoso (CEO) and Jacquelyn Nicole Crutchley (COO), of Schools for Sustainability, Inc. shared a dream of tackling poverty and caring for the environment through education. Together they took the risk of following their hearts and now it is paying off in a big way!
Schools for Sustainability, Inc. (S4S) partnered with Arcadia University in March 2015. S4S took a group of 15 first year and transfer Arcadia University students to the Dominican Republic. The class was led by two service-minded Arcadia Professors, Dr. Erica Davila and Dr. Rochelle Peterson.
In the Dominican Republic, the group spent four days building an aquaponic unit and conducting a Community Survey in Monte Plata.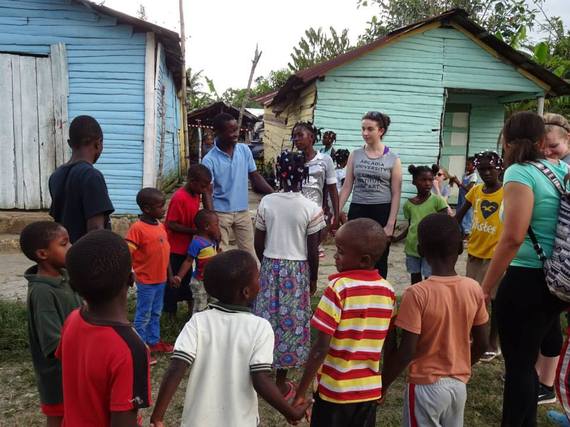 Schools for Sustainability, Inc. believes that impoverished communities know the solution to their own problems best, but are often unable to attain the proper resources. It is only natural that one of their first initiative was a community survey. S4S and Arcadia University students interviewed over 40 residents of Sabana Grande de Boya in Monte Plata concerning their views on education, home life, challenges and family. They learned that some of the community's major needs are access to clean drinking water, jobs, and education.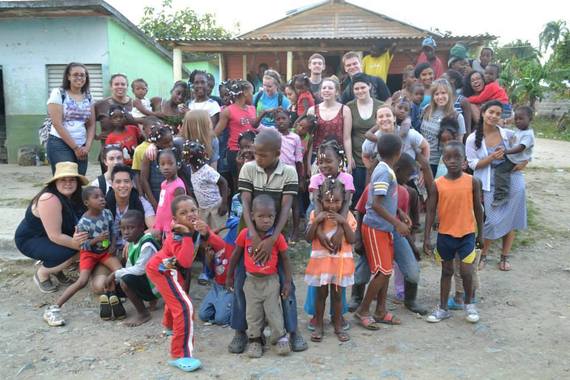 (Schools for Sustainability, Inc. members and Arcadia University Student Volunteers with the local kids in the Sabana Grande de Boya community.)
Schools for Sustainability, Inc. and it's volunteers were met by kids running energetically alongside their van. The community leaders and members sat on crates, while offering S4S volunteers plastic chairs to sit on comfortably during the interviews. They asked well thought out questions and shared their hopes for the future school.
"I only have wonderful memories from the time I spent in the Dominican Republic. I left a piece of my heart there. I think about the people we met and the stories they told us. I think about the landscape, especially the night sky. I'd never seen so many stars in my whole life." -María Ignacia Garate. (Arcadia University student that attended Schools for Sustainability, Inc. preview trip)
Maria says, "Besides all of the things that made my trip wonderful, I shared a friendship with a girl named "Gisele, who I don't think I'll ever forget. I miss her laugh, her jokes, and her never ceasing love and joy."
Another group of students worked with, Christian Brown, an aquaponic expert, and Drexel University alum, to build an aquaponics unit.
In class, the students learned about aquaponics in preparation of their service trip. Not only did they break ground with S4S by building the system, they became pioneers for sustainable education in the Dominican Republic by doing so. Their research led to the design and construction of a functional aquaponic unit that is being looked after by Jose, the manager of the land granted to Schools for Sustainability, Inc.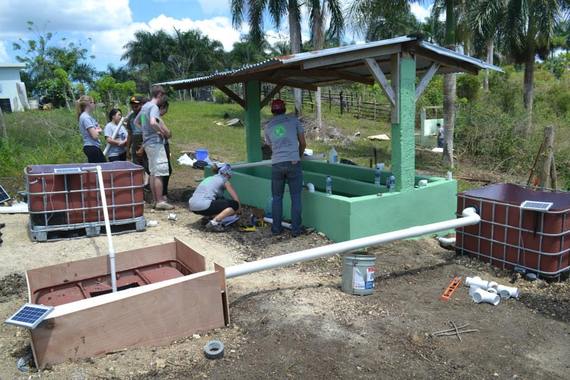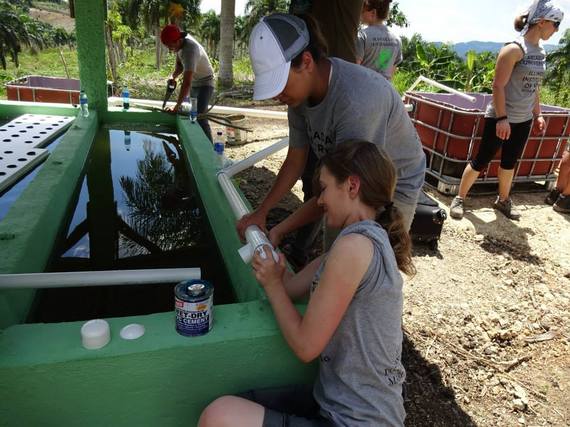 (Arcadia University students working on the aquaponic unit.)
Erin Jennifer's first time abroad was on this trip with Schools for Sustainability, Inc. "Two months ago, I embarked on a trip that changed my life forever. I am so inspired by this place and these people. They showed me how to embrace what I have, live with a grateful heart, love my family, and to make the best of whatever comes my way. I couldn't be more grateful for this experience, as it was something I will never forget, and I can't wait to be back again."
Check out more pictures on our website.
Schools for Sustainability, Inc. would like to thank Arcadia University, Dr. Erica Davila, Dr. Rochelle Peterson, Jody Luna, Christian Brown, the aquaponics and design volunteers, the Community Survey team, and the S4S Tour Operator Isabel Voigt who made the trip an amazing and unforgettable experience!
This article was co-authored by COO Jacquelyn Crutchley. She is a graduate of Arcadia University, having majored in sociology, anthropology and Spanish. She interned in Guatemala and Mexico, doing medical translation and serving as an ombudsman between patients and staff. There she also taught English to students between 4 and 65 years of age. She participated in the 2012 Y20 youth conference, focusing on global food security, and was selected to represent Arcadia University for the Who's Who in American Universities and Colleges in 2013.
REAL LIFE. REAL NEWS. REAL VOICES.
Help us tell more of the stories that matter from voices that too often remain unheard.