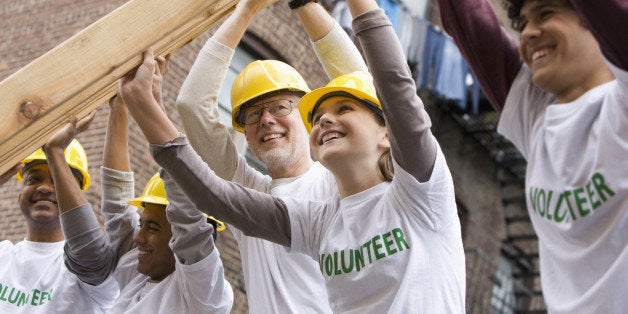 The Case Foundation and Achieve recently published a study that supports the idea that many of us in the volunteer industry have thought all along: giving back to meaningful causes is important to millennials.
Nearly half of millennials (47 percent) have volunteered through their workplace during the past month, and even more than 50 percent reported that the charitable causes companies support are an influence when deciding where to work. This is not only a great discovery for the nonprofit community, but also for corporations who sought guidance on attracting and retaining the millennial workforce.
Many corporations have already put these findings into practice. At this year's Points of Light National Conference on Volunteering and Service, I sat in a room full of executives from companies including Hasbro, Virgin United, Warby Parker, Timberland, IBM and many more who all pledged their commitment to employee engagement in community service through staff volunteer programs. However, there are still companies that want to start their own programs for their employees, but don't know how to do so.
During my eight years working in volunteer management, I have partnered with a variety of companies, including American Express, Bank of America, Deloitte, Diesel, and Simon & Schuster. These partnerships were successful because we created events that benefited both the nonprofit organization and its corporate partner. In order to have a tailored experience that resonates with millennials, corporations should take the following five steps:
1) Contact the nonprofit early. This gives them time to offer you their best choice of activity and to coordinate logistics. If you are looking to volunteer around the holidays, reach out no later than end of October.
2) Be open to non-traditional volunteer experiences. Nonprofits are utilizing volunteers in innovative and strategic ways to help move their missions forward -- not just painting or gardening. These include assisting with communitywide outreach for the non-profit's programs and conducting follow up surveys to measure the effectiveness of the nonprofit's services.
3) Offer funding to support the program, please. Many nonprofits could not survive without the help of volunteers, but volunteers are not free to the agency. You don't necessarily need to offer up large sums of money, but money for supplies and possible staff time could open up additional opportunities for your work force.
4) Keep your pledge to the nonprofit. If you registered 10 volunteers, do your best to provide 10 volunteers.
5) Engage with your employees. In order to keep your commitment to the nonprofit, engage employees so that they know the volunteer program exists. Encourage supervisors and senior staff to sign up for opportunities and to do the same for their staff. Don't rely on e-mails alone; make announcements in meetings, and ask your CEO to do so, too. Getting the word out in your office not only helps you delver on promise to the nonprofit, but also helps build strong staff engagement.
My advice: treat corporate volunteerism as you would any other business process. Make sure that the volunteering is good for all parties to ensure a long lasting relationship with both the nonprofit and your own employees.