Despite signs of continued housing market distress, most homeowners and perspective buyers are optimistic about the housing market, according to a survey by real estate website Trulia. (Scroll down for a graphic.)
In the biannual American Dream Survey, 78 percent of homeowners said their property was the best investment they had ever made. But 20 percent said they felt trapped in a home that was worth more than their mortgage, and 14 percent told surveyors that they would walk away from their homes if they could.
The people least likely to be affected by the housing crisis, 18 to 34-year-olds referred to as 'millennials,' were most optimistic about a recovery. According to Trulia, 26 percent had become more positive about owning a home over the past six months compared to 18 percent of 35 to 44 year-olds and 45 to 54 year-olds, and 22 percent of baby boomers.
"The American nightmare is over, I truly believe the worst is behind us" said Trulia CEO Pete Flint during a conference call. "But in 2011, foreclosures will continue to be a roadblock in the road to recovery," said Flint, adding that he expected the market to "bounce along the bottom" for another 12 to 18 months.
Millennials were also more likely to aspire to own homes, with 88 percent of the 18 to 34-year-olds surveyed saying they planned to buy property. Flint argued that this demographic would be key to reviving the real estate market.
The South and West regions were filled with the most prospective homebuyers, with 79 percent of renters in the South and 70 percent of renters in the West planning to buy homes, a possible boost for the regions hardest-hit in the housing crisis.
But, mortgage lending was the tightest it has been in recent times. "Credit is a key driver in whether people can afford to buy homes," said real estate appraiser Jonathan Miller during the same conference call. And with more than 90 percent of mortgages floating through government sponsored enterprises like Fannie Mae and Freddie Mac, an eagerly awaited announcement about mortgage market reforms will be key to defining the shape of a recovery, he added.
The responses are from an online survey of over 1,300 homeowners and around 700 renters taken between the January 20 and January 24 on behalf of Trulia.com.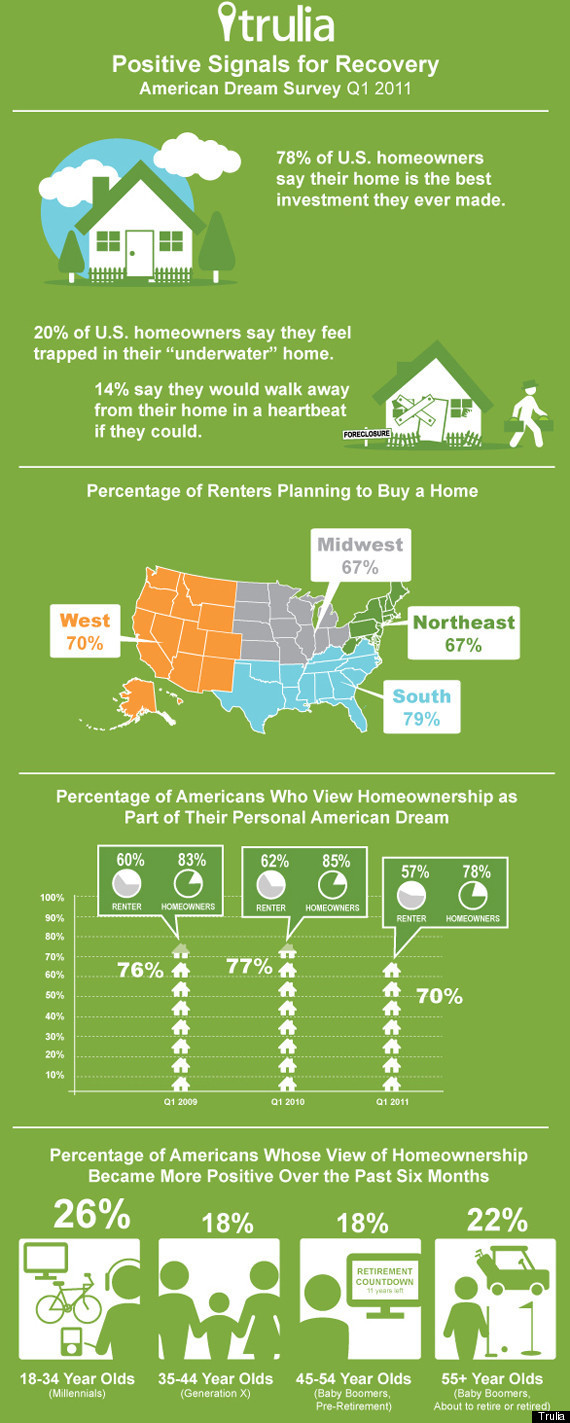 Calling all HuffPost superfans!
Sign up for membership to become a founding member and help shape HuffPost's next chapter