By Tania Karas ATHENS, Greece -- With the clock ticking until Greece's critical Sunday referendum, 28-year-old Barbara Georganta found herself in Syntagma Square on Friday afternoon, shouting at a man telling passers-by to vote in favor of creditors' demands.
"This is a shame for Greece," she cried, pointing to his "Vote Yes" flyers as a crowd gathered to listen. "Greece must say 'no!'"
Like so many other Millennials, Georganta feels her life has been stalled by Greece's seven-year financial crisis. She views Sunday's referendum as a chance to challenge the institutions controlling the terms of Greek debt relief -- or, as she put it, "to take our fate into our own hands."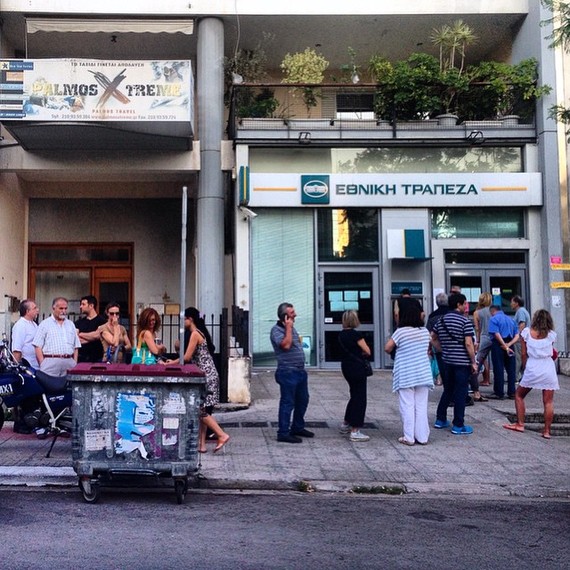 A line is 20 people long outside a bank in Athens. Capital controls and bank closures mean citizens can only withdraw 60 euros per day. Photo by Tania Karas.
Greek voters are sharply divided. Opinion polls published Friday showed a nearly even yes-no split. Younger people, however, are far more in favor of "no:" 71 percent of those between ages 18 to 24 support "no," along with 59 percent of those aged 25 to 34, according to polling firm Public Issue.
The poll also showed widespread confusion over whether the referendum is about Greece leaving the Eurozone. Greek Prime Minister Alexis Tsipras, who campaigned on a promise to end austerity, has insisted the vote is only about rejecting creditors' bailout terms.
Georganta said she thinks voting "no" will force the rest of Europe to respect the Greek peoples' mandate in electing Tsipras' radical left-wing Syriza party in January.
"Our future is unsure," said Georganta, who can't afford to move out of her parents' home despite the long hours she works as a hotel receptionist. "Everyone I know is taking antidepressant pills. I will vote no, for dignity and democracy."
Others in her generation, however, are just as passionate that voting "no" would be reckless and devastating for the country's economy.
Philipp Brinkmann, the 34-year-old founder of Greek online travel agency TravelPlanet24, said his business has suffered due to capital controls -- the restrictions Greece has placed on the flow of money. Banks have been closed this week, and citizens can withdraw just 60 euros per day from ATMs. In addition, with bank transfers banned, many Greek companies are unable to pay their suppliers.
"Those who want 'no' are tired of the program from the last six years and think we just need to try something else," Brinkmann said. "What we need to understand is that it can get worse."
Dimitris Koutsolioutsos, the 30-year-old founder of Farmers Republic, a startup that brings together customers and Greek farmers, said the economic and political turbulence that comes with a "no" vote would force fledging businesses out of the country.
"We have two choices: one bad, and one really chaotic," he said. "So we should choose bad. For me and my business, 'no' comes with no future. We'll have no option but to move abroad."
He also called the referendum a "fraud," because citizens are being asked to vote on a deal that is no longer on the table.
"The government created polarization in their own people," Koutsolioutsos added.
Society's deep divide is evident in the posters and graffiti around Athens this week. Giant blown-up photos of German Finance Minister Wolfgang Schäuble declare: "For five years he's been sucking your blood. Tell him NO now." But just as many posters read: "Yes to Europe. Yes to Greece."
This tiny nation of 11 million was hit harder by the financial crisis than any other country in Europe. More than 26 percent of its workforce is out of work. Youth unemployment is more than 50 percent.
Twenty-four-year-old Apostolia Gkika, who is unemployed and finished her master's degree last year, said she will cast her "no" vote in favor of "dignity and solidarity."
"I will fight for that," she said, adding that austerity created poverty in Greece and other European nations that suffered during the crisis. "We are part of a wave that is trying to change Europe. It will catch on in Spain and Portugal and other countries."
George Hampsas, a 22-year-old mechanical engineering student at the National Technical University of Athens, said his vote of "no" will be a vote of confidence in Greece.
Bulletin boards around his campus are filled with advertisements for jobs in Germany, England and Dubai -- but never in Greece, he said. He believes voting "yes" for more austerity would do little for Greece's job growth. And he wants to build his career in his home country rather than be part of his generation's brain drain.
"'No' is not an easy answer, but with 'yes' we are doomed," Hampsas said. "At least with a strong 'no' there will be a crack of light in the window, a possibility for a future."
Popular in the Community