This is the second post in my series, Millennials Paving The Way, highlighting today's brightest Millennials who are empowering future generations to become change makers.
How can it be a surprise that Millennials are excited about Senator Bernie Sanders? The Iowa caucus and New Hampshire primary were clear signs that Millennials could carry the 2016 presidential election. And the proof is in the numbers; over 80 percent of Democratic participants under the age of 30 voted for Senator Sanders according to a recent CNN poll. Obama reportedly received only 57 percent in 2008. So why are so many Millennials "feeling the Bern?"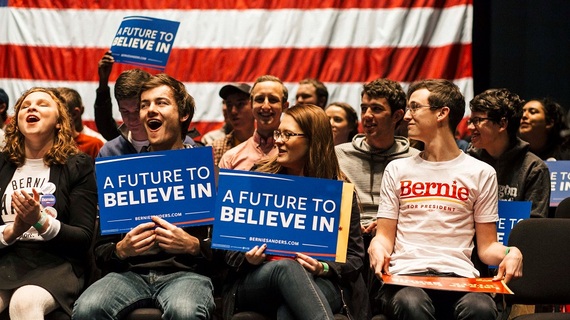 Millennials are drowning in student debt. The White House recently reported the average debt of a 2015 college graduate is over $23,000. So, it should be of no surprise that the candidate who has made a key component of his platform about making college free for all would be appealing. Time and time again, he has campaigned to make college tuition in public universities and public colleges free.
2. Single-Payer Health Care
It has been the goal of Democrats since President Roosevelt to create a universal health care system guaranteeing health care to all people. Every other major industrialized nation has done so. Sanders' single-payer health care program resonates with Millennials because it would mean that all you need to do is go to the doctor and show your insurance card. No more copays, no more deductibles and no more fighting with insurance companies. Who in their mid-20s would complain about that, right? For all of the conservatives reading this post, the plan is also projected to cost over $6 trillion less than the current health care system over the next ten years.
As the most digitally connected generation in U.S. history, social media is naturally the preferred source for election news and information among younger Millennials ages 18 to 29. According to Pew Research Center, nearly a third of Millennial Democrats participating in their state's primary/caucus learned about the 2016 presidential election through social media. And Sanders is running a smart online campaign and his approach has brought success that nobody saw coming.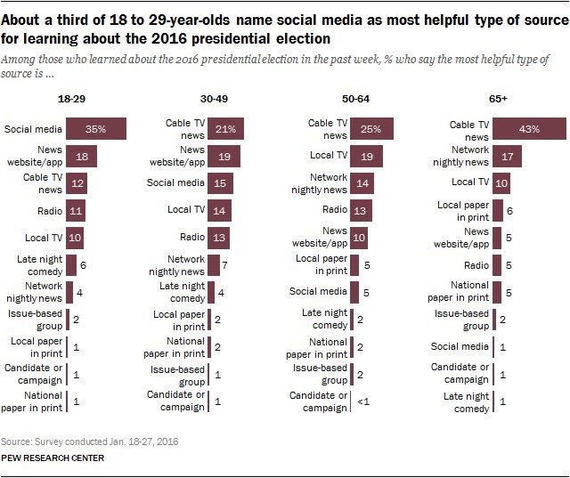 Regardless of who you choose to support in November, it's clear Sanders has won the vote amongst the largest share of the U.S.'s voting-age population. Which is a HUGE win.
Author's Note: This series will cover the online habits of Millennials, their spending power, impact on the Fourth Industrial Revolution, role in achieving gender parity and much more.
Join the conversation on Twitter using #Millennials
Calling all HuffPost superfans!
Sign up for membership to become a founding member and help shape HuffPost's next chapter