David Walker and Philip Lang are not your typical entrepreneurs. As the founders of TripleMint, a software-powered real estate brokerage, they recently closed a $4.5 million Series A funding round and are changing the way people buy, sell and rent homes. As CEO, Walker leads TripleMint's mission, vision for the future, business strategy, and culture. David received his degree in Political Science from Yale University. Lang, TripleMint's COO, manages the operations including all finance and recruiting activities. Philip also attended Yale University, receiving his degree in Economics.
I spoke with them about emerging trends in real estate, disruptive technologies, startup advice, and the importance of creating a corporate culture grounded on diversity and inclusion.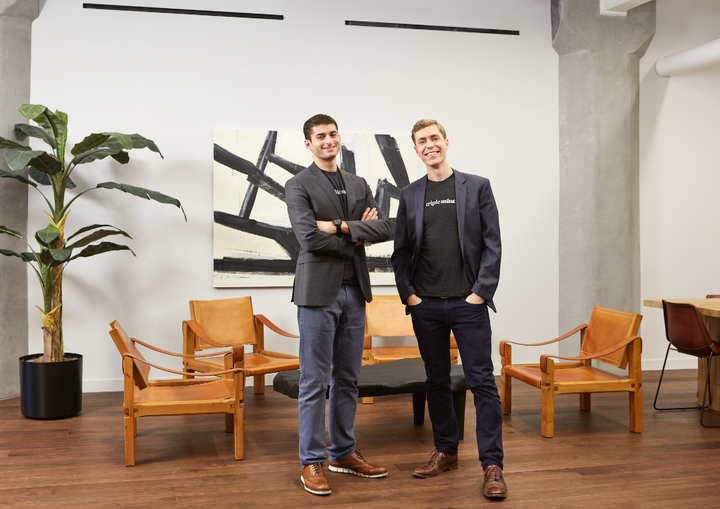 Congratulations on recently closing a $4.5 million Series A funding round. What advice can you provide to fellow Millennials who need to raise capital for their startup?
David Walker: The best advice I can give millennials who need to raise capital is to start well before you need the money. If you're raising money as you're running out of it you probably didn't manage your burn very well, which will be cause for concern from investors.
As well, align yourself with investors that believe in the core mission of the company. You're going to go through a lot with your investors (ups, downs and in betweens) and working with people that truly believe in your mission is the glue that keeps the team together. To that point, one of our investors, Nenad Marovac, founding partner of DN Capital and lead investor in TripleMint's Series A Round, said: "TripleMint is taking on one of the oldest off-line industries and using technology to finally create new and exciting value for buyers and sellers. We're overjoyed to join their mission to make buying and selling a home smarter by combining a high-end personal service with proprietary data and tools. We believe TripleMint will become the standard in the industry."
Looking at real estate from a pure technology lens, what does TripleMint offer its clients?
Philip Lang: TripleMint has many benefits for our clients. These include:
Exceptional Member Service: At TripleMint, we take pride in offering exceptional member service at every touchpoint. Addressing the full scope of their lifestyle, TripleMint's Concierge provides benefits like moving and interior decorating, complemented by exclusive offers and services that help members save time, money and energy, every day.
More Choices: With exclusive pre-market listings, TripleMint members have access to more inventory than at any other brokerage. Powered by proprietary predictive analytics, clients can anticipate market activity before anyone else, enabling them to take early action on the most desirable properties.
Removing Risk: Forward-looking data allows TripleMint sellers to set the most competitive prices, while predictive analytics enables them to identify and act on opportunities upstream. Our proprietary "matching" algorithm ensures a high rate of compatibility, sourcing the only the most qualified buyers and renters.
As a real estate agent or broker, what are the three main advantages of working with TripleMint?
Philip Lang: The three biggest advantages of being an agent at TripleMint are 1) we generate leads for our agents so they can stay focused on helping clients 2) we arm our agents with data about apartments that have not yet hit the market so they have a unique value proposition for their clients, and 3) we work as a team and provide extensive marketing, research and member experience resources to our agents.
How does TripleMint differ from most property search sites that basically serve as advertising sites for real estate agencies?
David Walker: TripleMint is very different from other real estate search sites because we don't allow any advertising and don't try to monetize the search experience. We provide our clients with the real listing inventory and allow clients to make appointments right online to go see properties. On most sites if you click on 15 properties you get 15 sets of agents trying to up-sell you, on TripleMint you can make appointments and see all 15 apartments with 1 agent when it's convenient for you.
Diversity and inclusion are more than just buzzwords or boxes to check. HP's CMO, Antonio Lucio has been quoted saying, "Including women and people of color in key roles is not only a values issue, but a significant business imperative." How has TripleMint created a more inclusive workplace for its employees?
David Walker: At TripleMint we believe in creating an open and transparent environment for all our employees. We think it's important to be inclusive of everyone no matter what walk of life they come from.
What's next for TripleMint? Any plans for expansion into other markets?
David Walker: Our focus is on creating the best possible experience for buyers, sellers and renters and then scaling that to as many markets as possible. We are targeting the biggest urban markets nationally. There's a lot in store for TripleMint in 2017!
"On so many levels, technology has taken over and lent itself to the success of the real estate market," says Nancy Bayat, a veteran mortgage expert. "Today's modern homebuyer starts the process online. As millennials become a larger share of the homebuyer market, multiple forms of communication with lenders and agents, along with easy access to information online are becoming necessities."
Author's Note: This series will cover the online habits of Millennials, their spending power, impact on the Fourth Industrial Revolution, role in achieving gender parity and much more.
Popular in the Community