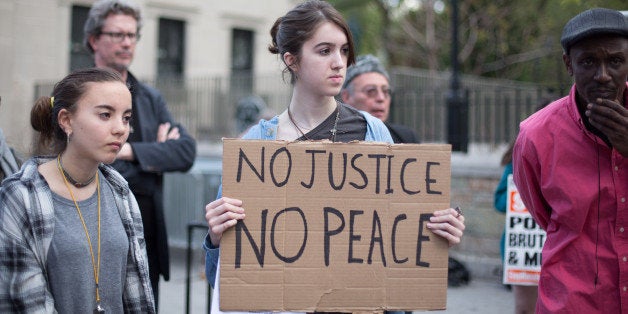 Young Americans are evenly divided on whether they believe the U.S. justice system is fair and unbiased, with white millennials expressing far more trust than black millennials, according to new data from the Harvard Institute of Politics.
The survey of Americans aged 18 to 29 found that 49 percent profess little to no confidence that the justice system operates without racial and ethnic bias. An equal proportion said they have some to a lot of confidence that it is fair. While 55 percent of young white Americans generally trust in the fairness of the justice system, 66 percent of young African-Americans and 53 percent of young Hispanic Americans do not.
Over the last year, a series of high-profile deaths of young black men at the hands of police and resulting protests across the country have brought to the forefront the issue of bias in law enforcement.
Just 49 percent of millennials back those demonstrations. Again, there's a racial gap: While 81 percent of black millennials support the protests against police mistreatment of African-Americans, only 37 percent of white millennials support them.
Moreover, a majority of millennials don't believe that #BlackLivesMatter demonstrations will bring about meaningful change. Only 3 in 10 white millennials think they will be effective, while 3 in 5 black millennials and almost 1 in 2 Hispanic millennials think they will make a difference.
Young Americans are more likely to agree on certain policy changes to ensure fairness. An overwhelming 80 percent see requiring police to wear body cameras as an effective means to reduce racial inequality in the justice system. Another 60 percent said having a police force that is racially representative of the makeup of the community would help. Only 49 percent think eliminating mandatory minimum sentences for people convicted of possessing or selling drugs would be effective.
Millennials also seem to be more distrustful of the police than Americans as a whole. A recent HuffPost/YouGov survey showed that 61 percent of U.S. adults have a fair amount or a great deal of trust in law enforcement agencies, while only 35 percent have little to no trust. Racial divides were found throughout the latter survey as well.
The Harvard Institute of Politics poll reached 3,034 Americans aged 18-29 online using GfK KnowledgePanel on March 18 to April 1.
REAL LIFE. REAL NEWS. REAL VOICES.
Help us tell more of the stories that matter from voices that too often remain unheard.
BEFORE YOU GO
PHOTO GALLERY
Baltimore Protests