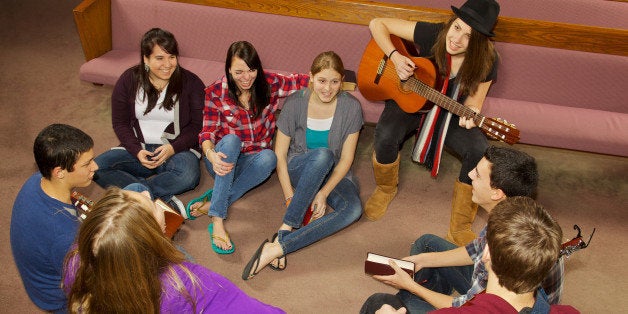 In Herriman, Utah, single adults ages 18 to 30 form their own ward in the Church of Jesus Christ of Latter-day Saints. In Washington, a synagogue offers "Drinks and Drash" gatherings where participants in their 20s and 30s gather at a local restaurant for study sessions.
In Scotch Plains, N.J., a ministry experiment in an Assemblies of God congregation has become its own church within a church for young adults.
As fewer young people fill the pews of houses of worship, some congregations are trying innovative ways to halt the exodus of young adults from organized religion.
But it is a massive challenge. Young adults today are more likely to claim no religious affiliation, and less likely to attend worship. The average age of worshipers is 54, or 10 years older than the average American, according to the 2008-2009 U.S. Congregational Life Survey.
So what does work when it comes to attracting young adults?
A new report analyzing the 2010 Faith Communities Today study of more than 11,000 congregations provides insights into what makes congregations with significant numbers of young adults distinctive. The profile by researchers Monte Sahlin of the Cooperative Congregational Studies Partnership and David Roozen of the Hartford Institute for Religion Research explores the characteristics of the mere 16 percent of those congregations where 21 percent or more of participants are ages 18 to 34.
Here are some of the report's key findings:
Young churches, young people: Congregations organized in the past decade were three times as likely to have a significant number of young adults as congregations organized before 1976. "One of the most effective ways to reach young adults is to launch new congregations," Sahlin said.
The KISS principle: Keep it spiritual, stupid: Congregations reporting high levels of spiritual vitality were three times as likely to have significant numbers of young adults as congregations with low spiritual vitality. "What they are looking for is something that touches them," Sahlin said of young adults. "They're looking for something that connects to the divine in a palpable way."
Eat, pray, read the Bible: Congregations that reported a lot of emphasis on spiritual practices such as prayer and scripture reading were five times more likely than congregations that put no emphasis on such practices to have large numbers of young adults in the pews. "It appears that congregations that teach spiritual practices are much more attractive to young adults," Sahlin and Roozen reported.
Keeping up with new technology: Congregations that reported multiples uses of technology such as social media and websites were twice as likely to have a significant percentage of young adults as those that reported marginal use.
Electric guitars rock: Congregations that used electric guitars and overhead projectors in their worship often or always were about twice as likely as congregations who never used them to have significant young adult participation.
Gender balance: While women outnumber men in most congregations, the study found the more men there were in a congregation the more likely it was to attract young adults.
Promoting young adult ministry: Congregations that placed a lot of emphasis on young adult activities and programs were more likely to attract young women and men.
In many ways, young adults are attracted to what matters most to believers of any age: Being part of a congregation that recognizes and meets their spiritual needs.
In looking at communities that were successful in attracting young men and women, "It's pretty clear that these were congregations that were, No. 1, intentional about engaging young adults," Sahlin said.
But with the aging of many congregations, incorporating changes from adding electric guitars at worship to integrating young adults into leadership positions becomes even more imposing.
"The church has to go through a process of change," Sahlin said. "That has been difficult every step of the way."
For faith communities who may have given up hope, however, the study provides some encouragement. Fulfill the spiritual needs of believers in their 20s and 30s, and they will come.
Popular in the Community