It's no secret that religious affiliation within the United States has been declining, especially in the last two decades. Between the rise of the "nones" and the "spiritual but not religious" crowd, one-fifth of American adults now claim no affiliation with a particular religion, reports the Pew Research Center. The numbers for those under the age of thirty are even more remarkable-one in three don't identify with a religion. In fact, "[y]oung people today are not only more religiously unaffiliated than their elders; they are also more religiously unaffiliated than previous generations of young people ever have been as far back as we can tell," Greg Smith, a senior research at Pew, told NPR earlier this year.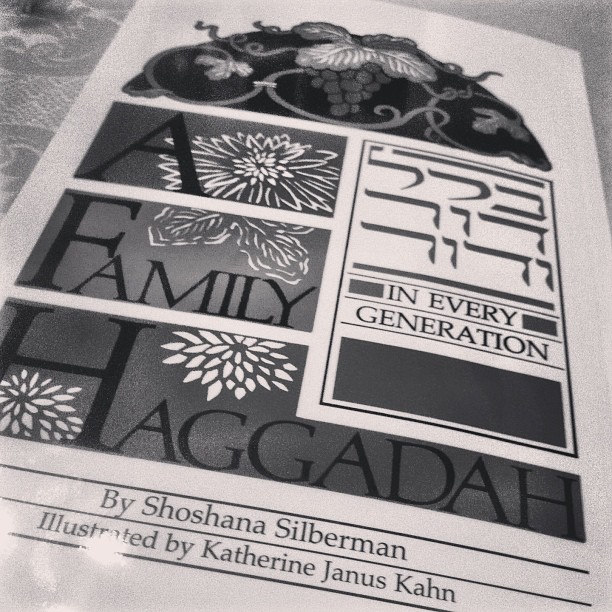 And the practices of those that still happen to claim one of the religions polled also reflect the waning of membership. Of the estimated 6 million Jews in the United States, "nearly 70% ... attend a Seder, compared to the 25% who pray regularly at a synagogue or observe dietary laws in their homes," according to the Jewish Federations of North America in the Wall Street Journal. Traditional observations and exercises, notably participating in activities at an official place of worship or in a congregational setting, are out, and holidays are in. "The Seder is among the few religious rituals most American Jews still embrace," the Journal reports. Nonetheless, like its counterparts of the synagogue and the halakha, even the Seder observed today may not be so traditional. Or rather, the freedom feast during Passover is now steeped in a different tradition -- doctrine is out, and family is in.
"Our practice is more reformed and more family-oriented than synagogue-oriented," says Matt Steinberg, a 35-year-old systems engineer and brewery founder from Pompton Lakes, N.J. But it hasn't always been this way. His father came from a kosher, Orthodox home in Brooklyn, and his mother, formerly Protestant, converted to Judaism when she married his father. As a child, Steinberg had Seder each year at his parents' house or his uncle's house, and his grandfather typically led the celebration. "We would go to synagogue as a family as well," he says.
Soon after his grandfather passed away, however, his family stopped going to synagogue. Today, "we still do more or less the same family Seder," Steinberg says, with one change. "It's usually held on whatever weekend falls during Passover as it's much easier on the working and traveling family members." But he doesn't mind this break from the conventional date. "I think each Seder and each tradition is unique to the family and should be as such. I believe in maintaining family tradition even if it's something non-traditional," Steinberg says.
Sarah Annese, a 26-year-old freelance writer in Brooklyn, knows all about the non-traditional family Seder. "My great-uncle…would look at his watch at the beginning of the Seder and keep the time so it would be as short and efficient as possible," she explains. "We've gotten the Seder time down to around 18 minutes, 15 if we're extremely efficient and no one stops to crack jokes." This rarely happens, however. "After we're finished with all the plagues, my dad and great uncle will always add a few more modern struggles," says Annese. " 'Negative cash flow,' 'Pain-in-the-ass clients,' 'George Bush.' "
And like Steinberg, she celebrates the non-traditional nature of her Seder practice because it brings her family together. "Traditions are traditions, and if something 'non-traditional' is important to the way people come together and celebrate a holiday, then great," Annese says. "Jewish holidays are important to me not for the religious significance so much as for coming together, laughing, and eating as a family."
Matt Modell, a 32-year-old attorney from Arlington, Va., stopped celebrating Seder during his years as an undergraduate because he attended an out-of-state college, and he didn't have any Jewish friends in his new city. He found himself in a similar situation in law school but celebrated Seder again this year. Modell's family served as the catalyst for the event. "There have been a few years where the whole family happens to be together, and in those years, we will have Seder," he says. This year was one of those years. "I was on vacation in Ft. Lauderdale during Passover, and I have family in Boca Raton. What Jew doesn't?" he adds.
Modell says his uncle, a rabbi, led them this year in a "surprisingly less formal and shorter" Seder to which he was accustomed. And in 2010, he celebrated Seder "on small TV trays in my apartment" when his family happened to be in Elizabeth City, N.C., during Modell's stint as a judicial clerk. He describes himself as "a traditionalist when it comes to these things," but he has begun to embrace the shorter Seder.
Trent Gilliss, Senior Editor of American Public Media's On Being, describes a similar acceptance of changing traditions. In discussing the overlap of Passover and Holy Week this year, he writes "that history isn't something merely to be memorized, but that these cargo of hidden stories come alive when they are made anew and transcend time." And in the case of those born in the early 1980s to the early 2000s, family appears to make this transcendence possible. Jess Rainer, co-author of "The Millennials: Connecting to America's Largest Generation," feels similarly. "Unlike earlier generations, Millennials prioritize relationships, especially family, over religion," she says.
REAL LIFE. REAL NEWS. REAL VOICES.
Help us tell more of the stories that matter from voices that too often remain unheard.