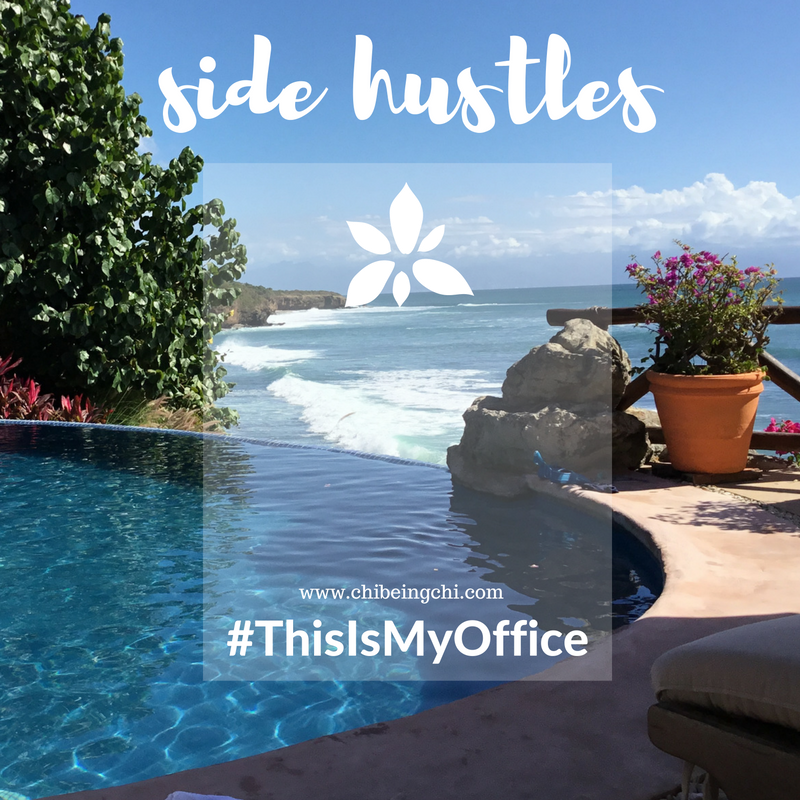 By Chi Smith of ChiChiBeingChi.com
In the past few years, you might have heard of the terms Side Gigs, Side Hustles, Peer-to-Peer, and Sharing Economy. We baby boomers always called it Moonlighting, or Freelancing, but the Millennials have deftly co-opted and refreshed the idea with much hipper sounding names. Regardless of what we prefer to call it, this ubiquitous type of work enables many to pay for necessities and occasional luxuries.
In case you're not familiar of what a Side Hustle is, it is a task someone hires themselves out to do on the side, such as wedding hairdos, photos, or pet-sitting. According to Urban Dictionary, my go-to website when I don't understand a word uttered by a millennial, Side Hustle is "Sideline that brings in cash; something other than your main job. Maybe playing weekend gigs or life coaching. SELLING AMWAY IS NOT A SIDE HUSTLE ― it's just a stupid way to alienate your friends."
The most exciting news is that a few of the millennials have struck today's new technology gold rush and have become wildly successful in this ecosystem. Individuals have been able to surpass their non-existent startup income and work from their modest kitchen table or garage to fulfill their dreams of BYOB, or Being Your Own Boss. Some Millennials have leveraged their side hustle to be able to retire in their thirties.
Though there are stories of side hustles turning into millions, the majority who have these side jobs create supplemental, rather than primary income. Catherine Baab-Muguira is an advertising copywriter and freelance writer, whose article eloquently stated the reasons for her generation's Side Hustles, and the evolution of this type of work.
In her article, she discusses how side gigs are sometimes about survival; this work allows the "hustler" to be able to afford to pay bills. For some, the work allows occasional luxuries such as music festivals or meals at nice restaurants. Additionally, this type of work feeds one's dreams of someday striking it rich while working on their passions, rather than daydreaming about it in the cubicle farm, feeling a sense of hopelessness, while being a cog in the corporate or governmental machine.
The differences between today's Side Hustles and our boomer's freelance work is that the modern version is well-integrated with technology. Think of TaskRabbit, Uber, AirBnB, and Craigslist. They are branded, packaged, and utilize social media to provide a trusted and easy cloud-based platform. Individuals can use, buy, and sell services or products with clicks on the cell phones, tablets, or desktops.
We live in a world where consumers and sellers can instantly exchange information, money, and products securely (hopefully!) without leaving their homes or offices. For example, I needed an editor for a short article I had written. Within half an hour of my request in a Facebook Blogging Group of 17,000+ small business users, I had connected with a freelance editor and agreed to the terms of work. My article was edited online and paid for by PayPal within one hour which allowed me to rework the article, pitch it to HuffPost, get it accepted, and published it within 24 hours! I've since written a cheat sheet on how to do this and will share it with subscribers at www.ChiBeingChi.com.
Online services are invisible to most of us but they are extremely convenient and efficient for small business owners and entrepreneurs who can't afford full-time staffing. You can find individuals to do a variety of tasks, anything from Information Technology, Human Resource, Payroll, Accounting, and an endless list of other requirements. What does this mean? If you have skills that other people need, hire yourself out. There is a surprising amount of new entrepreneurs out there and most likely you have the skills that they need. According to MBO Partners - State of Independence there is an increasing trend of a talented members of the workforce leaving their jobs to be independent and have flexible work schedules.
If you haven't leveraged online services, give them a try; they save time, money, gas, headaches, and often allow for less stress overall. For example, I can order many household items from a well-known store in the morning and have them shipped to me by day's end.
While I'm all for new technology and all the benefits it brings, I still enjoy conducting business face-to-face; these are not mutually exclusive concepts. I started my freelance and consulting business the old fashion way in 1988. I was a 1099 contractor which not only provided a robust source of income, but it also boosted my confidence, gave flexibility and I became highly adaptable to many working environments and clients. From those experiences, I have learned quite a bit. Here are some tips to creating "side gigs" and getting paid for them:
1. Hobby Pays: Let your employers and social circle know about your talents. For example, my first employer knew about my artistic ability and hired me to create a coffee mug design for $100 and a trade show poster for $300. (BIW Inc. Santa Rosa, CA in 1985). I was unaware that by sharing my weekend art projects with colleagues that I've inadvertently advertised my portfolio, and soon after that the marketing manager offered me these art assignments, and I was happy to accept to make some extra money doing what I love.
Similarly, I hired a colleague a year ago to take pictures of our son's college commencement and our holiday family portraits. I've learned about his talents from seeing many of his beautiful photos as wallpaper on his desktop, of his weekend wedding photography gigs, and of the agency's events.
Another example is an inspiring story of a previous colleague of mine who wore a beautiful vintage-inspired dress to work every day, and this has led to admiration and orders from other women at the office. Gradually, she's grown an incredibly loyal following, an additional source of income, and testimonies for her fashion portfolio.
Hopefully, these examples provided you with some ideas to start your side gigs but don't wait until everything is perfect or that you're at a 100% readiness.
2. You're Ready for Contracting Work: Perfection may never happen, and don't let the naysayers discourage you. There will be people who judge, but it may be because they don't have the courage to be an entrepreneur, but wished they did. So if you've done your research and planning, then go for it, but know there will revisions and redesigns of your plans along the way.
Here's how my freelancing began: After working for five years in my post-college job, I was denied training for the new Computer Aided Drafting (CAD) program because I was the only "girl" in the Drafting Department. I loved this job but it had its challenges. I had been told by a senior engineer "not to worry my pretty little head" when I voiced concerns over a mechanical design problem. Another time a senior engineer called me "a broad." This happened in the mid-eighties when Human Resources would have gladly sided with the engineers.
I resigned and immediately signed up as a 1099 independent contractor. My first gig was at Microsource, Inc. in Santa Rosa working on printed circuit boards. The best part was they provided me CAD training on the job and I got paid twice my former salary. If I had waited for perfection, I would have missed this opportunity. After this contract ended, I started another gig working for a Scale Instruments company where I quickly learned that my skills were in demand, well-paid and highly valued. This was a lucrative employment period for me and I'm glad I made the leap when I did. So don't wait if you have the skillset, and have done your research and planning.
3. Value Your Professional Experience: Don't short sell yourself. You deserve to get paid what you're worth. When my first child was born, I chose to stay home, and after nine months, I needed some intellectual stimulation. I decided to hang my shingle for Summit Drafting in Kelseyville, CA in 1991. I did some market research, chose my rate of fifty cents per square foot to draw building plans, and pitched it to building contractors in the local newspaper. I was nervous but knew that I had what it took to do the job, and did not misrepresent myself as anything more than a Draftsperson. Jobs consistently poured in and I was riding high as my confidence increased by each job. I worked from home while my baby was napping and sometimes while she was awake playing on the floor next to me. Occasional when I had to meet clients, my neighbor took my daughter in at her house as a drop-in and everyone was happy. I was smiling as my dream came true of being a working professional while being home for the children.
4. Be Sociable and Volunteer: Take the time to invest in your social capital; it will help your side hustle and also makes you feel good. Talk to everyone you know (and even those you don't) about what you do, and volunteer in schools, local organizations or church. This is how I got two contracting jobs that ultimately lead to a fruitful full-time employment after years of being a Stay-at-Home Mom. Here's what happened; When our son was five years old and playing T-ball, the moms clustered on the sidelines and we chatted. The question invariably came up, "So what do you do?" After a few minutes, I had unwittingly connected with a co-owner of a geotechnical engineering company who later hired me to do CAD work and draft "boring logs" from home. I also connected with another mom who was a landscape architect who introduced me to an architectural design firm. This firm hired me when they needed extra help in the office, and I ended up with a few months of work. For the most part, while the kids were in elementary school, I worked from home, which allowed me to pick them up in the afternoons. Every Christmas for five years, this company slipped me a nice bonus check and offered me a full-time job. Each time I said "No, thanks. Maybe next year," and in 2004, I finally accepted the offer and started the next phase of my career, successfully negotiating a 6:30 am to 3:00 pm schedule so I could be a full-time mom in the afternoons.
5. Be virtually social. Today, being sociable online is equally as important to traditional socializing when it comes to getting jobs: side gigs, or otherwise. Sites like LinkedIn and Facebook business groups are where networking regularly occur. Within two months of leaving my job in the Public Safety sector, I've launched a new career in writing online, built relationships and learned about reciprocation and helping one another on this platform. Online writers and entrepreneurs are eager to provide comments and feedback for others; we help each other out. When you're first starting out, it can be intimidating to join the conversations if you don't know all the players yet, or if you're not naturally social. I've learned not to sit on the sideline and consume information without reciprocation because in my case, when I was searching for that editor, I chose the one whose name I recognized because she had commented on one of my questions on the Facebook group. She had been social, helpful and we had already made a connection, which was like a digital business card and a handshake. The strategy worked on me, and it can work for you too!
As an author, I find the hybrid business model of freelancing work highly appealing. With the 5 tips I just shared, and some gig ideas including the ones in the list below, you're on your way to creating side gigs that may grow in ways you can't even imagine!
Spin teacher
Yoga teacher
Copyeditor or Virtual Assistant
Website builder, SEO guru to increase client's site traffic, etc
Work with TaskRabbit, Upwork, etc.
Publish Kindle Ebooks, Ecourses for Udemy, Teachable, etc.
For a list of more ideas and details for Side Hustles, subscribe at www.ChiBeingChi.com and ask for your copy.
My experiences have led me here, where I have elements of traditional work with today's technology and options that allow for ease and efficiency as a writer (or whatever your side hustle is), but there is also the online community that makes being a writer not so isolating. There are constant ideas being exchanged, questions asked and answered, and connections being made online and offline. I'm proud to say that I've started a Mastermind Group in Sacramento, California to meet with other online entrepreneurs where we can co-work at coffee shops, exchanging information and ideas to grow and thrive. If you're interested in connecting for this type of networking, camaraderie, motivational and technological support then please reach out to me at ChiSmith@ChiBeingChi.com or send me a message via https://Facebook.com/BeingChi/
REAL LIFE. REAL NEWS. REAL VOICES.
Help us tell more of the stories that matter from voices that too often remain unheard.
This post was published on the now-closed HuffPost Contributor platform. Contributors control their own work and posted freely to our site. If you need to flag this entry as abusive,
send us an email
.