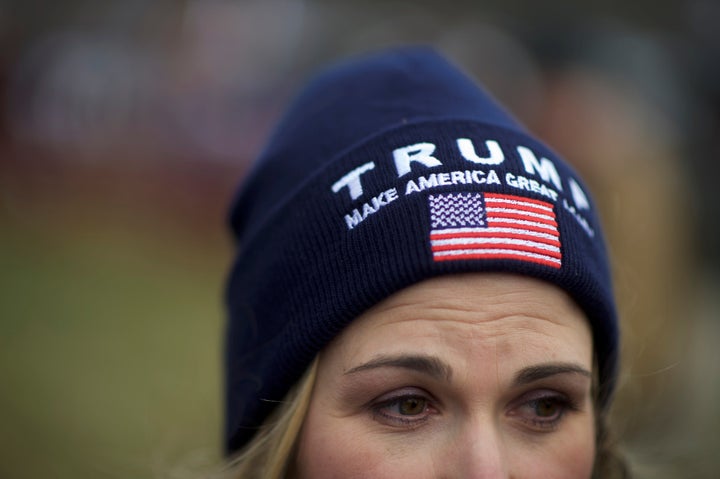 While the average young voter is pessimistic about the direction of the U.S., millennials who voted in counties favoring President Donald Trump in the 2016 election are the most optimistic age group.
Surveys of people whose ages range anywhere from 18-34 show younger voters are the most likely to say the country is on the wrong track. However, in a new poll from Echelon Insights, young voters in "Trump country" were the most likely to say the country is headed in the right direction.
The March poll surveyed young people in counties that flipped from voting a majority for former President Barack Obama in 2012 to most casting ballots for Trump in 2016. Researchers also spoke with millennial voters in counties where Trump's margin over Democratic candidate Hillary Clinton was 20 points or more than 2012 GOP presidential candidate Mitt Romney's margin had been over Obama's.
The usual trend line has the youngest Americans being the most pessimistic and those who say "right direction" increasing with age. Some surveys used slightly different age ranges, so the groups in the below chart have a little overlap: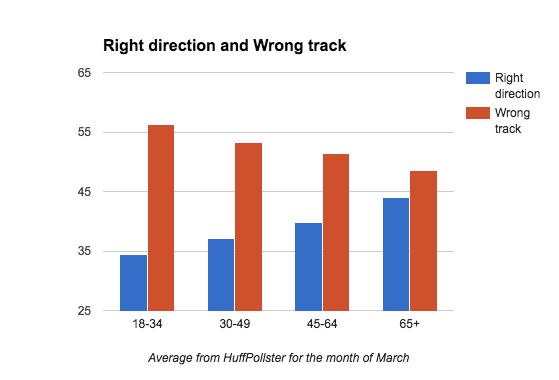 However, the trend line for those in Echelon's survey looks starkly different.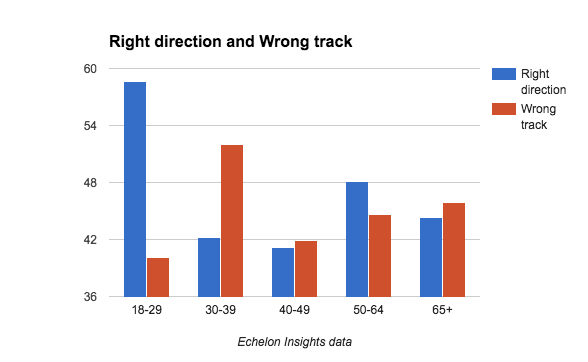 The survey shows the vast majority of 30- to 39-year-olds believe America is headed in the wrong direction.
"[T]he 18-29 cohort actually approved the most of Trump's performance in office so far," said Victor Tolomeo of Echelon Insights.
The Millennials surveyed rated Trump's job performance the highest out of any age group ― with 57 percent approving and 36 percent disapproving. Those aged 30 to 39 were the only age group giving an overall negative performance rating; 45 percent approve and 47 percent disapprove. 
Millennials who voted for Trump aren't very common. In Edison's national exit poll, only 36 percent of 18- to 29-year-olds voted for the president and 55 percent for Clinton. This age group was the second smallest age range surveyed by Echelon, with 144 respondents, which echoes the low millennial turnout in the past.
Echelon Insights conducted the survey on March 19-21. Of the number of people surveyed (N), 1000 registered voters in counties defined as "Trump Country" counties. This includes N = 500 in counties that voted for Obama in the 2012 presidential election but subsequently voted for Trump in the 2016 election. This also includes N = 500 in counties where Trump's margin of victory was at least twenty points larger than the margin of victory held by Romney in the 2012 election. The two samples were weighted to account for overlap between counties in those two categories to appropriately represent their actual share of the 2016 presidential vote. Interviews were conducted via live-interview telephone (50 percent landline, 20 percent cell phone) and web panel (30 percent) with voter sample provided by Survey Sampling International. Results were weighted to known demographic and political characteristics of the target population across these counties.
REAL LIFE. REAL NEWS. REAL VOICES.
Help us tell more of the stories that matter from voices that too often remain unheard.
BEFORE YOU GO
PHOTO GALLERY
Students' Letters To Donald Trump