AMES, Iowa -- Although Democratic presidential candidate Bernie Sanders just barely lost to Hillary Clinton in the 2016 Iowa Caucuses, millennials all over Iowa made their voices heard: they are feeling the Bern.
Voters at Iowa State University in Ames heavily favored Sanders.
Jasmine Gorga, a 22-year-old Iowa State student said she was voting for Sanders because his ideas lined up with hers.
The rest of the millennials in the caucus would agree with her. A CNN entrance poll shows Sanders well overtaking Hillary Clinton among 17-29 year olds.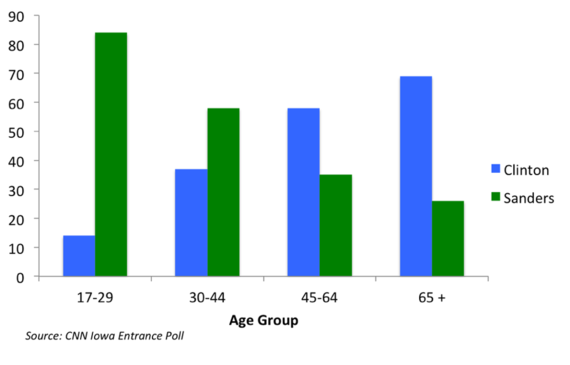 One precinct at Iowa State had so many Sanders supporters, Clinton narrowly missed being unviable.
A candidate must receive at least 15 percent of the votes in a precinct to be considered viable, according to the Iowa Democratic Party.
Even Kellan Curnette, a 21-year-old Iowa State Student who was planning to vote for Martin O'Malley, said Sanders would be his second choice if O'Malley, who eventually dropped out of the race, wasn't viable.
"Well, I'm going to start off with O'Malley, but if they make me choose I'll go with Bernie Sanders," Curnette said. "I really actually like Bernie Sanders and what he stands for."
Taylor Patton, a 20-year-old Drake University student, voted for Bernie for his first caucus.
"I feel great, it was amazing. I didn't know that there was going to be that many supporters," Patton said. "I thought it would be like evenly split between him and Hillary. But it was definitely (heavily) sided for Bernie."
While Clinton's support among millennials was small, her supporters were passionate.
Tess DeBartolo, a 21-year-old Iowa State student, said Clinton appealed to her more because she felt Clinton appealed to a wider audience than Sanders.
"She's going for women's issues, which (Sanders) hasn't really touched up on," DeBatolo said. "Mostly, I think she's more qualified"
Historically, young people have had abysmal voter turnout among other age groups, according to a census from 1964 to 2012.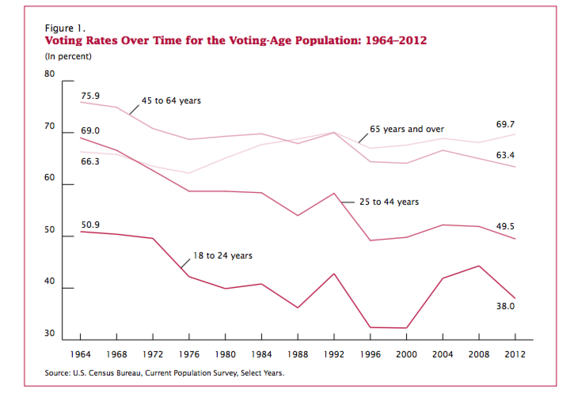 But millennial voters today believe this trend is shifting, and it's the key to Sanders' success.
"I think Bernie, most of his support comes from young people, that's key to him and I think because we're all driven and want to see the change that isn't happening in Washington, people will come out to support him and hopefully put him up there in the office," Curnette said.
Gorga said she thinks campaigns, Sanders especially, are starting to target the youth.
"They know we can change the game," Gorga said.
Patton said he recognizes the stereotype that millennials don't vote.
"A lot of people say young people don't vote and stuff," Patton said. "But to see everyone here, definitely changes that perspective."
Story written by Page Jones. Reported by Aimee Schnebeck and Page Jones.
Calling all HuffPost superfans!
Sign up for membership to become a founding member and help shape HuffPost's next chapter