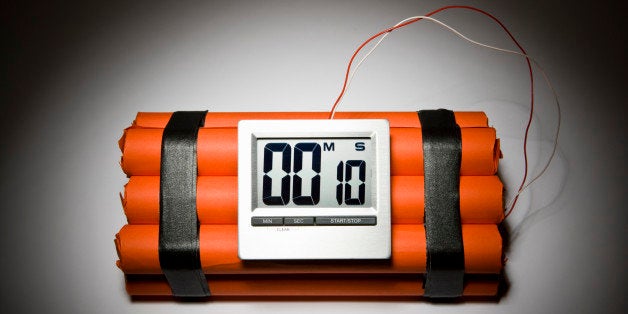 "I will do it tomorrow."
"My diet begins next week."
"I'll enroll in classes next year."
Tomorrow, next week, next year--the sun will rise on these arbitrary dates. But the problem is the progress to your dreams will never transpire if you keep putting off for later what you could (and should) do now.
There's a contradiction about the amount of time we have. Our mentors have told us that life is short and to make the most of it, yet in the same breath, we're also told that we have plenty of time and to not rush to get where we're going. It will all happen when it's suppose to. So which is true?
Time, and more specifically our lives, are finite resources. We don't know how much time each of us is given on this Earth. Unless you get a grim prognosis with a terminal disease, there's no warning sign of when your number is up.
So what's pushing you? Fear or love? Two very similar emotions. Both drive us toward or away from our goals. But don't let the fear of failure hold you back from doing what makes your heart beat. Remember failure isn't fatal. If you fall down seven times, get up eight. If anything, fear running out of time because it's not guaranteed that you will fail but it is certain that one day, your clock will stop.
Fear paralyzes us. Love vitalizes us.
"Pearls don't lie on the seashore. If you want one, you must dive for it."
-Chinese Proverb
Millennials get a bad reputation for dreaming without any plan of execution. While it's romantic that we have dreams of becoming someone one day, so little of us actually pursue them to completion. Nothing is going to be handed to you. Don't just believe that you'll have the life you always wanted simply because you think about it. You'll find that time will pass by and the next thing you know, 20 years have come and gone and you haven't taken the leaps you thought you would. A life spent doing something you despise is the biggest tragedy of all.
I'm warning you, older generations are doubting our abilities. Just read my last blog, Did You Know: Millennials Are Lazy and you'll see that not only do the majority of people who were surveyed for the infographic think we're incapable, but the comments are a telling sign as well.
I challenge you to make moves toward the life you desire every day -- and start right now! Put some money away to move out of your parents' house. Join a gym so you can have the body you always wanted. Take a job for the experience and not necessarily for the pay. Open up a book to expand your vocabulary and learn new topics.
Even if you change one thing in your daily routine, it'll have profound effects on your productivity. For me, journaling clears my mind of life's clutter and pinpoints my focus on the most important tasks I need and want to accomplish. You'll be more prolific and relaxed with a simplistic mindset.
Do yourself a favor and take steps toward the life you really want and act now.