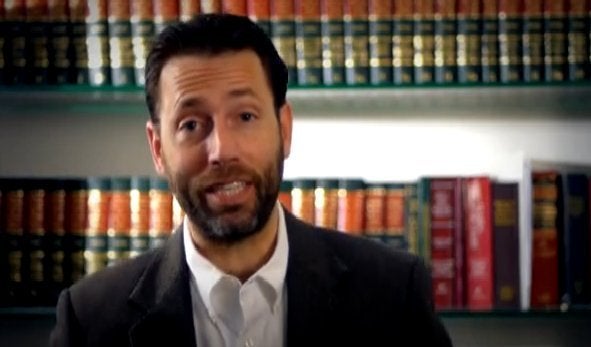 This story has been updated
Alaska Republican Joe Miller is telling his supporters that he is refusing to take corporate and out-of-state money, yet the Tea-Party-backed candidate has hired a prominent K Street fundraiser to help with his bid for the Senate.
Miller, to date, has relied extensively on the Lord to raise funds for his Senate run, his campaign told supporters in an email sent Sunday evening that was obtained by HuffPost.
"So far the Lord has always provided the money in this grass roots campaign, and this time God is going to use you to provide!" Miller's campaign told supporters, inviting them to attend a fundraiser with Miller and his wife. "It cost alot of money to run a clean campaign and we all know that Joe's campaign isn't receiving any monies from corporations or from out of State entities."
That pledge, however, runs counter to news, broken by Roll Call, that Miller has hired Mike Gula, a high-powered Washington fundraiser with The Gula Graham Group. K Street will now be supplementing the Lord's work. "Gula is in the process of assembling a K Street steering committee on behalf of the Miller campaign, and sources say he would not have taken Miller on if he didn't think he could raise political action committee money for him," Roll Call reported Friday. Gula and Miller did not immediately return calls requesting comment.
The full fundraising email:
Sent: Sunday, August 29, 2010 8:39 PM

Subject: Mon.

Greetings,

We don't want to loose the momentumn of this great campaign!! We are going to get Joe Miller elected, it's just that for reasons we don't understand God wants us to have a waiting spell. :) We need to be wise as serpents and gentle as doves, and keep the campaign uplifted in constant prayer.

In order for Joe to keep campaigning he needs funds. So far the Lord has always provided the money in this grass roots campaign, and this time God is going to use you to provide!

A fundraiser will be held at Campaign Headquarters on Monday from 5:00-8:30 pm. We need as many people to show up and make this a great event for the campaign. Joe and Kathleen will both be joining us, let's encourage them by showing all the support we can. The one way they need us right now is through donating funds!! It cost alot of money to run a clean campaign and we all know that Joe's campaign isn't receiving any monies from corporations or from out of State entities.

Refreshments will be provided

MONDAY 5:00-7:00pm OPEN HOUSE

7:30-8:30pm FUNDRAISER (Joe Miller will be joining us at this time)

Campaign Headquarters

401 East Northern Lights, Suite 202

*Co-Hosted with Senator Fred Dyson & Wes Keller*

*Bring a friend

*Drinks will be provided (soda, water)

*Bring Check Book or Credit Card

*Chips will be provided

*Bring a smile

Invite all your friends and let's come together to have a great evening and donate to the campaign that we all believe in!!

Paid for by Joe Miller for US Senate

Please RSVP with ASAP:

-- Harmony

Support HuffPost
The Stakes Have Never Been Higher
Popular in the Community