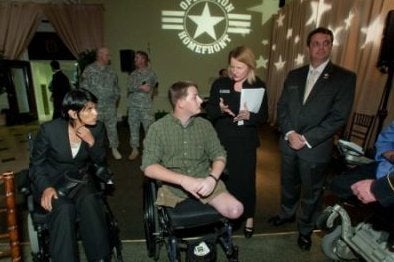 Miller Lite is promoting Veteran's Day in a significant way this year, with a goal to raise $500,000 for Operation Homefront, a nonprofit that supports needy U.S. troops, wounded soldiers and their families with emergency and morale assistance. The organization's services include vehicle repair, a computer donation program and moving help.
So far, Miller Lite has donated $200,000 to Operation Homefront. The company has promised to donate an additional $10,000 each time professional NASCAR race car driver Kurt Busch drives the No. 2 Miller Lite Dodge to top 10 finish in five races that make up Kansas Speedway, Lowe's Motor Speedway, Martinsville Speedway, Talladega Superspeedway and Texas Motor Speedway.
The goal of half a million dollars is going to be attained only through the efforts of fans. Supporters can donate $5 to the cause by texting the word T-R-O-O-P-S to 90999, and visitors to Miller Lite's site can donate here.
The company is also celebrating and recognizing military veterans through a series of YouTube videos, with fans, athletes and celebrities at various races expressing their thanks, including this one from Kurt Busch.
Related
Popular in the Community