"Palante. Siempre palante." was the rally cry of The Young Lords.
Two sisters Jessica and Jennica Carmona teamed up to film the coming of age story of Millie -- a young Latina struggling in El Barrio who is mentored by a former Young Lord Mateo to uplift herself and fight for social justice. Jessica portrayed the lead character, Millie. Jessica shares,
Over the years, I have worked a lot with Latino youth in the inner city -- as an arts teacher and as a counselor. I worked at the Puerto Rican Youth development Center in Rochester, NY and also at a high school in the South Bronx with a majority Latino and black student population. In those jobs I saw a lot of 'Millie's: young Latina women who were bright and talented and had dreams, but who were drowning in fear and anxiety and a sense of hopelessness. Their economic and social barriers affected their self esteem. I had a lot of inspiration to draw from for this role, because I worked with this population so closely. I have always kept a journal and I wrote about the people I would meet at each job... One woman in particular I remember very well. She came closest to 'Millie,' and I tried to emulate her for this role.
The Young Lords was a revolutionary group of militant activists formed to address the injustices and social issues of the '60s Latino community. The film celebrates the rich historical legacy of The Young Lords and how their activism can inspire Latinos today. Jennica wrote the script and directed the indie film. Jennica's inspiration:
I'm a big fan of Spike Lee and Lee Daniels. Some of my favorite movies have been made by them. I was actually an assistant to Lee during the production of Precious, and I learned so much just from being around him. I think Precious was so powerful because it was so real so honest, you know? Lee didn't seem to want to whitewash or cherry coat the story -- he wasn't afraid to go there and show the ugliness of that situation. And it made Precious's ultimate road to recovery that much more touching. I was pretty influenced by that in creating my own story, and I tried to echo that in my own film -- of showing the ugliness of Millie's home life, the reality of gang violence, homophobia and poverty. I am thankful that The Young Lords who appear in the film were willing to be so honest about what they experienced in the '70s
The sister team co-produced the feature. Jennica shot a trailer with a professional cast and raised the $50,000 film budget on Kickstarter and old school fundraisers. Jennica shares,
There were many challenges throughout this production, but by far the biggest one was raising the money to shoot it. It took us years of online fundraising, holding benefit events, applying for grants and asking for sponsorship to finally have the money raised to begin shooting. As a first-time director, it is very challenging to get people to invest in your project. They may love your idea and concepts, but unless you have something to show them -- its hard for them to commit to the finances. Now that I have completed my first feature, I am hoping that people will have more faith in me and what I can do, and that it will be easier the next time around.
Jessica and Jennica persevered. Jessica is grateful,
We had so many supporters on this film -- both from our family and friends, as well as from The Young Lords, themselves. They came to our benefit events and spoke, encouraging community members to support this film and keep the legacy of The Young Lords alive so that young people today can carry on their struggle. But my sister and my husband were my biggest supporters of all. I could not have made this film without them. They sacrificed so much to make this dream a reality.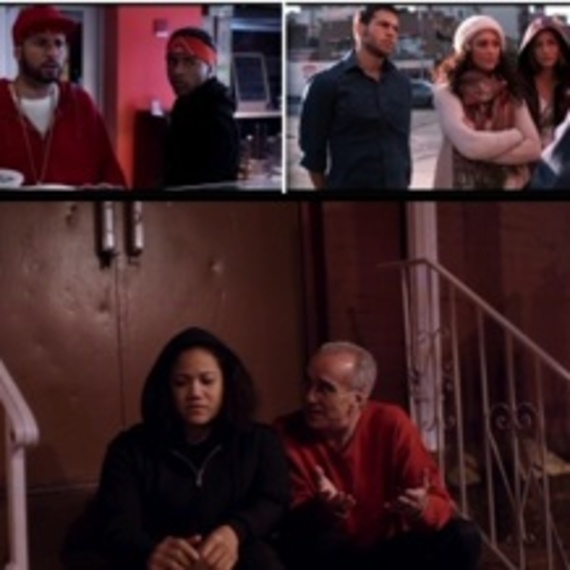 We just completed post production a little over a month ago. We have just begun the process of submitting to various Film Festivals throughout the country and abroad. So far we have submitted to Sundance, Slamdance, Tribeca, Boulder, San Diego and a few others. Ideally, we would love for the film to be shown on a channel like HBO Latino and/or other Latino TV networks. This is an important part of Latino history here in the United States, and our community really needs to learn about it. We want to not only honor the legacy of The Young Lords, but also inspire young people today to get involved and help make the world a better place. The Young Lords did a lot. They got the movement started, and now its up to us, to our generation, to keep the fire burning! Ferguson, Trayvon, Oscar Grant -- they are all signs that our work is not yet done.
The sisters have other theatrical endeavors ready to go. Jessica has a play,
Right now my focus is on theater. I wrote and directed my own play about immigration (where I got to direct Jennica; we switched roles.) But I would love to work on a film project again. I am excited about the possibility of working with a range of directors in the future, including Jennica.
Popular in the Community