Millie Brown's "Rainbow Body" presents the evolution of the artist's most recognized methods of performance-based painting. There are many visceral reactions to Brown's recent work; some include comments like gross, disgusting, disturbing and the shock art of an attention whore. But is it? Millie Brown represents a lot of things in the art world that makes her controversial. She's a woman. She's skinny. She's pretty. She's exotic. The fact that she vomits on canvas means so many things to so many groups and to so many people. What does this ultimately mean, that people are talking, people are nauseas or are people just vomiting in their own mouths without trying to understand why Brown does what she does?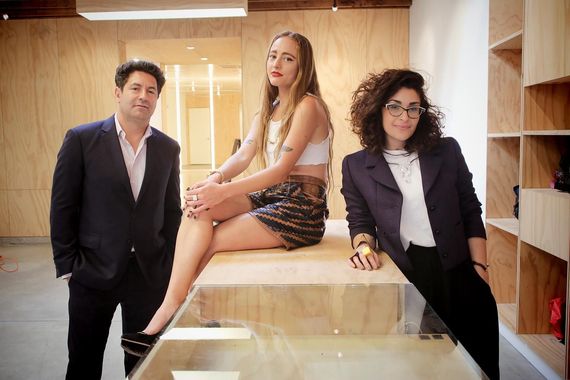 Real estate mogul Jay Luchs, Millie Brown, and Curator Nathaly Charria. West Hollywood. Photo by EMS.
"Millie's latest body of work is comprised of post-abstract expressionist paintings made of food coloring, almond milk, stomach and hands on canvas. They are a reflection of her personal and professional evolution. She's at an exciting point in her career and setting her place in the art market." says curator Nathaly Charria.

London native Millie Brown thinks of her paintings from the inside out. She explains to me that essentially beauty can be from the inside out and that her own body can be used to create paintings. Created in solitary performance, each of her paintings takes a minimum of three days to produce. She refers to the process as a cleanse. This process also includes two days of fasting to prepare her body physically and to clear her mind. Brown feels that she must be in a clear and positive mindset to put her best energy into each piece. Through fasting for two days she relieves all solids out of her system. Brown then consumes almond mild as vomit and uses food coloring to create the rainbow colors in the series. Brown uses a variety of techniques that involve gravity, layers and various methods to mix and apply color. Each painting is made differently and becomes an imprint of her energy.
Accusations were hurled at Brown when she vomited green liquid on Lady Gaga during her performance of "Swine" at the SXSW Festival in Austin last year. She was accused of promoting eating disorders and glorifying bulimia.
Millie Brown says that, "Rainbow Body is rooted in Tibetan Buddhist theology in which spiritual transcendence is viewed from the third party perspective. It is comprised of three wisdoms: ground, presence and energy, which are the three categories of paintings in the show." This is Millie Brown's fourth solo exhibition and a survey of her new home, Los Angles. It is believed that these will be the last of Brown's vomit paintings until she has a museum show. Next month, May 2015, Brown will perform with the Abramovic Institute in New York City during Frieze week and in Miami during Art Basel Miami 2015.
Millie Brown's current exhibition in Los Angeles "Rainbow Body" is a non-traditional show that demonstrates the shape of things to come. The space located at 8473 Melrose Place, was donated by Real Estate mogul and Art Collector Jay Luchs, presented by Grammy and Emmy Award Winning Artist and Matron of Women in Art, Nicole Ehrlich, curated by Nathaly Charria of Natology, and in collaboration with entities such as Flaunt Magazine, Franceasca Seiden, Founder of LA's Independent Creatives and Wall.oo.
Here are the upcoming events :
THURSDAY APRIL 9, 2015
Collector's Preview 5pm-7pm
8473 Melrose Place
VIP & Press Opening 7pm-10pm, hosted by Flaunt Magazine.
Afterparty at Blind Dragon, hosted by Flaunt Magazine 10pm-2am
9201 Sunset Blvd.
APRIL 10 - APRIL 23, 2015
8473 Melrose Place
Gallery hours 12pm-7pm
By Appointment 305.469.3520
Inquiries: info@milliebrownofficial.com
SATURDAY APRIL 18, 2015
8473 Melrose Place
ARTIST TALK 4pm-6pm
RSVP@milliebrownofficial.com
This article is part of an ongoing photojournalism survey of art exhibition openings titled EMS N(art)rative. Through my lens I document a photographic essay or visual "N(art)rative" that captures the happenings, personalities, collectors, gallerists, artists and the art itself; all elements that form the richly varied and textured fabric of the SoCal art world. This reconnaissance offers a unique view for serious art world players to obtain news and information on the current pulse of what's in the now, yet capturing timeless indelible images for posterity and legacy. Here is EMS N(art)rative Nineteen.

Related
Popular in the Community