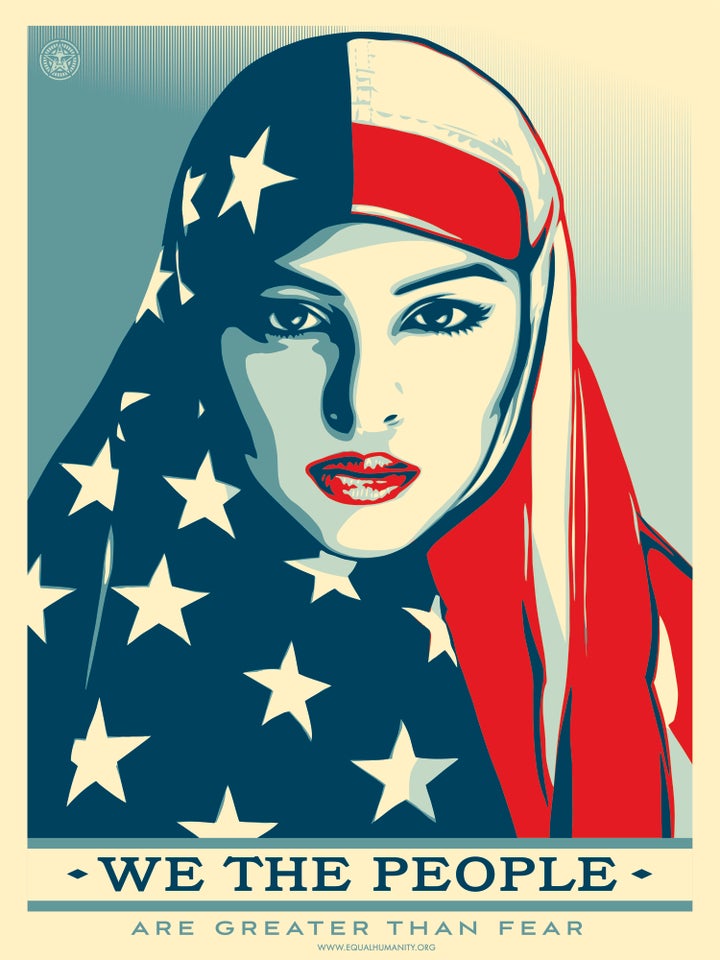 Shepard Fairey, along with several other talented artists, is back with powerful public art for the Inauguration and beyond. Deemed 'We the People' and commissioned by the Amplifier Foundation, the project has raised over $1 million on Kickstarter (as of this writing at 10 pm EST on January 16th).
During any moment of pain and suffering, one of the positive by-products that tends to emerge is remarkable and powerful art. The Women's March on Washington is expected to draw hundreds of thousands of people - women and men - from across the country. How will the organizers arrange for important protest artwork to get into the hands of as many people as possible, during both the March on Saturday as well as the Inauguration the day before? The Amplifier Foundation's partnership with the Women's March on Washington organizing committee is delivering an innovative solution.
The Women's March on Washington on January 21st will be transcendent. Vogue recently published a great story highlighting the women who comprise the national committee leadership team organizing the march. The fluid organization of the March is described as "an organic, grassroots effort that prides itself on being inclusive, intersectional, and nonhierarchical."
There are many women working 24-hour days right now focused on ensuring that the March will be successful. I believe this March will propel and advance a fast-moving and flourishing nation-wide opposition movement. Ultimately, the Women's March on Washington will be viewed with hindsight as having had significant historic meaning and importance at a particularly challenging moment in time.
I spoke with Cleo Barnett, Program Director for the Amplifier Foundation, to learn more about the plan to amplify the Women's March on Washington with powerful art.
Ben Arnon: How did the Amplifier Foundation get involved with the Women's March on Washington?
Cleo Barnett: The Amplifier team has been talking for a long time about creating an opportunity for a nationwide call-out. We normally go to artists directly for commissions and have been wanting to find ways to be more inclusive across the nation. When we saw the Women's March, we thought this would be the perfect opportunity to open up platforms for engagement while also supporting the Women's March in the way we do best, through large scale public art campaigns!
And with your national call for artwork, you received over 5,000 submissions, correct?
Yes we sure did. It was an amazing response.
How did artists find out about the call? Was it mainly through Facebook and other social media channels and other forms of word of mouth?
Our open call went viral immediately! Within the first twelve hours we had hundreds of submissions. The viral nature of this campaign really reflects on the importance of the Women's March at this time and the value of art as a way of processing and sharing all the intense emotions happening within the United Sates right now.
And how many pieces of art were selected for distribution during this upcoming weekend?
Five poster graphics where chosen for the march and well over 30,000 pieces of artwork will be distributed for free around Washington, DC starting from the 19th of January.
There were so many powerful submissions it was really challenging to narrow it down to five. For this reason we are organizing more platforms to share the submissions over the coming months, starting with an exhibition called HEAR OUR VOICE opening on February 2nd in Seattle, Washington at CoCA, (which is the Center on Contemporary Art). This exhibition will showcase a larger selection of artworks submitted to the Women's March Public Call For Art and hopefully create a platform to continue these important conversations within communities across the United Sates.
Here is a slideshow highlighting the 'We the People' artwork for the Inauguration as well as the five selected pieces of art for the Women's March on Washington:
Tell me about the distribution plan in Washington, DC this week?
(This answer is from the Amplifier Kickstarter page)
We're distributing for the Inauguration and the Women's March. By Wednesday, maybe Tuesday, but definitely by Wednesday, we will have a link on our website where you can see a map of all the locations that will have the artwork. Much of Washington will be locked down on Inauguration Day, and in some areas there will be severe restrictions on signs and banners. But we've figured out a hack. It's called the newspaper!
On January 20th, if this campaign succeeds, we're going to take out full-page ads in the Washington Post with these images, so that people across the capitol and across the country will be able to carry them into the streets, hang them in windows, or paste them on walls.
Every dollar put into this campaign will buy six ads printed and distributed for us.
Amplifier will also distribute these images as large placards throughout DC at Metro stops, out the back of moving vans, at drop spots to be announced in the coming week via our social media feeds, and, on January 19, as free downloads for [people] to print and share as [they] like.
So how many pieces of art are going to be distributed at the Inauguration and how many are being distributed at the Women's March on Washington?
Altogether, we're going to have well over 50,000 pieces of artwork distributed in Washington, DC and hopefully much more around the nation as all of the artwork is available as free high resolution downloads on our website.
Follow us on social media and on our website to find out where the distribution hubs will be around Washington, DC if you would like to pick up protest artwork. We will release these locations this Wednesday, before the end of the day.
So, for clarity, someone could download a high-rez file and print a t-shirt for him or herself to wear, but they cannot print up a bunch of t-shirts and sell those to other people, correct?
Yes, exactly. People can do whatever they want with the high resolution downloads as long as it is not for commercial profit.
Popular in the Community