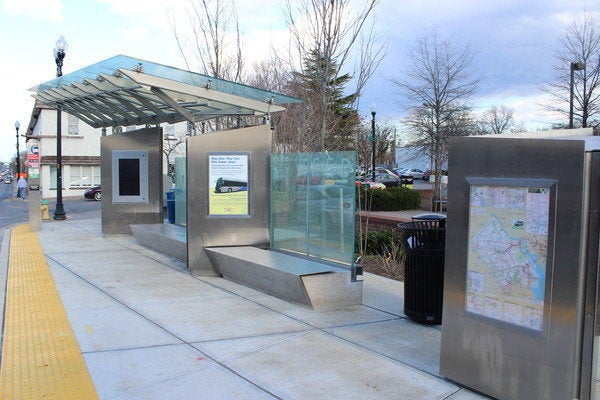 Of course, this is no ordinary bus stop -- it is Arlington's now infamous $1 million bus stop, situated at the corner of Columbia Pike and Walter Reed Drive.
No, it wasn't constructed using gold bricks. It wasn't designed by Frank Lloyd Wright from beyond the grave. And there isn't a Picasso -- or a Renoir of mysterious provenance -- hanging from the glass shelter.
It does have a digital display that shows riders when the next few buses will arrive and features a necessity for all bus stops -- a heated concrete floor.
But that's where the luxuries start and end.
As Arlington County Board member Libby Garvey (D) notes, the bus shelter doesn't provide much protection from the elements. "If it's pouring rain, I'm going to get wet, and if it's cold, the wind is going to be blowing on me. It doesn't seem to be a shelter. It doesn't really shelter you very much . . . you can get pretty soaked in two minutes," Garvey told the Washington Post.
The bus stop, built by WMATA and paid for by the county, state and federal governments, will be part of an approved street car plan to run up and down Columbia Pike (which has created a divide in its own right among county residents), which is why the costs were so high, according to ARLNow.
"Since this stop is the first of its kind, the cost is higher than your typical off-the-shelf bus shelter," said Arlington County Department of Environmental Services spokeswoman Shannon Whalen McDaniel. She added that because this was a prototype, there were "a number of first time design and set-up costs" that pushed up the price tag.
The costs set off an outcry of confusion, bewilderment and accusations of overspending:
Commuter Yohannes Kaleab wondered, "Is this made of gold?"
(Which, as we've already mentioned, it is not).
One bus rider said, "It's cute. But cute ain't warm. Cute ain't dry."
(But as we've mentioned before, at least the ground will be warm).
Another bus rider admitted, "I don't think it's worth a million dollars."
(But, apparently, it was).
"A million dollars is a hell of a lot of money. Believe me!" said an exasperated rider, who has a knack for stating the obvious.
(And we do believe you!)
"I'd say, personally, make a warmer bench."
Watch Petri's take on the super bus stop below.

Surprisingly, however, the cost of the stop should come at absolutely no surprise to anyone working at WMATA, the county or the state.
According to the Washington Post, Arlington County has set aside nearly $21 million to construct and design the remaining 23 stops -- or just over $900 thousand per stop.
Despite prior knowledge to the costs of the bus stops, in an effort to satisfy the disgruntled public, Arlington County and WMATA announced Thursday that they are set to launch an independent review of the bus stop to assess the high costs and have halted further construction until it is complete.
Perhaps if the county does plan to go ahead with the million dollar costs of the remaining bus stops, they should consider using gold bricks, investing in a Rembrandt or at least building a shelter that provides...shelter.
Related
Before You Go

Most Walkable Cities In America
Popular in the Community