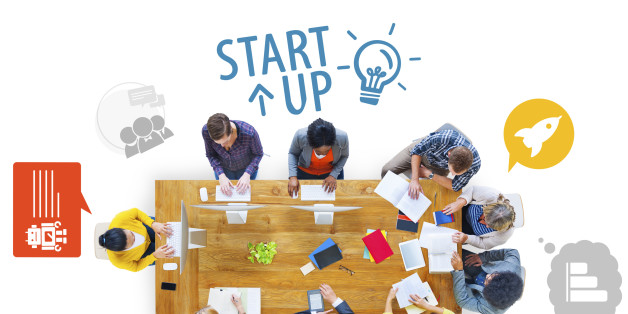 After my March visit to CoLab-Factory, I left covered in construction dust just days before opening. A few weeks later, a culture has blown up in the first co-working space on the Fulton Mall in Downtown Brooklyn. At New York Natives, it's incredible to be an active member as startup stories unfold -- it's Silicon Valley with a twist on a true New York State of mind.
We celebrated launch with a DJ from Verboten in Williamsburg and the acclaimed Foster Sundry drowned us in cheese. We staked out our new home, shaking hands with guests like the Downtown Brooklyn Partnership and the Brooklyn Chamber of Commerce. Some of our favorite Rooftop Sessions from New York Natives played on huge screens around the place.
Then, suddenly, launch turned to workflow in the space. CoLab-Factory founder Shane Barbanel says it is a place to "build your dream, assembly required." Monday mornings are already a virtual Grand Central for tech geeks and entrepreneurs at the 8 am weekly roundtable on the third floor of 14 DeKalb Avenue. Our first game night at the co-working space, which had me up against the clock pitching a culturally-driven design firm, launching argyle-boxed whiskey-flavored Pringles, was a hoot. We came second to the FooBrew app, which delivered beer and a meal according to your mood. Many of us celebrated at Junior's with some iconic slices of cheesecake. Shark Tank addicts, eat your heart out! I sat side-by-side a startup investor representing the family office space and a teacher of videography from Columbia University. A week later, I trafficked a Refinery29 reporter in the direction of Dia, an up and coming plus size fashion line that had made CoLab-Factory their home, while they waited for their factory to be complete.
But it was the events of last week that saw a true triumph for the 10,000-square-foot location and its community. Social impact startup Propel which is working out of the CoLab-Factory secured $1.15 million in seed funding. The group of investors let by Chmod Ventures, included other key investors like WinWin, an investor group formed by Coinstar founder Jens Molbak.
Propel on any given days sits just a few chairs away from our production units two offices. My company is four years old and we have two locations now -- Manhattan and Brooklyn. I can tell you as a founder of a startup, an event in an environment like this matters. Everybody else's success feels like your own. It renews your faith in the small business story.
The hard knocks that come with being an entrepreneur in New York City are triumphed by seeing a colleague at a table down from you strike gold for the valuable work they are putting in day after day in an effort to literally change the world we inhabit for the better. Ultimately like the city itself, it is the community that matters most. While CoLab-Factory happens to be stunning and Shane has geeked out on the art of work as he tries to provide the best work experience to all the members, it's his latest guests Blue Ridge Labs from the Robin Hood Foundation and others that are stirring up the startup community.
Positioned as the anti-poverty platform, Propel is fundamentally changing the face of social services in America. $47 million Americans spend $70 billion in food stamps each year and they largely enroll by standing in line. Check their balance by calling a 1-800 number and renew by filling out a paper form. By building software that is 100x better than the status quo, Propel is becoming a trusted interface between people and the services they need. They launched the first beta of Fresh EBT three months ago to make it easier for families receiving food stamps to manage their finances. The app is now available in all 50 states. Over 8,000 people have used the app already and 1300 people use the app every day to do things like see their balance on the app when they're in the middle of a grocery store. All of that wonderful change, A broken or outdated system is being fixed one step at a time literally at a desk nearby.
So what will be the next startup to arrive, the next lesson to be learned in the neighborhood as important to New York's own business history as the city itself? I don't know yet. I can't wait to find out. Maybe it's us? I just landed on the front page of Gawker as an advisor to this world. It's New York, anything can happen good or bad and as fast as a New York minute. Right now I'm ready for more hard work and trying my hand at the next half-baked game night extravaganza later this April.
REAL LIFE. REAL NEWS. REAL VOICES.
Help us tell more of the stories that matter from voices that too often remain unheard.