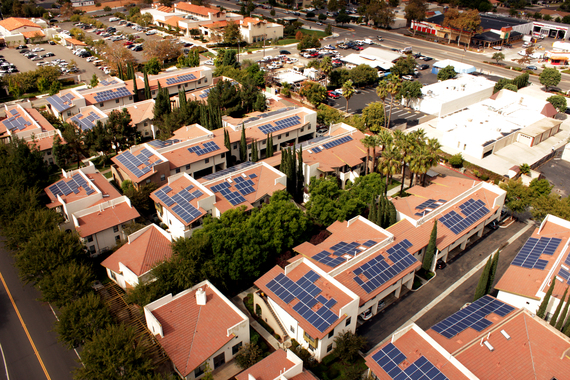 Photo: National Renewable Energy Laboratory
Perhaps it was on the rooftop of a superstore in a suburb of my home state of Massachusetts. Maybe it was on a high school in New Jersey, or a home in a small North Carolina town. It could have been a solar carport project in California, believed to be the largest of its kind. But sometime in the last two months, a solar project helped us clear a critical milestone for renewable energy: the U.S. now has 1 million solar power installations. What's more, experts say it will take only another two years to double that number.
What made this milestone possible? And perhaps even more importantly, why will it seem modest in just a few years' time?
It's not as if the sun just started to shine. Enough sunlight hits the U.S. to supply our energy needs with solar power many, many times over. The reason we've seen an exponential growth is solar power in recent years -- with enough solar now to power over 5.4 million homes -- is the trifecta of public policies, technological innovation, and plummeting costs.
Pollution-free, with no fuel costs and the allure of energy independence, solar power has long enjoyed broad public support. In part as a result, policy makers at all levels of government have enacted policies to level the playing field so that solar can begin to replace polluting fossil fuels. Twenty-nine states and the District of Columbia all have clean energy requirements, many with particular incentives for solar power. Since 2006, federal officials have offered tax incentives for solar installations. Policies to enable solar panel owners to connect and sell excess power back to the electric grid have played a role as well.
Responding to public policies and strong demand, innovators are working constantly to make solar power more efficient and easier to install. In 2000, the average solar panel converted about 11 percent of sunlight to electricity; now SunPower and three other companies have panels that are twice as efficient. Another technological innovation is the solar shingle, which blends in easily with the rest of the roof.
Thanks to strong public policies and technological innovations, solar is being deployed more widely than ever before, and costs are falling in turn. Prices plummeted 73 percent in the last decade, and more than 99 percent in the last four. Even without subsidies, solar power is beginning to compete with conventional fuels in some areas.
Two percent solar also falls far short of what's needed to slow global warming. Scientists say to avoid dangerous temperature increases, we must swiftly and steadily transition entirely off fossil fuels to clean, renewable energy.
So we're celebrating one million solar installations, but there's no time to rest on our laurels. To keep up and accelerate the pace, we're working to secure commitments from elected leaders to embrace bold goals for solar power. We're working to promote and defend the policies that work, like net metering. And we're working to get solar on rooftops and communities at the point of use, such as superstores and cities.
The progress we've made gives us the confidence we can take it to the next level. Let's lean in to it.
Related