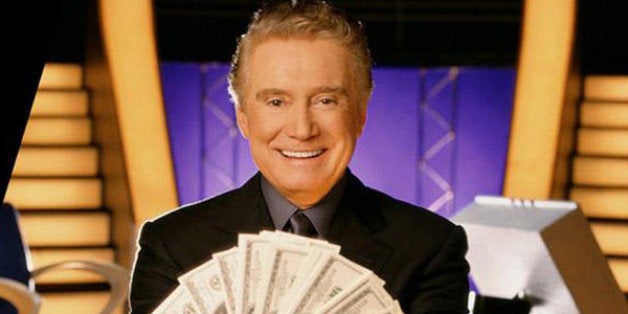 Saturday, Aug. 16 marks the 15th anniversary of "Who Wants To Be A Millionaire." In honor of the cultural phenomenon, HuffPost Entertainment spoke to several top-prize winners and, of course, Regis Philbin.
When "Who Wants To Be A Millionaire?" first premiered in the U.S. 15 years ago, no one could have had any idea what a hit it would become. Plucking Regis Philbin off the bottom of a list of potential hosts, ABC slotted its new game show for the end of the summer, slipping it into the schedule as a two-week special almost as an afterthought. There were some problems with the computers -- or as Philbin called them in our interview "incident machines" -- but it soon became clear the show would be a success. "Millionaire" soared in the ratings when it returned once more as a special and again as a full series, paving the way for unscripted shows on prime time and changing the way the country thought about $1 million.
"The attention changed my life more than the money ever could.'"
Picture the set. As if the music pulsing to a heartbeat or lights dimming to their "Shadowy Darkness" setting didn't cast enough drama, the reality of winning $1 million would have been enough.
"It was very, very serious," Philbin said. "And it had to be taken that way." Philbin remembered the preparation process for each show. He would recite all possible questions for a group of lawyers and "security people," ensuring he gave no hints to the answers (despite not knowing the answers in advance).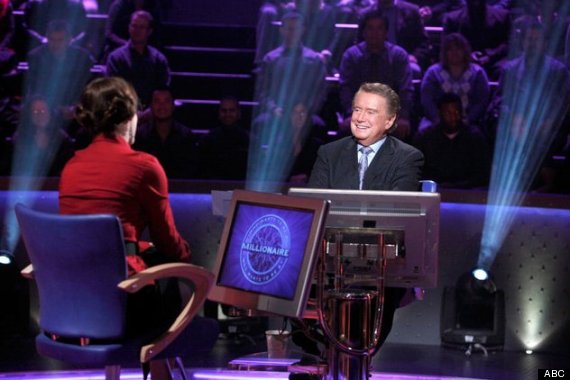 There was intense security surrounding the questions, packaged in sets of 15 and selected randomly along with the contestant. On set, "Millionaire" hopefuls were escorted with handlers everywhere they went (yes, even the bathroom). They had no access to the outside world.
"It was a lot like being sequestered for trial," said John Carpenter, the show's first-ever top-prize winner. Indeed: Second-ever winner, Dan Blonsky, was so desperate to get a hold of the score for the first game of the NFL playoffs that he finally got Philbin to tell him how the game was going on the hot seat. His team, Miami Dolphins, was being destroyed.
All Philbin could do -- besides perhaps lightening the mood with his avuncular voice -- was ask contestants where they were from and what they did for a living, in hopes of keeping folks at home more connected to their stories. And the audience, often exceeding 30 million in the show's early years, certainly stayed engaged.
The attention contestants would receive after winning is perhaps the most precise measure of the way the nation saw $1 million at the time. While we can look at the way the number has reduced in buying power, the perception of the top prize is a bit harder to talk about.
Now, because we have a broader idea of the net worth of movie stars or major athletes, a cool $1 million doesn't carry the same weight as it did in 1999. "It's not like baseball-player money," Carpenter said, reflecting on Alex Rodriguez's $28 million salary in 2013.
"It's not like I could quit my job and sit on an island and eat peeled grapes for the rest of my days.'"
Back in 1999, however, the prize functioned almost as a concept. You wouldn't just win this huge sum of money, you would become a millionaire. There was something performative about providing that final "final answer" -- a change in identity, a new title declaring the total of your economic worth.
The first winners could not walk down the street without being recognized. Carpenter fielded requests to be on "Oprah," "Letterman" and "Good Morning America," appeared on "Saturday Night Live" and guest-starred as himself on six episodes of "Oz." The first six contestants to reach the end of the game received a feature in People. But it was the direct public fascination that had more of an impact than anything else. "The attention changed my life more than the money ever could," Blonsky said. "The attention was odd. It wasn't bad it was just very odd for someone who wasn't used to it."
And yet, $1 million is not as life-changing as it might have seemed to those giving Blonksy and his counterparts so much scrutiny. Without fail, the contestants simply say their winnings made them more comfortable. All of them continue to work the jobs they held when they appeared on the show. Part of that boils down to the fact that just under half of the winnings disappear in taxes. Although, even if they had received the full $1 million, there might not be such a momentous effect as audiences imagined. Consider, as one "Millionaire" pointed out, the cost of retiring is often estimated to be about $700,000.
"I don't know that it changed my life," said Nancy Christy, the first and only woman to ever win. Christy is a single mom, who continued to teach after she won in a syndication episode hosted by Meredith Vieira. She is still working at age 61. "You know, it's not like I could quit my job and sit on an island and eat peeled grapes for the rest of my days," she said. Christy was able to travel a bit more, and went on separate trips with each of her kids, but didn't make any major splurge beyond that.
Blonsky spent about $5,000 on a dinner in Las Vegas served up by Emeril Lagasse, but put the rest away. "I didn't really access it, because I invested it," he said. "I didn't go out and buy a boat. It just gave me a safety net that I didn't have before."
"They say, 'Oh, the money is going to change your life,'" Carpenter said. "The money doesn't change your life. What happens afterwards might."
"I was just amazed at how easy the questions were.'"
Fifteen years after the show's premiere, the winners speak with a casual apathy not just about winning but the knowledge that got them there. It should be noted that Carpenter is not only the first winner but the only one to ever not use a lifeline. Philbin started digging at him as he moved up to the $250,000 mark, except Carpenter wasn't trying to show off. He just knew the answers.
"I would have felt like a fraud if I used a lifeline for those things, but I said to myself that I was going to use a lifeline no matter what on the last question, because I didn't want to be thought of as that guy," he said. "But when I saw the question, I thought, 'My father is going to know I know this.' So, I'm a bit of a smart ass and it came to me to just tell him I was going to win."
Though perhaps less of a "smart ass" than Carpenter, each of the winners identify themselves as having a unique ability to retain what Christy called "garbage minutiae." Interestingly enough, they all found their way to the show by someone watching and suggesting they'd be able to win.
"I was just amazed at how easy the questions were," Carpenter said. His friends forced him to watch. "People have always referred to me as someone who has a lot of useless knowledge." He and Christy cited the geek subculture, which has taken a rise, they believe, since "Millionaire."
Neither was involved in trivia competitions before, though Christy has become well known in some circuits since her win. "It's definitely become cool to know things," she said.
Blonsky and Carpenter were chosen after a two phone calls for which they answered a series of questions electronically. Christy took a test with more than 1,000 people and was selected after being interviewed along with those who passed. Now, as Philbin said, "anyone can have a go at it." For the show in syndication, most recently hosted by Terry Crews, a change in the audition process may be part of the reason why only two people have taken home the top prize since Christy's win in 2003.
The quiet confidence of each of the winners is likely as much a reason they took home the top-prize as their "useless knowledge." In its height, "Millionaire" became known as the show no one won. Now in its 13th season of syndication the show has only had 13 total winners (10 in its network run and three in syndication). Philbin attributes that fact to fear.
"ABC was willing to pay the money. It was just that often when they got to the half-million dollar mark and got the question, they were afraid to try and answer again," Philbin said. "They would grab their half-million and leave. It took us eight weeks to find a winner to get all the way to the million."
Carpenter, Christy and Blonsky were all inoculated to whatever held those other contestants back. "After the show, they told me that I played the game like a man," Christy said. What they meant -- though it's not much less egregious than any possible meanings of that sentiment -- is that Christy took risks. Looking back, she said she had nothing to lose.
Once she passed the $32,000 mark, Christy knew she was going to take home at least more than her annual salary and, heck, it didn't cost her anything to get there in the first place. At the end of the day, the experience was at least a free trip to New York. "That's my advice: Get out and take risks," she said. "Take a shot! What's the worst that can happen? Look what might happen."
Giving more practical advice to her students, Christy begins each school year explaining what $1 million means in today's economy. She explains its buying power (Sorry Timmy, but you can't actually afford a team in the National Football League) and teaches the true value of being a "Millionaire."
Carpenter, too, has spent his fair share of time combatting misconceptions since his iconic win. "The two things people think are that I can just kick back and live fat and happy now," he said, "The other thing people ask me is whether I go to Regis' house to have barbecues."
Before You Go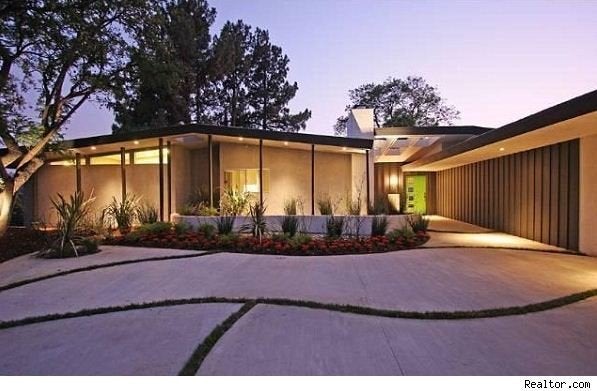 Amazing Celebrity Homes
Popular in the Community