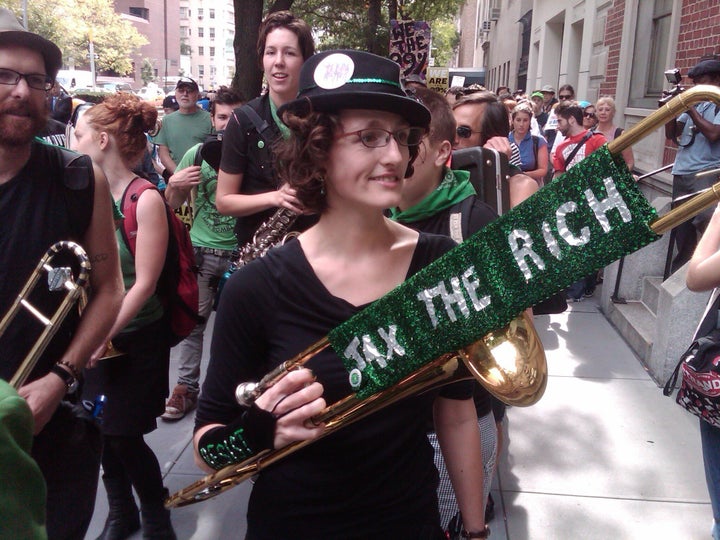 In an effort to draw attention to economic policies that favor the rich, a few hundred protesters took a tour of the luxury apartment buildings and townhouses of the Upper East Side Tuesday, with stops outside the homes of Rupert Murdoch, David Koch, the hedge fund manager John Paulson, the real estate developer Howard Milstein and Jamie Dimon, the CEO of JPMorgan Chase.
Kola Lulgj, a banker in Midtown, was taking his lunch break when the protesters walked past him holding signs and chanting "Banks got bailed out, we got sold out." In a crisp tweed sports jacket and a brown checked shirt unbuttoned at the collar, his gleaming hair combed straight back, Lulgj looked a little out of place amid the protesters, but he said he sympathized with their complaints.
"I work for the 1 percent," he said. "I've been employed -- gainfully employed. But guess what? I have a lot of peers who are very educated and very unemployed. This is a representation of the people. This is the feeling around the country."
The march, which began on 59th Street and Fifth Avenue, had been organized by a coalition of community groups, including United New York, New York Communities for Change and Strong Economy for All.
Doug Forand, a spokesperson for the coalition, said that plans for the protest had been in place for months. The Occupy Wall Street movement, he said, drove "a bit more energy into the movement."
One of the organizers was Michael Kink, the director of Strong Economy For All, who wore a dark suit and a skinny black tie that would not have looked out of place on a civil rights activist in the '60s. He described himself as "kind of like a policy wonk and a lawyer." Outside JPMorgan Chase CEO Dimon's home, Kink addressed the crowd using the "people's microphone" made famous by Occupy Wall Street, with the crowd repeating every few words he said.
Noting the prevalence of moving vans in the neighborhood, he suggested that should Dimon find New York's "millionaire's tax" intolerable, it wouldn't be too hard for him to leave. "But we prefer that he stay and pay his fair share," Kink said.
If Dimon was home, he did not come out to acknowledge all the attention he was receiving. Nor did any of the other moguls whose houses were on the tour. Still, there were plenty of lively exchanges between protesters and residents of the neighborhood.
Kathryn Deane, who identified herself as a seventh-generation Upper East Sider, stood on a Park Avenue traffic island and snapped pictures with her phone of a protester who was carrying a cardboard sign that said bartenders and bankers deserve an equal vote. She said she wasn't surprised that something approaching an angry mob had paid a visit to her neighborhood. "I expected the group would migrate up here," from Wall Street, she said. "If they were serious about what they were doing, this makes sense."
Deane said she thought that the protests were "ultimately a good thing." She said had just published a book about Bermuda, and made sure to note that the proceeds would go to Bermuda charities. "Charities need the money now," she said. "Everybody's hurting."
A little further up Park Avenue, a man with a ponytail and a skin-tight black T-shirt stepped out of a black Mercedes wagon and set a Pomeranian down on the roof of the car. Both Man and dog then watched the procession pass.
Kink found sight this an impressive enough to warrant momentarily interrupting his cellphone conversation. "Oh my god, wait!" he said. "Can we please take a picture of that?"
Outside another Park Avenue building, a man named Angel Rodriguez gave a hearty endorsement to the march. "It's about time everybody got together," he said.
Rodriguez does not live in the neighborhood. The van that brought him there was parked a few feet away. "We move the rich," he said.
The group of protesters included Elida Ramirez, a community organizer from East New York who said she'd been coming to the Occupy Wall Street protests every day. "You can imagine if you stay at my home and do nothing, it will be worse," she said.
When the Occupy Wall Street protests began, some critics dismissed the protesters as privileged brats, mostly young and mostly white, but Ramirez, who is from the Dominican Republic, said she was impressed by the diversity of the crowd.
The protests were for everyone "affected," she said -- affected by the country's economic policies and banking practices. And she did not hesitate to include herself in that group. "I got two kids -- 24 and 27 years old," she said. "They can't finish their school because I don't have enough money to send them to college."
On Fifth Avenue, a protester named Josh Boss decried the injustice of tax breaks for the rich to some people sitting outside the Guggenheim Museum. Asked how he came to be at the march, Boss said that he recently moved to New York after getting laid off from a job in Boston. After moving here, he was watching the live stream of Occupy Wall Street, he said -- "and I saw what happened with the pepper spray, and I ran down there with all my gear and started videotaping all I could." His job in Boston involved running a live stream for a big-box retailer. Now he is helping to run the live stream of Zuccotti Park.
CORRECTION: In an earlier version of this story, a sign was described as advocating for bailouts for bartenders. The sign said that in a true democracy, a bartender and a banker should have an equal vote.
Calling all HuffPost superfans!
Sign up for membership to become a founding member and help shape HuffPost's next chapter