With over fifteen years of retail experience under her belt, this Brooklyn-native knows how to help customers find exactly what they are looking for. Even if it so happens to be a 4-years-old, the cast of ''Gossip Girl" or Barbara Walters. Check out our interview below to hear some of her wildest stories.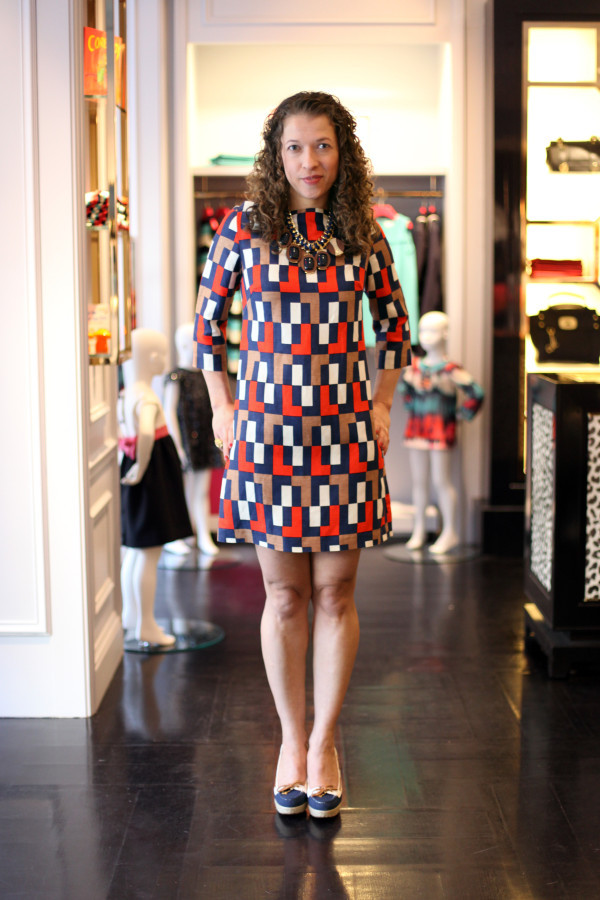 Who is the Milly customer?
I think our customers are pretty savvy, and they're very stylish. And the age range is really broad, we'll get 20-something to 50-something on the Upper East Side. She shops at Barney's, she shops at Bergdorf's, she's shopping at Saks. And she's also a website, e-commerce shopper, so she's just very focused on getting the best-looking clothing, getting the best styles and always being on trend. So we have a lot of stylish customers from all over the world. I think the Milly girl, the Milly woman, is really the most pleasant person, who loves fashion, but they're happy people. And one thing I always like to tell you is we recently started our bridal program, and so we have a bride who actually lives in Hong Kong. She sent her best friend, who lives here in New York, to try on bridesmaid dresses and we just sent her eight bridesmaids dresses last week, so we're so excited. Her weddings is a week and a half, so we're like, 'Oh my God!' It was a very tight window, but we're excited to be part of her day.
Do you ever have customers who buy pieces without trying them on?
Sometimes. I always tell customers that they really do need to try on a dress, so when a husband or boyfriend is trying to buy something for their significant other, I always try to get a top or bottom rather than a dress sometimes, because I do think that for a dress, you want to see how it lays on your body. Husbands are fun. We had a gentleman yesterday who was probably in his 70s and it was so cute. He came and said, 'I want to buy a red dress.' He was very specific, so he just pulled everything red out. He knew his wife was a size small, so that was so easy. We got him the Sofia circle dress, which just fits fantastically on people. He was just a quiet man; we tried to make the experience as painless as possible.
What is the most exciting thing that has happened in the store?
We had 'Gossip Girl' shoot in the store back in December, which was super fun. And Leighton Meister was here, wearing Milly. It was really exciting to have that experience here. We had to close down the store; it was huge. They had railroad tracks on the floor when they had the whole units, and cameramen were inside. There were probably 40 people in the store, and then just three actresses. All the extras were there for the hair and makeup, so many people for just this one scene. It was cool because they were here for about four hours and we got to stand in the background and some of us were on camera!
Do a lot of celebrities pop into the store?
I always feel like I have my blinders on, the rest of the team will be like, 'Oh, did you see so-and-so in here the other day?' And I'll be like, 'Really?', but my first celebrity in the store was Barbara Walters. She walked in one day and we're like, 'Oh my God, it's Barbara Walters!' I actually helped her in the fitting room, she bought two tops from us. She came back a few days later and she said, 'My friend, Cindy Adams, really loved my red shirt, so can I buy another one for myself?' She bought another shirt and then she ended up buying a dress that we had in the window which she wore on 'The View.' So now I'm like, 'I love Barbara Walters!' It's so exciting to hang out with someone like her. She's an icon, but she was so amazing and totally genuine, so that was really cool.
You also have a lot celebrity stylists who come into the store. How is it different then helping the stars directly?
I've always worked with the stylists and they're really great because they know what they want, they know what they need and they're kind of open to suggestions, as well. We have a stylist who works exclusively with some of clients on Madison Avenue, so she'll come in here – she's probably been in here about three or four times – and literally, we'll get her ready, get her tea, get her coffee. She'll sit down, and we'll show her things. So if she has her client with her, it kind of makes it easier for us because she's that go-between between us and the customer. One of the cooler ones that came in recently was a stylist for Angelina Jolie came in recently, like two weeks ago. And actually bought Milly Mini products, so we're hoping and crossing our fingers!
You must also see a lot of cute kids here as well...
We do. Our marketing person was a genius and I have to give her amazing props, because she told us that we should bring in toys to our little minis department. And at first, I wasn't sure, but it's such a distracting, awesome thing for the kids. They'll run over to the toy box and start playing with the toys while their moms shop. Even when the moms are shopping for the little girls, for the Milly minis, we can distract the little girls with a book or a Barbie doll while her mom's shopping for her.
What are your most popular items right now?
One of our best-selling dresses is called the Chelsea halter dress. She's backless; she's just stunning. And she has ruffles going all the way down the back, and it was such a successful dress that I asked Michelle Smith if we could put it in the bridal program. And now it's our best-selling bridesmaid dress. Also, our sheath dress, it really fits everybody. Literally, 0 to 12. It's our go-to dress when somebody is shopping for an interview, a date, anything. Surprisingly, the most popular color right now in the store is pink. Like shocking pink.
What items do you have your eye on right now?
We launched our handbag collection last year, and then this season we just put our really bright, colorful ostrich embossed collection of handbags and small leather goods, so I'm really excited about that. There's an amazing cobalt blue bag that I have my eye on, and I already bought a wallet, so did half the staff here. When we're getting coffee around the corner together, it looks a little silly. There's just so many more amazing things coming in, we're all like, "Oh my God, bring it to us now!' There are a lot of leather pieces for pre-fall: a leather circle skirt, a full sleeveless leather dress, some cute leather cropped pants. I just can't wait. I'll have to buy one or two pieces of leather for fall, as well.
The girls who work in the store are all so close? That's great!
Yeah, I love them. They're amazing. When we get the new collection, every single person in the store tries it on. We have from a size zero through size twelve in the store, and there are nine of us. It's a really great way to see how everything fits and get a feel for the different body shapes that are out there, so we know what to sell to the customer. We call them 'fit sessions,' but basically, oh my God, it's too much fun. We all hide in the fitting room and pull for each other. We know pretty much what each one of our "safe" outfits are and what we like to wear, so we'll challenge each other to wear something we wouldn't normally wear. Again, to get us out of our comfort zone, but also to see how it fits on our body type.