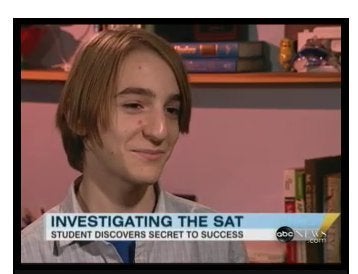 Milo Beckman, 14, became frustrated when his SAT score rose the second time he took the test. Why? Because he didn't think he did as well compared to the first time he took it.
So Beckman, whom the New York Observer once dubbed a "prodigy," formulated a hypothesis: That students who wrote longer SAT essays scored higher. And then he tested that theory. And he was right.
[Beckman] asked his fellow students at New York City's Stuyvesant High School to count how many lines they had written on their essays and to provide their scores.

Milo says out of 115 samples, longer essays almost always garnered higher scores.

"The probability that such a strong correlation would happen by chance is 10 to the negative 18th. So 00000 ...18 zeros and then (an) 18. Which is zero," he said.
An MIT professor corroborated Beckman's research. "Milo's findings are exciting to me for the reason that any researcher is excited when somebody else takes their research and applies it in an innovative way and replicates it. Because it confirms my research," Les Perelman told ABC.
Read the full story at ABC, and watch their interview with Beckman below:
Calling all HuffPost superfans!
Sign up for membership to become a founding member and help shape HuffPost's next chapter