NEW YORK ― We've seen a lot of variations of Jack Pearson on "This Is Us," spanning several years ― from his younger, clean-shaven days to his full-bearded look.
But in next week's Season 2 finale, viewers will get the chance to see Milo Ventimiglia playing a much older version of Jack ― gray hair and all. The episode will show what Jack would have looked like many years later if he hadn't died from cardiac arrest after saving his family, their dog and their keepsakes from a house fire. Essentially, it's a present-day Jack at what appears to be the wedding of his daughter Kate (Chrissy Metz).
"I think that's a version of Jack that everybody would have liked to have seen and they are excited to see. For me, selfishly it gives me another opportunity to work with actors on the show that I may not be able to work with because of Jack's early passing," said Ventimiglia, who sat down with HuffPost Thursday at the New York City Fire Department Engine 8 to discuss the importance of changing batteries in smoke detectors as part of a partnership with Duracell.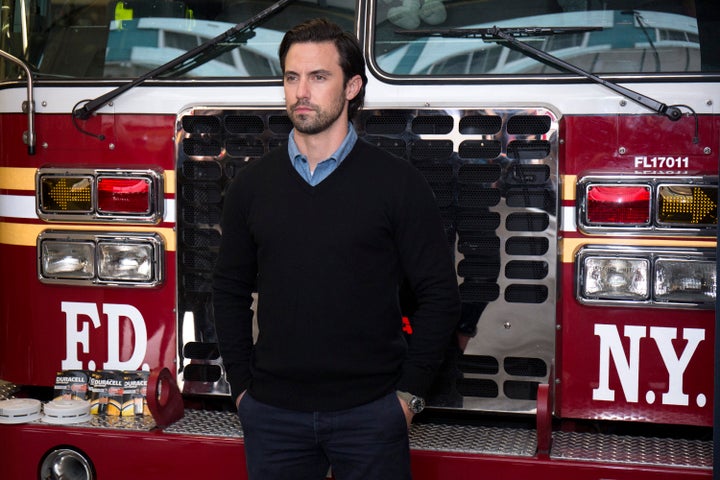 So what would Jack have been like if he did live into his 70s?
"I think he'd be much like the younger Jack. I think he'd be happy to be around his kids, happy to be around his wife," Ventimiglia said. "He'd probably be building homes somewhere."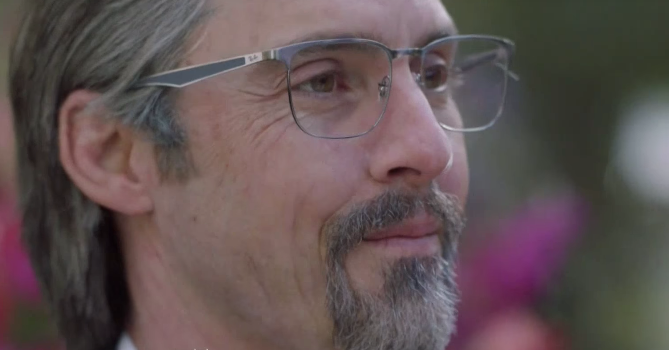 To get the look, Ventimiglia had to sit in the makeup chair for a while. 
"It took about three hours to put on and about an hour to take off. But it's amazing how it transforms how I feel, how I move, how I talk. It's an amazing feeling ― all of a sudden, you're in your 70s," he said.
On a daily basis, stepping into the role of Jack Pearson, though, comes relatively easy for Ventimiglia. He says it's especially natural acting alongside Mandy Moore, who plays Jack's wife, Rebecca Pearson, on the NBC series.
"There's not a lot of imagination needed. I put on the clothes. I put on the hair and makeup — I have a mustache or a beard," he said. "I look into Mandy Moore's eyes and I'm Jack."
Moore recently told HuffPost she's watched nearly every "This Is Us" episode with Ventimiglia. It's become a "tradition," Ventimiglia said, especially because the completed episodes air months after the actual filming.
"I think we watch them because we want to see the work of our co-stars and our crew but also I think we've grown to enjoy the time after the fact," he said. "We get a chance to watch it together and talk about it together right in the moment of seeing it. It's kind of like watching it with your family."
And yes, Ventimiglia cries while watching the show, too.
"For me, the episodes about the kids and about Rebecca, those are the ones that affect me the most. The ones about Jack — less so because I'm in his shoes," he said, adding, "I'm much more emotional than Jack Pearson is."
The episode in which Jack's cause of death is revealed was particularly heart-wrenching for viewers. Ventimiglia, for one, is glad that it finally aired and that people now know how his character died.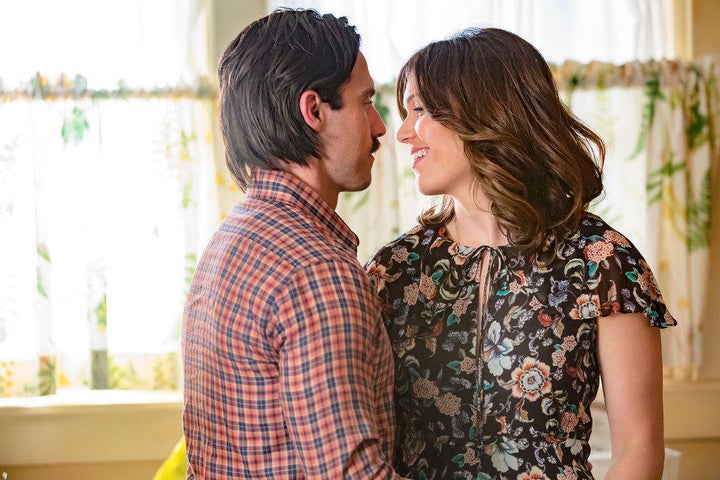 "For months and months and months — every day ― and me in particular ― getting asked the question, 'How does this man die?' To finally have it revealed to the audience was a pretty big relief," he said. "Of course there are more secrets within the show that I have to hold back now. It transfers from one secret to the next creatively."
The series has much more to uncover about Jack's backstory. With that and all of the show's success, Ventimiglia says he feels a responsibility to the show and the fans.
"I think probably just being out in the world and knowing the impact the character has made on people," he said, "and trying to be respectful of that and lean into that and embrace where people are responding to the positive message of the show. And trying to respond ... to that positivity."
The Season 2 finale of "This Is Us" airs Tuesday, March 13, at 9 p.m. ET on NBC.
Calling all HuffPost superfans!
Sign up for membership to become a founding member and help shape HuffPost's next chapter
BEFORE YOU GO
PHOTO GALLERY
Celebrity Photos