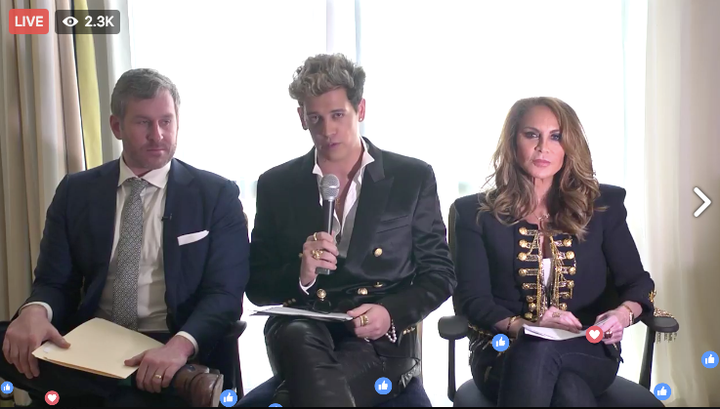 BERKELEY, Calif. ― It was supposed to be his Woodstock. But on Saturday morning, a day before Milo Yiannopoulos's "Free Speech Week" rally at the University of California, Berkeley, was scheduled to start, the alt-right provocateur alerted his followers that he would be holding an "emergency" press conference on Facebook Live.
His previously scheduled press conference, set for a luxe event space on Treasure Island in San Francisco Bay, had reportedly been canceled by the venue's owners. And so come noon, he could be found sitting in a drab hotel room, flanked by anti-Muslim activist Pamela Geller and men's-rightser-cum-conspiracist Mike Cernovich. Yiannopoulos had an announcement: "Free Speech Week" was no more. And then he tried to sell some stuff to his fans.
Hours earlier, the conservative student co-organizers of the rally told the university they had canceled the four-day shindig, citing what they claimed to be unfair treatment by UC Berkeley administration.
In the video, Yiannopoulos explained that without a student sponsor, he couldn't hold an official university event. So he announced that he'd be holding an "unofficial" rally at the campus on Sunday.
"We are going to be hosting an event, come hell or high water, tomorrow," he said. "We have been in touch with Berkeley PD and are very happy to say the police are behind us, and will be staffing Sproul Plaza tomorrow in force."
This rally, he said, would go forward "with or without student help, with or without the cooperation of UC Berkeley itself," and even if "domestic terrorists" from Antifa showed up.
He lashed out at the university, claiming it used bureaucratic tricks to railroad "Free Speech Week." The administration, Yiannopoulos claimed, "had done everything in its power to crush" the event.
Then came the sell. Yiannopoulos promoted some future events at other California universities — part of what he's dubbed his "Troll Academy" tour — and took time to announce that his company, Milo Inc., would be publishing a new book by Pamela Geller: Fatwa: Hunted in America.
Yiannopoulos had wanted his "Free Speech Rally" in Berkeley to be the Woodstock of the far-right: a big, bad gathering of prominent far-right figureheads, including Ann Coulter and Steve Bannon. And his student co-organizers had hoped left-wing riots at the event might amplify Milo's message.
But here was Milo on Saturday, his Woodstock canceled, talking to a camera in a poorly lit hotel room, hawking a yet-to-be published book to less than 3,000 live viewers. It was as if no one but Sha Na Na had shown up at Yasgur's Farm.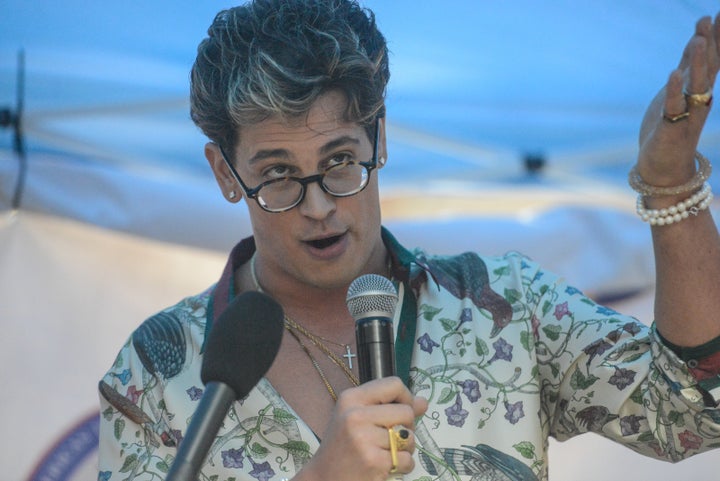 "Claims that this is somehow the outcome desired by the campus are without basis in fact," Dan Mogulof, spokesman for UC Berkeley, said in a statement Saturday. "The University was prepared to do whatever was necessary to support the First Amendment rights of the student organization."
In the weeks leading up to the "Free Speech Week" rally, Yiannopoulos and the Berkeley Patriot missed multiple deadlines to secure campus venues and to confirm a guest list, the university said. Despite these alleged missteps, UC Berkeley had said as late as Friday that it was still preparing for the rally. On Wednesday, the university published a full "Free Speech Week" schedule, complete with times and locations.
Many have suspected that Yiannopoulos never wanted the event to go off in the first place. Instead, the theory goes, he wanted once again to claim the mantle of the martyred conservative man of ideas, suppressed by the liberal jackboots of the ivory tower.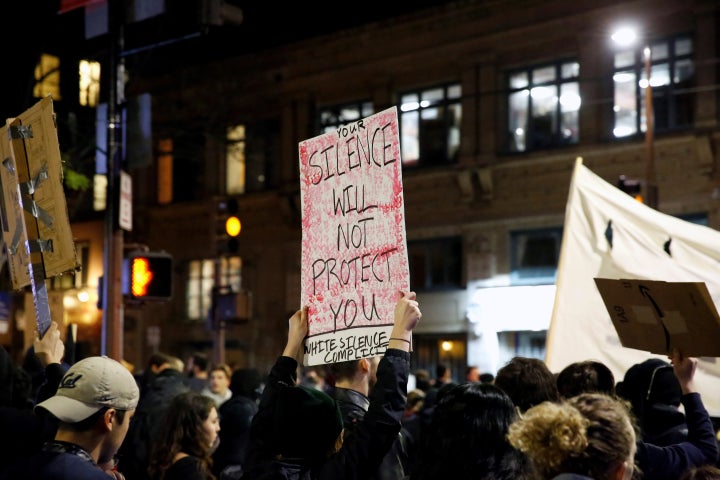 In February, some 1,500 people protested his appearance on campus by tearing down infrastructure and throwing Molotov cocktails, and the event was canceled. His "Dangerous Faggot" tour on campuses across the country last year also sparked protests, and led to acts of hate targeting minorities. From Salon:
Following his lecture [at Chicago's DePaul University], ThinkProgress reported that DePaul students discovered nooses strewn around campus. While conservatives had chalked the sidewalks with pro-Trump slogans in the days leading up to the event, they replaced them with a more permanent rejoinder: "Fuck Mexico" was painted in black outside the school's quad. When The Daily Caller, a popular right-wing blog, reported that Ada Cheng, a women's studies professor, resigned in protest over Yiannopoulos' speech, she received death threats. Internet trolls even targeted her page on Rate My Professor.
It's this kind of hate that brought anti-fascist protesters out onto the streets on Saturday in Berkeley for a demonstration that at times felt like a victory march.
A brass band played, and protesters, many of them wearing masks, chanted and cheered and waved signs. On the back of a pickup truck, people took turns speaking into a microphone.
One woman addressed the man who had brought them all here: Yiannopoulos.
"He failed!" she said to loud applause.
If Yiannopoulos shows up at UC Berkeley tomorrow as he says he will, he'll likely be greeted by an even larger contingent of anti-fascists.
"Even if every fascist event gets cancelled, we feel very strongly that our protests should still go forward tomorrow, Tuesday and Wednesday," read a Facebook post Saturday from the group Refuse Fascism, "because the fascism that is behind the Fascist Week, the fascism in the White House – is still hammering ahead."
Yiannopoulos, for his part, is telling his supporters to be prepared for Antifa tomorrow.
"If you're planning on coming to Sproul Plaza tomorrow, there might be a few ANTIFA goons there," he wrote in a Facebook post, linking to a Milo Inc. guide to the Antifa. "But don't worry: We've got you covered. The ANTIFA HANDBOOK is your how-to guide to understanding, disrupting, and defeating this dangerous, but strangely pathetic, association of rejects from more upscale terrorist organizations."
America does not do a good job of tracking incidents of hate and bias. We need your help to create a database of such incidents across the country, so we all know what's going on. Tell us your story.
Popular in the Community