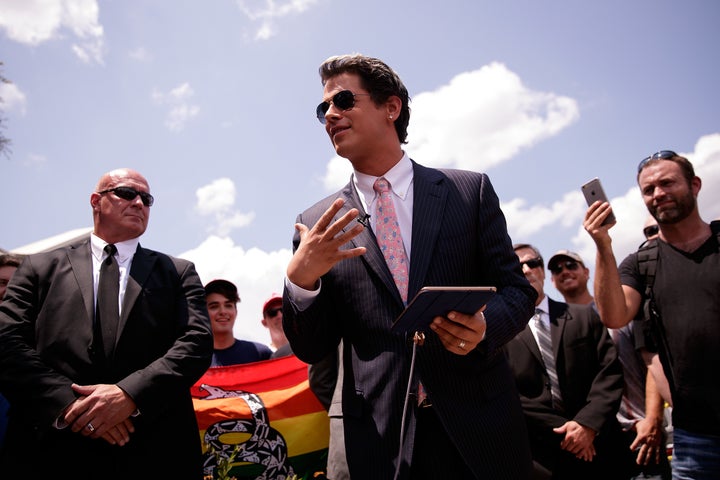 The controversy, like many these days, was ephemeral, but the damage will linger. In less than a day, the organizers of the annual conservative confab CPAC (Conservative Political Action Conference) booked professional provocateur Milo Yiannopoulos to headline the gathering before rescinding the invitation after video emerged of him seemingly condoning pedophilia.
It was a momentary embarrassment for the organization. But for the gay rights activists within the Republican Party, it revived the anger and befuddlement that seems to come each year at CPAC, leaving little sense of relief at the outcome.
Yiannopoulos would have been the most high-profile openly gay speaker in CPAC's history. But he is anything but the ideal standard-bearer for these activists. He has a history of bigotry toward other minority groups, including Muslims, Jews and even gays, whom he has insisted should bottle up their pride rather than have it accepted or celebrated. That he was embraced by organizers of the yearly event was yet another indication that gay conservatives are still viewed as a sideshow and not a constituency whose issues remain very raw and serious.
"It is an unfortunate realization of a goal for so many," James Richardson, an openly gay, longtime GOP operative, said before the invitation was rescinded. "For years the LGBT community was blacklisted from CPAC, and now we have an unlikely champion of the movement set to speak. Unlikely, because he is absolutely not a champion. Not at all."
It is an annual tradition for conservative LGBT groups and CPAC organizers to wage private and not-so-private battles about the composition of the conference. Usually these are fought over the smallest of terrain. Gay groups have struggled to be granted the opportunity for mere sponsorship or the chance to host a booth among the dozen organizations in the halls.
A modicum of progress has come recently but in curious, minor forms. For instance, the head of the Log Cabin Republicans, a gay rights organization within the party, was allowed to appear at CPAC in 2015, but only on a panel on Russia policy. In 2013, Sen. Marco Rubio of Florida turned heads when he labeled marriage a states' rights issue, yet he was only implying that he didn't favor a constitutional amendment to forbid it. And last year, a debate was held on the place of gay marriage in the libertarian and traditionalist wings of the party, where a consensus didn't form on same-sex marriage but instead on religious freedoms.
In these recent years, attendance by gay rights activists has dipped as CPAC has been viewed more as a venue for poli-entertainment than a place where an earnest debate about the state and future of conservatism can be had. That Yiannopoulos was invited to speak this year was, for the activists, an illustration of the charade.
"There are a lot of us who took a lot of hits over the years to help the conservative movement to evolve on some cultural issues, and this is less than a victory given the nature of Milo's act and schtick," said Jimmy LaSalvia, a gay activist who has left the Republican Party.
Officials at CPAC, including its chairman, Matt Schlapp, did not comment for this article. But, behind the scenes, officials acknowledged that the Yiannopoulos invitation was poorly thought out. One organizer conceded that gay groups had a right to feel hurt that CPAC was bestowing such a symbolic breakthrough on someone philosophically removed from gay activists in the GOP and with so few accomplishments in their movement.
Robert Traynham, a longtime gay GOP operative, suggested that a figure like Rich Tafel, the founder of the Log Cabin Republicans, would have been far better suited for the role.
"It seems to me that he would have been much more appropriate compared to Milo, who is a flash in the pan," Traynham said. "Yes, he does have a following. Yes, he is provocative and you can make the argument that some organizers of CPAC thought that might be a good thing. With the benefit of hindsight, it proved to not be."
As Traynham hinted, Yiannopoulos does, in some regards, reflect the odd moment that the conservative world finds itself in with respect to gay rights. He is, after all, a product of Breitbart News. And long before there was that modicum of progress at CPAC with respect to gay rights issues, it was Andrew Breitbart, the website's founder, who was demanding it.
A staple at CPACs, Breitbart, who died in 2012, often held court and caused stirs with liberal agitators who walked among the attendees. Behind the scenes, he advocated forcefully for gay attendees and issues.
"I don't understand the concept that a gay person cannot be a conservative; there are so many different things that conservatism stands for," he told The Huffington Post at 2012's CPAC. "I see the issue from the vantage point that I don't even think the media can contemplate. I see how the issue has been settled by the American people that we do live in an incredibly tolerant nation."
Yiannopoulos' rise also has come amid the political ascendance of the alt-right, with President Donald Trump as its most prominent beneficiary or, alternatively, star. And Trump himself has taken a far more open-minded approach to gay rights than prior Republican nominees or presidents. In the age of Trump, it made some sense to have a similarly provocative figure be the one to break boundaries at institutional conservative functions, argued one prominent gay conservative, who asked not to be named so as to not end up associated with another "Milo controversy." And yet he still wouldn't have extended the invitation.
"I think it was an in-your-face decision, and I wouldn't have made it," he said. "It's a bridge too far and too fast. If you're going to have a gay conservative speak at CPAC, make it an intellectual argument. This is entertainment."
By un-inviting Yiannopoulos, CPAC officials hoped that they could quickly stem the tide of anger that erupted when they first chose to bring him to the gathering. It certainly appears to have sparked a broader reconsideration within the conservative and nonconservative universe, with Yiannopoulos' position at Breitbart apparently no longer secure and his book deal having been axed. But for the gay conservative crowd that has locked horns with CPAC on a yearly basis, it's yet another indignity that they won't quickly forget.
"It doesn't really change anything for me," said LaSalvia. "I don't think he should have been invited in the first place. I think that his schtick cheapened the important work we did. Yes, we pushed the envelope sometimes, but he goes too far, routinely stepping over the line of decency. He shouldn't have been on the stage to begin with."
Popular in the Community