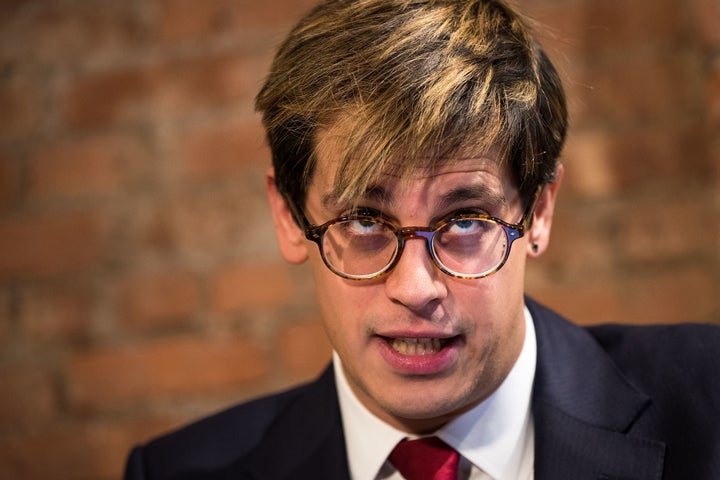 In a separate message posted Saturday, Yiannopoulos stated he plans to sue the publisher for $10 million to "send a message."
"We are going to make publishers, professors and journalists who threaten free speech famous ― and ashamed," he wrote.
The former Breitbart editor said Dangerous will be the first project under his new umbrella, Dangerous Books, an endeavor made for those whose work might otherwise be determined unpublishable.
(Bear in mind: Even President Donald Trump's last book, titled Great Again: How to Fix Crippled America, was deemed publishable by a major imprint.)
His original deal with Simon & Schuster was canceled in February. Although Yiannopoulos has a history of controversial comments ― he once equated feminism to "cancer" and led the charge on the racist, troll-fueled harassment of comedian Leslie Jones over Twitter ― it wasn't until he made a comment seemingly condoning pedophilia that the publisher pulled the plug.
"This will not defeat me," Yiannopoulos said at the time. Shortly after, HuffPost observed that, while his message had been invalidated by trusted outlets, the controversial character would likely self-publish his work anyway. Now, he's announced just that.
Self-publishing is a popular route for writers who are unable to find a traditional home for their books. But the market is "challenging," Mark Coker, founder of ebook distributor Smashwords, said in a January interview with Publisher's Weekly, due to the "flood of titles that have entered the ebook space."
""I'm going to be actively hunting around for the next Milo.""
Yiannopoulos said he will release Dangerous after touring campuses under Milo, Inc., a new media venture centered on live events. The self-proclaimed supporter of free speech said in a statement that he will focus on "making the lives of journalists, professors, politicians, feminists, Black Lives Matter activists, and other professional victims a living hell."
The First Amendment, of course, protects the freedom of speech, but also the freedom of the press.
According to Vanity Fair, Yiannopoulos claims to be supported by a $12 million investment from anonymous backers. And, he says he personally has access to "all the funniest, smartest, most interesting young YouTubers."
"I'm going to be actively hunting around for the next Milo," he said. "The generation that's coming up [...] They love us. They love me."
Popular in the Community