In M.I.L.P., Carrie tries to join the ranks of Hollywood's best mom actresses, (ex. Julie Bowen) only to find she needs to earn that privilege by successfully portraying a wide range of mom roles.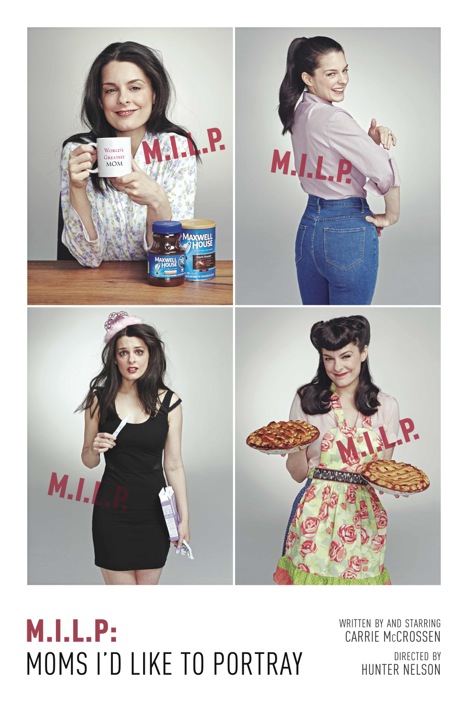 Carrie McCrossen took us behind the scenes of her empowering sketch comedy show M.I.L.P: Moms I'd Like to Portray (ft. Eric Gersen and Aaron Jackson, Directed by Hunter Nelson).
I spend a lot of time auditioning to play moms in commercials and on TV. And I started to become interested in how moms are presented in media. What makes me a "mom type?" There are several "mom archetypes" that seem to appear across a lot of media. And I think they reflect our expectations (and our judgments) of motherhood. I thought it would be fun to explore all that with a character show.
When did the musical number and pre-recorded videos become a part of the show? 
I had always planned to end with a song. (I have an affinity for musical numbers because of my past-life as a musical theater actor! Jazz hands!) The video element was added later in the process. I was looking for something cohesive to pull together all the various mom roles. That was based on feedback I received from the UCB artistic director, Shannon O'Neill, after the preview shows. Both Shannon and my director, Hunter Nelson, were immensely helpful in shaping the finished piece.  
Throughout the show, Carrie plays a series of familiar mom-types: a soccer mom, a dance mom, a working mom, (each with their own comedic twist.) Also sprinkled throughout the show are actual voicemails from Carrie's actual mom, who is not a comedian, but who steals the show with her unintentionally hilarious recordings.
I loved the videos. Was your mom receptive to you including her voicemails? They are very funny.
I asked my mom if I could include her voicemails and she said yes. (I can't imagine her saying anything else- she is so supportive.) The voicemails are actual messages she's left me over the years. I haven't tampered with them at all. And they are by far my favorite part of the show. She is so earnest and so funny. She came to see the show in August and I made her take a curtain call. I wouldn't be surprised if she got a development deal out of this. She should have her own show.

What was the first musical you saw? 
Phantom of the Opera. And it is forever written on my heart.
Did you write the part for Eric Gersen? He is great, too. 
I didn't! I wish I had! But I didn't have a specific actor in mind. Just knew I needed a "dad-type." Eric is so great. He's a close friend and we've collaborated together a bunch. I appeared in his (wonderful) musical 1770-Something, which ran at UCB in 2014.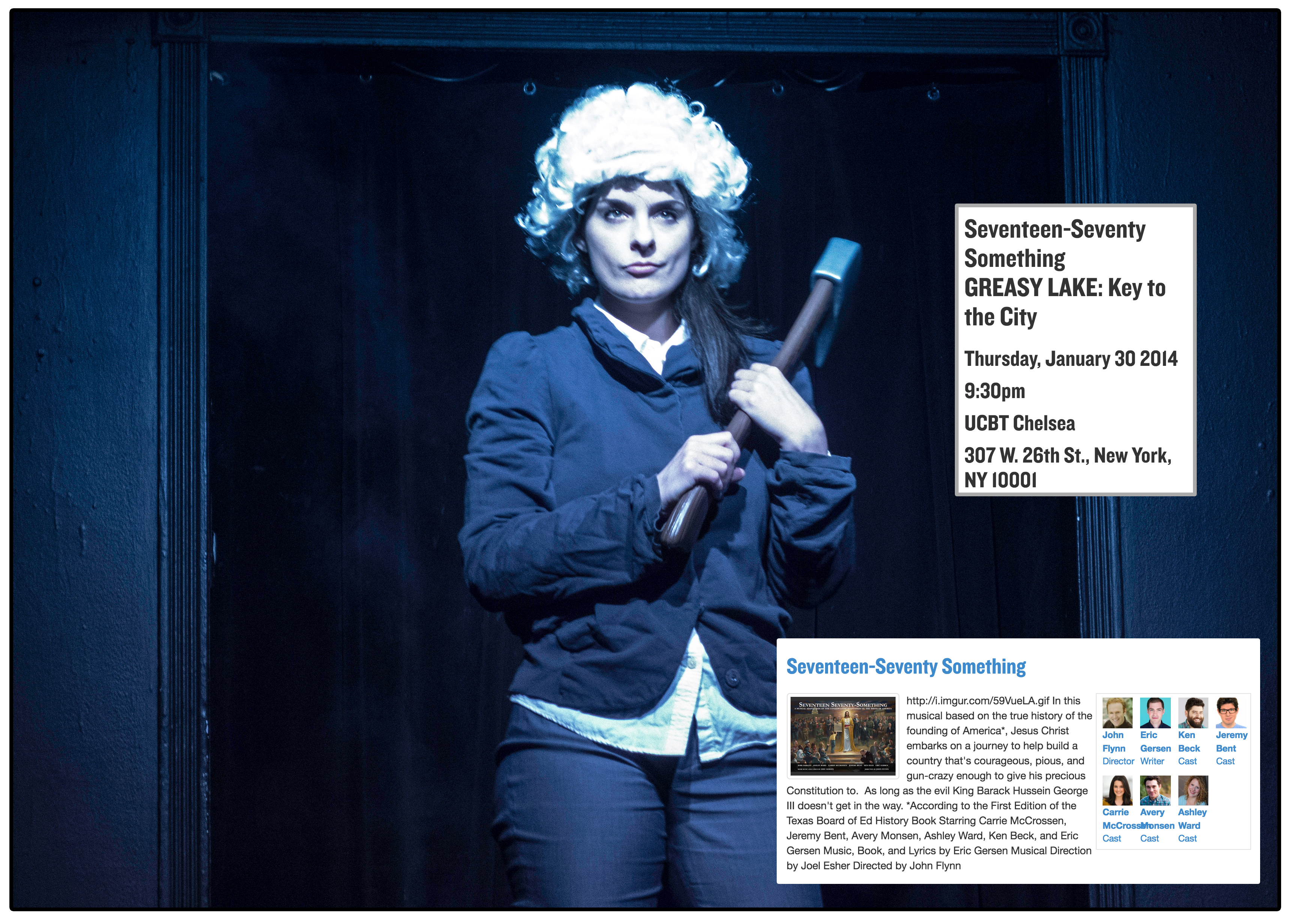 Do people tell you fun facts about Women-in-Hollywood they learned since seeing the show? I thought of you when I heard Carla Gugino ("Roadies") say she played a mom in Spy Kids at Age 27. 
Not really! I wish they would- I could start a collection! Someone told me Amy Poehler played Rachel McAdams' mom in Mean Girls, despite Poehler's being just 7 years older. I just Googled it and it appears to be true. But, like, good for both those ladies because their performances make it work. Very fetch.
At the Upright Citizens Brigade Theatre in New York City, you're a teacher, performer, co-host of The Lady Jam and member of the only UCB House Sketch Team One Idiot. Is there a certain hat (improviser, writer, actor, singer) you prefer to wear?
I like to wear all the hats at once because I'm afraid of my head getting cold. That is to say, I do it all because I fear not working. But performing is the thing that I've done longest and that I do most. I enjoy writing too and I've started to understand my writing process more which allows me to be more productive. So that's kind of new and exciting.
What advice would you give to aspiring writers/performers? 
Celebrate the small victories. Mourn the big rejections. Don't let any of that bullshit dictate what you do next.
Calling all HuffPost superfans!
Sign up for membership to become a founding member and help shape HuffPost's next chapter