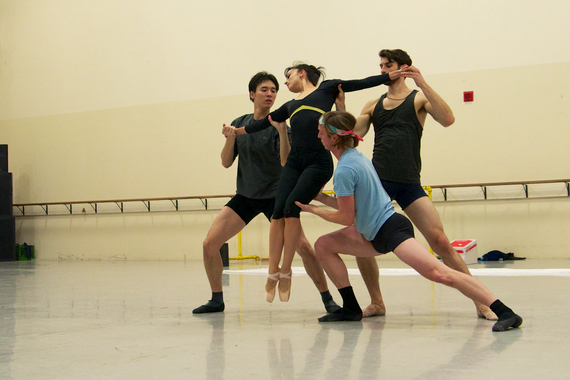 Milwaukee Ballet Company in rehearsal (Photo: Petr Zahradnicek)
Gatecrashing a rehearsal for Milwaukee Ballet's upcoming triple bill at the Marcus Center for the Performing Arts, Ballet to the People was reminded of what Roger Scruton said at a recent conference on contemporary art: "You should be able to go to art with the burden of your life."
Scruton has been waging war against the ugly, the pretentious, and the incomprehensible in modern art -- not without controversy. The modern ballet landscape is ripe for Scruton's baleful scrutiny, littered with meaningless displays of angst and gymnastics. But Scruton wouldn't need the heavy artillery should he venture to Milwaukee, for few ballet companies manage as well as Milwaukee's does to breathe new life into classic warhorses and to commission engaging, thought-provoking new work.
Over the past decade Artistic Director Michael Pink has built an ensemble that deliberately eschews the cookie-cutter look of traditional ballet companies; these are dancers of striking individuality, many of whom have risen through the ranks of Milwaukee Ballet's second company, and many who hail from other countries.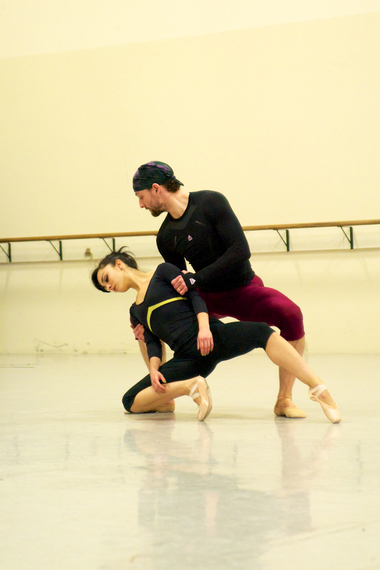 Nicole Teague and Ryan Martin in rehearsal for Milwaukee Ballet's Spring Series (Photo: Petr Zahradnicek)
Amy Seiwert's new piece for the company, set to a brooding score by Ólafur Arnalds - former drummer for a hardcore Icelandic metal band, now a much-in-demand minimalist composer - is as suspenseful and quietly terrifying as Broadchurch, the award-winning television series to which Arnalds contributed the monumental soundtrack. Seiwert conjures up a kind of purgatory, peopled by otherworldly beings who communicate their yearnings and despair via a stylized sign language. In rehearsal, three couples work to perfect an undulating movement they dub "jellyfish arms." Under the watchful eye of Russian ballet master Denis Malinkine, Ryan Martin sweeps the mercurial Nicole Teague into a stunning overhead lift, his arms wrapped around her thigh as she arches backward. Sounds like gunshots erupt at one point in the score. Over this shadowy realm reigns an implacable seraph, Janel Meindersee, who trails a shimmering wake that could signal either redemption or destruction... but Ballet To The People is not about to divulge a spoiler.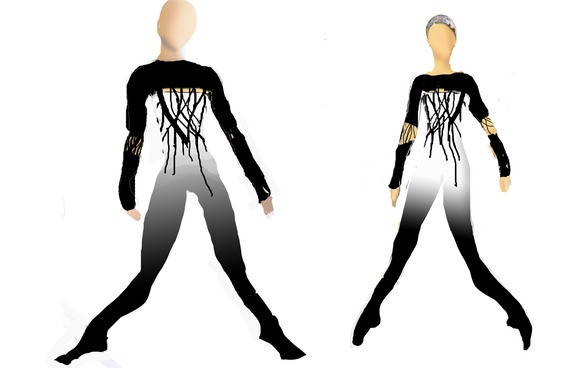 Costume designs by Christine Darch for Amy Seiwert's world première for Milwaukee Ballet (Image courtesy Milwaukee Ballet)
The other world première in this program, by Matthew Neenan, sweeps us up in the swellegant retro chic of Pink Martini. With sly humor and a touch of pathos, Neenan draws a dramatic arc across a selection of their songs in English, French and Croatian -- variously shot through with Latin rhythms, a big band sound, and echoes of the world-weary Edith Piaf. In one of many whimsical moments, the ensemble shuffles and struts with deadpan expressions as the adorable Courtney Kramer illuminates "Hang on, Little Tomato," a trippy tune with 1930s' pop undertones, inspired by an old Hunt's Ketchup commercial ("just hang on, hang on to the vine.")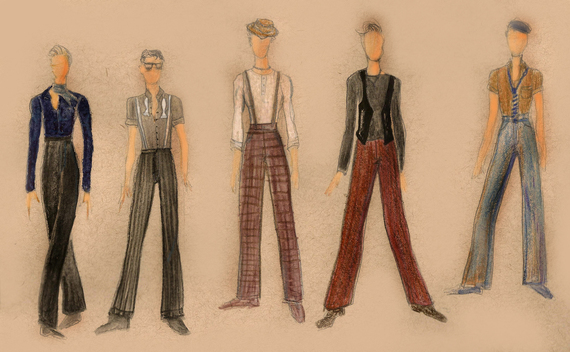 Costume designs by Christine Darch for Matthew Neenan's world première for Milwaukee Ballet (Image courtesy Milwaukee Ballet)
The commanding Davit Hovhannisyan and Susan Gartell inhabit the sultry "Veronique" ("November came/ and with it died our love... the letters I write/ I never shall mail/ The world is grey/ wrapped in a veil.") Tense and frustrated, the magnificent Gartell runs her hands down her body. A luminous Luz San Miguel and the rangy, sad-eyed Alexandre Ferreira tangle in the haunting "U Plavu Zoru" ("In the Blue Dawn"); at one heart-stopping moment he explodes in the air in a rivoltade and lands on top of her as she lies on the ground, displaying nerves of steel.
Neenan's work showcases the tight camaraderie among the company's men. Dancer Marc Petrocci, now in his eleventh season with Milwaukee Ballet, remarked on the friendly competition: while ballet masters and choreographers hone the company's overall level of performance, he notes how the men individually inspire each other to up their game. He marvels, for example, at the power of Justin Genna, who, at the climax of a sublime duet with the regal Valerie Harmon, spins and lifts her in a slow overhead press, balancing her as she stretches out parallel to the floor.
Petrocci himself may well become a household name across the nation as of April 18th when Milwaukee Ballet's high-octane Peter Pan will be broadcast on national public television, with Petrocci in the title role.
Those fortunate enough to see the company live next week will be spellbound not simply by the Seiwert and Neenan premières, but also by Vicente Nebrada's enduring Our Waltzes. Set to Teresa Carreño's lilting, Latin-tempered score, Waltzes is a perfect vehicle to show off the distinctive temperaments of each of the dancers and the sparks that fly between them. Contrary to the conventional view of the waltz as decorous and restrained, Nebrada emphasizes speed, athleticism, and daring. The dazzling Mayara Pineiro chews up space with her rapid bourrées. Mengjun Chen's allegro technique is crisp and clean even at breakneck speed. Spitfire Annia Hidalgo flings herself out of her partner's arms and flies across the room, stabbing her pointes into the floor ("absolutely mad," is how Michael Pink describes her, with a grin.)
Nebrada brings out simmering passions underneath the waltz, too -- notably in a pas de deux for Ryan Martin and Luz San Miguel (husband and wife in real life), full of languorous stretches, drags and promenades that belie their tricky execution.
Ballet mistress Nadia Thompson coaches Parker Brasser-Vos as he maneuvers to get Courtney Kramer off the floor into a tricky balance on pointe then takes her through a series of rapid promenades: "stay with her," she commands, as Kramer teeters on gloriously arched insteps. Thompson tinkers with a partnering hold, suggesting that Brasser-Vos release Kramer's hand and support her solely under one arm as she leans back toward him; the result is tender and daring.

The Royal Ballet-trained Thompson clearly has a prodigious memory, not just for the steps in a dance but for the minutiae of body placement, transitions, and focus. "It's a gift and a curse," she remarks wryly, egging the dancers on with a mix of humor and prodding.
Meanwhile, at the piano, the affable Stephen Ayers may look relaxed, but in reality he is "partnering" each of the dancers intently. He will be onstage at the Marcus Center, bearing a huge responsibility for the success of the piece as the solo musician.
If plotless ballet is just not your thing, Milwaukee Ballet has you covered - right through their 2014-15 season. Just around the corner in May, Michael Pink unveils a darkly thrilling riff on the legend of Snow White. With couture costumes inspired by the outrageous Alexander McQueen and a lush new cinematic score by Philip Feeney performed live by the Milwaukee Ballet Orchestra, Mirror Mirror focuses on the smouldering conflict between two beautiful women.
Fall brings the absurdist tale of Don Quixote, and next spring Michael Pink's stunning resetting of Giselle in 1940's occupied Europe, for which Pink retains Adolph Adam's beloved score and most of the classical choreography, refocusing the theme of betrayal and revenge in the context of one of the most brutal periods in history.

While Pink makes a strong commitment to abstract dance, theatrical storytelling is his personal passion. He delights in the challenge of molding classic tales to resonate with contemporary audiences, believing that this may be the most effective way to bring new audiences to ballet.
Clearly, other artistic directors feel the same way. Pink is aware of the multi-million dollar investments that are being made in lavish new productions these days, but in this era of shrinking philanthropy, and with the modest resources available to him, he fulfills his ambitious production goals by "shopping locally," leaning heavily on the considerable artistic talent around Milwaukee. He would love to be able to offer his dancers longer contracts and commit to longer performing seasons. But even as other companies sacrifice live music or make other painful cutbacks to stay viable, Pink works hard to maintain fiscal discipline. He can point with satisfaction to the high standards of Milwaukee Ballet's school, of its in-house costume shop, its dedicated orchestra, its international choreographic competition, and thriving second company that gives him the flexibility to mount the classics and perform critical outreach within the community. "You don't have to sell your soul to the devil," he maintains drily, "to make an artistic success."
Though the company may well be outgrowing its gracious headquarters in Walker's Point, there is a sense of pride and accomplishment, particularly among this ensemble of strong and gifted dancers as they prepare to close down the season in style. As Roger Scruton so passionately declared: "Through the pursuit of beauty we shape the world as a home, and in doing so, we both amplify our joys and find consolation for our sorrows."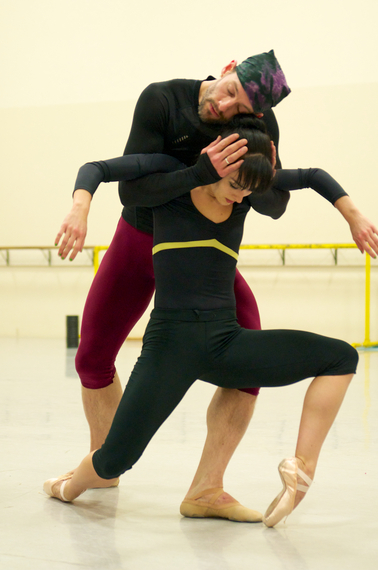 Nicole Teague and Ryan Martin in rehearsal for Milwaukee Ballet's Spring Series (Photo: Petr Zahradnicek)
REAL LIFE. REAL NEWS. REAL VOICES.
Help us tell more of the stories that matter from voices that too often remain unheard.