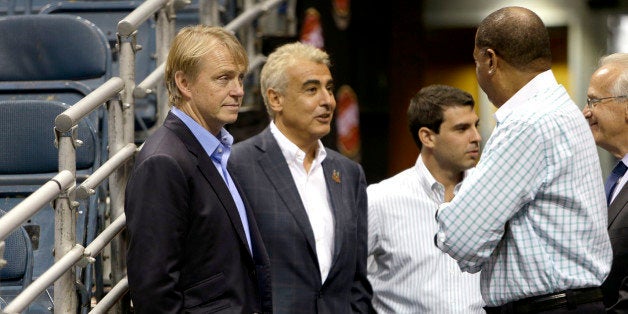 Early in his second term, President Obama briefly put income and wealth inequality on his political agenda. But when the issue didn't poll well, he dropped it. As a former community organizer, he might be interested in how an Alinsky-style, community organization in Milwaukee is changing the political conversation in that economically-struggling city on a hot issue that is essentially about whether the rich will be permitted to get richer at the expense of everybody else.
The savvy grassroots organization, Common Ground, an affiliate of the national Industrial Areas Foundation, is taking on wealthy Wall Street hedge fund owners who want several hundred million dollars of tax money to help pay for a new arena for the NBA's Milwaukee Bucks, a franchise they recently purchased for $550 million.
Common Ground, much to the dismay of Milwaukee's old guard downtown business leaders, has caught the attention of local and national media by fashioning a modern morality play, casting in sharp relief the choice between private greed and public need. I witnessed a scene from the evolving play in Milwaukee on Sunday.
On the one side are the hedge fund guys, Wes Edens and Marc Lesry, who want a plush new basketball arena replete with skyboxes and other revenue-enhancing premium seats that the current home of the Bucks, the 26-year-old BMO Harris Bradley Center, does not have. The NBA has threatened to pull the Bucks out of Milwaukee unless a new arena is built by 2017.
On the other side are Milwaukee high school kids like Suzy Scott and Fred Holmes whom I heard speak on Sunday in front of an enthusiastic Common Ground delegates assembly, an interracial gathering of some 700 people representing more than 40 interfaith churches, nonproifts, small businesses and other groups in a four-county area in and around Milwaukee. Ms. Scott, a junior at Rufus King and a member of the school's soccer team, vividly described the inevitable swamp-like conditions of the school's old athletic field after rainy nights that make games the next day hazardous or impossible to play. Mr. Holmes, a two-sport athlete and president of the student government at Washington High, said his school's rutted athletic field turned ankles and that the ancient, crumbling concrete track surrounding the field necessitated hour-long trips by the track team to other facilities for practices.
Earlier this year, scores of Common Ground volunteers inspected and evaluated the condition of 268 athletic and recreational sites throughout Milwaukee County where children play and found that 65 percent needed significant repairs and upgrading. That research, amidst talk by Milwaukee business leaders about finding tax money to build a new arena for the Bucks, prompted Common Ground to launch its "Fair Play" campaign: If tax dollars were used to build a new arena where the Milwaukee Bucks play, the organization said, then at least $150 million should be appropriated to fix up athletic fields where Milwaukee kids play.
But on Sunday afternoon, Common Ground toughened its stance. After being ignored by the Bucks' new owners who months ago promised to meet with them, the Common Ground delegates voted to fight against any public funding for a new arena.
Most economists say that using public funds to build professional sports facilities is an ineffective, inefficient strategy for promoting economic development -- and, one might infer, an especially unseemly use of scare resources in a city like Milwaukee where 29 percent of its nearly 600,000 residents live in poverty. But in our new Gilded Age, big money has no shame.
In Milwaukee, it wasn't always this way. In 1986, the local philanthropist Jane Pettit and her husband donated $90 million to cover the entire cost of building the Bradley Center, the now supposedly-antiquated facility where the Buck's still play. The Bucks new owners have said they will donate only $100 million toward the cost of a new facility that may be as much as $500 million. And Herb Kohl, the previous owner who bought the team in 1985 for a mere $18 million and was often cited as the richest member of the U.S. Senate where he served four terms, has also pledged to give only $100 million. Adjusted for inflation, neither "contribution" comes close to being as generous as Ms. Pettit's.
In Milwaukee, elected officials have been reticent about opposing the use of public funds for a new basketball arena. Nobody wants to be accused of losing the Bucks if it comes to that. Neither do most elected officials want to be on the wrong side of the wealthy leaders of the Milwaukee Metropolitan Milwaukee Association of Commerce. So almost single-handedly, the tenacious Common Ground organization is changing the local conversation by forcing the community to consider that maybe its values and priorities are not the same as the values of a couple of Wall Street hedge fund owners and their local counterparts. Common Ground's leaders know what they're up against, but they're hopeful realists. One might say they're practicing the audacity of hope.
REAL LIFE. REAL NEWS. REAL VOICES.
Help us tell more of the stories that matter from voices that too often remain unheard.