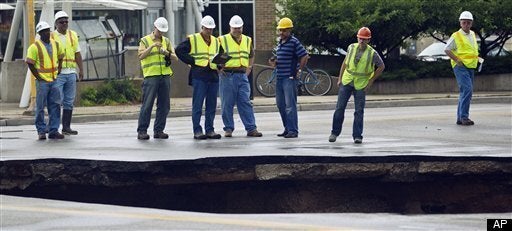 MILWAUKEE, Wis. (AP) — Stranded travelers weary from an overnight stay in a Milwaukee airport were hoping to be allowed to fly out Friday after powerful overnight storms pounded southeastern Wisconsin, halting flights and causing widespread flooding.
Storm water flooded the runways at Mitchell International Airport during the Thursday night storm. Airport officials said they hoped to clear away leftover debris and reopen the runways on Friday, but further disruptions were possible because of a new round of showers and thunderstorms that was expected to pass though the region.
Up to 7.5 inches of rain fell in just two hours Thursday evening, snarling traffic in and around Milwaukee and causing widespread power outages.
A giant sink hole in downtown Milwaukee swallowed up a Cadillac Escalade. Witnesses estimated it to be about 20 feet deep and 15 feet wide.
Mark Pawlik, who owns a towing company, helped rescue the driver from the hole.
"The Escalade just went wham!" Pawlik, 46, told the Milwaukee Journal Sentinel. "Everything went down. The power line went like 'pow' and then I think it was sewer water was just pouring into the hole."
The driver was taken to a local hospital. His name and condition haven't been released.
Milwaukee police handled 500 weather-related calls throughout the night, Chief Ed Flynn said at a news conference Friday, including a call to the Milwaukee River downtown where three officers rescued a woman from the swollen waterway. Flynn said officers also evacuated about 100 people from a flooded Country Inn & Suites hotel.
Two people were struck by lightning, according to Milwaukee Fire Chief Mark Rohlfing. They were taken to St. Luke's Medical Center, but there was no word on their conditions.
Some suburban neighborhoods were flooded in Milwaukee County, according to sheriff's Capt. Aisha Barkow. She said the Root River in Franklin and Oak Creek in South Milwaukee were above their banks.
A state office building in downtown Milwaukee also was closed Friday morning because of flooding, state emergency management officials said.
More than 8,000 of 32,000 We Energies customers who lost power in Thursday's storms remained without service Friday.
The National Weather Service reported tornado touchdowns near Whitewater, and more between Palmyra and Muskego, but there were no immediate reports of property damage or injuries. State emergency management spokeswoman Lori Getter estimated at least half a dozen tornadoes may have touched down in the state.
SEE PHOTOS OF THE MILWAUKEE SINKHOLE: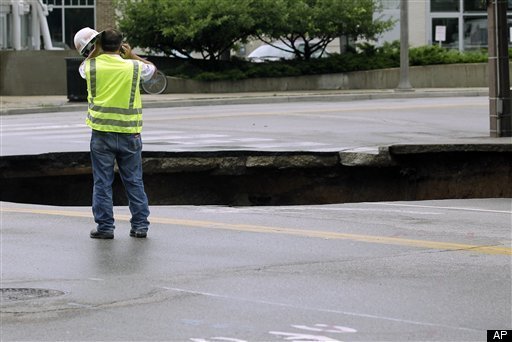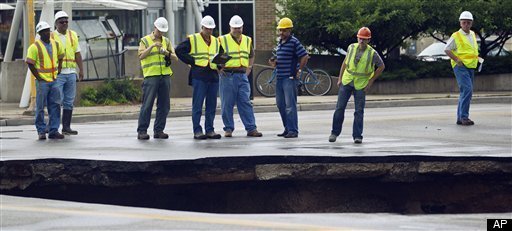 Related
Popular in the Community