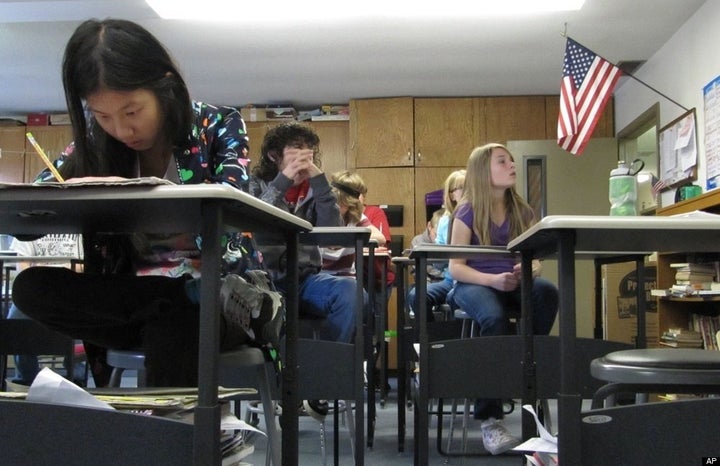 NEW YORK -- Milwaukee's voucher system, which allows low-income students to attend private schools using tax dollars, discriminates based on disability, according to a complaint filed Tuesday by the American Civil Liberties Union, the ACLU of Wisconsin Foundation and Disability Rights Wisconsin.
The complaint seeks an investigation into the system, which the groups allege segregates Milwaukee students, and expresses the desire to end the alleged discrimination, halt efforts to expand the system until the discrimination is fixed and mandate better oversight.
"This is creating a dual system of education and expanding it will make it worse," Karyn Rotker, Senior Staff Attorney at Wisconsin's ACLU, told The Huffington Post. The complaint names the Wisconsin Department of Public Instruction, the State of Wisconsin and two private schools that accept vouchers.
Wisconsin's Department of Public Instruction will comply with any investigation, said spokesman Patrick Gasper. "Our data point to large discrepancies in student populations with formally identified special-education needs between the Milwaukee Public Schools and the schools that participate in the voucher program," he told HuffPost. "We have expressed this fact to state elected leaders in the past."
The suit comes as Wisconsin and other states seek to expand their voucher programs. Along with charter schools, voucher programs are a central part of the "school choice" movement, which advocates say allows families to decide the best education route for their children. Tuesday's filing touches on the pervasive criticism that such programs are ill-equipped or choose not to serve high-needs populations.
Rotker and Jeff Spitzer-Resnick, managing attorney of Disability Rights Wisconsin, both said they had long heard anecdotal criticism of voucher schools' practices regarding students with disabilities. "It's been one of these urban legend things for a long time," Rotker said.
The complaint recounts stories of several clients who say they had been turned away from voucher schools based on their disabilities. For example, an ADHD-diagnosed student, identified as "K.S." in the suit, was told by a school that it wouldn't admit him if he did not take medication for the disorder even though his mother had decided he did not need medication. In another example, an 8th-grader diagnosed with Oppositional Defiance Disorder who attended Concordia University School on a voucher said she was expelled after having a verbal disagreement during a parent tour of the school.
After Milwaukee private schools receiving vouchers took the same state exams as public schools and reported their scores for the first time this year, results showed that Milwaukee Public Schools outperformed the voucher schools. When students with disabilities scores were removed from Milwaukee Public Schools, the system's average increased even more, Rotker said.
Using the released testing data, the groups found students with disabilities were concentrated in the public schools. While the hard number of students with disabilities in the public system had not increased, their concentration within the system shot up to 19.5 percent -- while only 1.6 percent of students in the voucher-accepting private schools have disabilities.
"If you send some more kids to voucher schools, what will it become, 30 percent?" Rotker asked. "You're creating a segregated system."
"Now we have data that shows how few kids with disabilities are being served by the voucher schools," Spitzer-Resnick said. "You've got a double whammy: Kids with disabilities are not being welcomed into this so-called choice program which is a choice just for some, and then MPS's public schools are becoming increasingly segregated."
Only 22,500 low-income students can now participate in Milwaukee's voucher program, but the Wisconsin state legislature is seeking to do away with that cap.
In a letter to the Department of Justice's Civil Rights Division, the three groups asked to discuss the lawsuit with the DOJ in the next few weeks.
"We are reviewing the complaint and related documents to determine whether there are any federal civil rights violations," said Xochitl Hinojosa, a DOJ spokesperson.
The complaint argues that the voucher system violates Title II of the Americans With Disabilities Act, which prohibits "recipients of federal financial assistance" or "public entities" from discriminating against individuals with disabilities.
The voucher schools named in the complaint did not immediately return calls requesting comment.
Related
Popular in the Community