"If you are lucky enough -- you can land a great work husband," announces Mimi Nguyen over a cup of coffee.
Ngyuen ought to know. She accidentally met, then actively courted hers before getting him to commit as the chief technology officer of her company: thre.ad.
His name is Jonathan Rainey. Rainey cut his teeth at several tech-start ups, before joining Nguyen as CTO and co-founder of her company. He was the crown jewel of a hand-picked team that includes Kristin Ming, co-founder and fashion director, and Joe Rivera, director of user experience and design.
Together, this group of 20-somethings brought to life Nguyen's vision for thre.ad, a site which attempts to take digital style spotting to the next level.
As she tells it, clad in a cozy cardigan and chunky heels, "If Twitter and Instagram had a baby, it would be thre.ad!"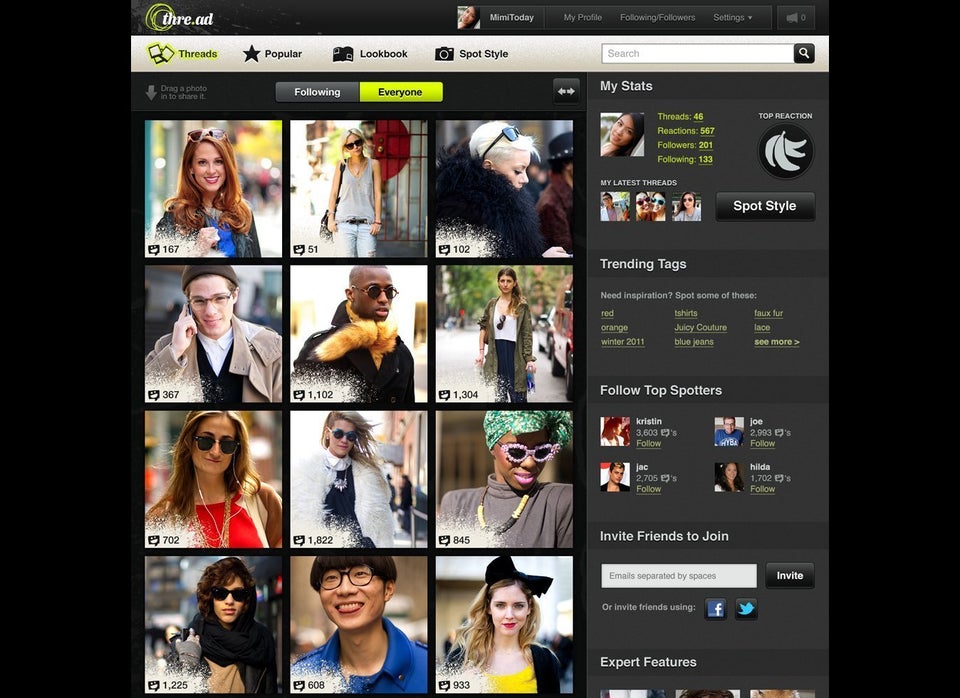 True to her description, thre.ad is a seamless blending of photos, comments and branding. Members upload photos of themselves in their best (or their worst) and then like most fashion focused social sites, wait for comments from friends/followers. Yet, unlike them, thre.ad, offers a rainbow of options for commenting.
"Like or Love is not enough to explain a photo -- especially with fashion because it's self-expression," shares Nguyen. "With thre.ad members can respond with a whole palette of emoticons like -- 'cool, hot, sweet, want,' and so on. And they can choose up to three per photo."
Thre.ad also allows members to go a step further by tagging posts by brand. So, for example, if you are looking for inspiration on how to wear Docker Khaki's or Bally's new Kander boots, you just have to search by those brands. If the creation of thre.ad seems straightforward, conceiving it wasn't.
A long and winding road of self-discovery led the 29 year-old Texas native to thre.ad's door. After graduating from the University of Texas, Nguyen grudgingly obliged to her parents' wishes to pursue business and embarked on a career in banking. Not surprisingly she lost interest in the field, prompting her to head back to Texas and re-evaluate.
"I decided that when I came back to New York, I'd come back for me."
On her return she transitioned to real estate before finally finding her passion and purpose at Pencils of Promise, where as a founding member and director of outreach she was instrumental in propelling the foundation towards building 40 schools in three countries and crafting a strong social media presence.
"It helped me witness, first-hand, that entrepreneurial spirit that our generation has, and it inspired me," says Nguyen. She carried that inspiration with her when she left Pencils of Promise in May of this year, the same month she came up with the idea for thre.ad.
"I wanted people to share style and fashion on an equal playing field and in a brand new way," she explains.
With the soft launch of thre.ad last month that wish came true. Come November 17th 2011, several hundred more beta invites will be given to VIP's and guests who attend the Raise Cache event for tech start-ups.
After this, Nguyen and her dream team, co-piloted by her 'work husband,' Rainey, will change tact. The invite only site will then close until every guest maxes out the five additional invites they can send.
As Nguyen takes her last sip of coffee, she beams with satisfaction. As she should. She's found herself, her dream, and her 'work husband' -- in record time. Just like a good work wife would.