As we approach summer and bathing suit season, I see more and more clients who are trying to drop the extra few pounds they may have put on during the long cold winter. They feel fat, unhealthy, and unattractive and their sense of self and how they think about themselves is negative. As a result, they lack motivation, direction, and the knowledge to successfully embark on an exercise program. One of the biggest oversights I see when it comes to getting into shape is the mind. An exercise program that doesn't address underlying psychological issues and motivation will not be effective long term and in many cases won't even lead to short term results.
I had the pleasure of discussing this topic with my friend Joel Harper, celebrity fitness trainer and author of a recently published book, Mind Your Body. Among Joel's clients are Dr. Mehmet Oz, legendary music producer Clive Davis, many other stars, as well as everyday people. In his book he gives great advice for maximizing your efforts and using your mind to help accomplish your goals. Here's part of my conversation with Joel: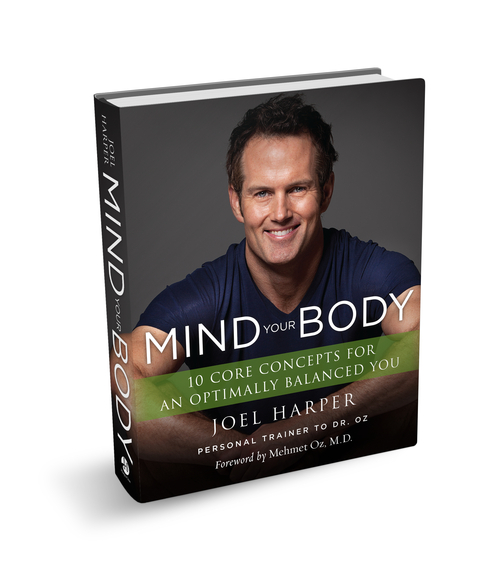 How did you become a trainer to the stars?
I have a background in acting and a lot of my friends from when I first came to New York have become famous. All of my clients can bring guests to their sessions, so that helps spread the word and get new clients. I make workout DVDs and they are great for actors or musicians when they are on set or tour. Plus living in New York City doesn't hurt either.

What motivated you to write Mind Your Body?
I started working on it about 10 years ago but was overwhelmed with all the fitness and nutrition books on the market. I wanted to do something unique and not waste any trees or the reader's time. One day I got fed up with all the conflicting irresponsible information out there and how confusing and frustrating it was for thousands of people. I wanted to create a rock solid one stop shopping program that worked. I was determined to use every page wisely and create a book that had everything in it. I want to help people accomplish their goals today, not tomorrow.

What role does the mind play when it comes to getting into shape/weight loss?
Mindset is exactly what is missing in most fitness plans, and I believe that is why most people don't achieve the results they are looking for. It starts off with knowing what you deserve first and foremost. What you think you deserve you are going to achieve. I see over and over again that people who achieve results all have the exact same traits. I break it down to 10 that are achievable for everyone. Follow-Through, Perfectly Imperfect, Realistic and Always Prepared to name a few.

Can you give an example of how the mind can help people's efforts?
Let's use the first one above Follow-Through. The clients I train that innately have this accomplish their goals no matter what. This means they are consistent, which with any fitness program is crucial. Getting in shape is like brushing your teeth. You can't only brush your teeth on Saturday, right? You have to do it every day. People who accomplish their goals do not give themselves the option not to accomplish them.

How can the mind hinder people's efforts?
Negative thinking, cyclical thoughts, and too much noise are all time suckers. I believe we all have the same amount of energy. The only difference is how we use it. If you have two people, let's call them Sally and Jane, and they both start the same day with the same goal to lose 20 pounds. I guarantee you the one with the better attitude is going to achieve her goals much quicker and easier than the one with the negative attitude. Why? The mind takes you exactly where you drive it. The one with the focused and good attitude is going to have her workout done and on to the next activity, while the one who has the draining bad attitude is going to waste her workout and not have used her time wisely.

Is there a difference between a rich celebrity trying to get in shape and average Joe and Jane?
Yes and no. I believe everyone can get into incredible shape staying at home and using their body weight as their gym. You do not need fancy equipment. All you need is the knowledge and the time. The difference is deadlines. I find celebrities have deadlines. If they are shooting August 1 and they have a scene in a swimsuit and they know everyone is going to see them in that swimsuit they are going to get it done. This pressure drives behavior and in turn creates daily consistency.

In your opinion, what' the biggest reason people fail to meet their fitness/weight loss goals?
Deep down inside they don't feel like they deserve it. In my book I call this "deserve level" and define it as a rating of self-worth, self-respect, and self-esteem for a given category in your life. It's the blessing or permission you give yourself based on what you believe you deserve in your life.

What's one piece of advice you can give readers?
Study what you think you deserve. I teach this to all my clients and it is the root of every goal we have. I created a "deserve level" test for all 10 categories from fitness to work to hobbies. I have found getting in touch with all 10 of these categories creates a well balanced happy individual.