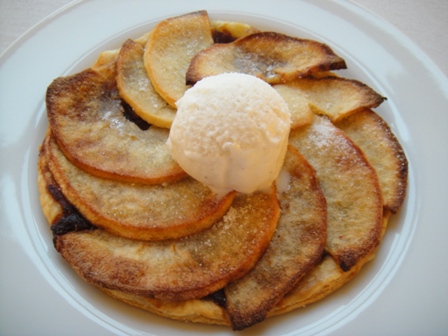 What is it with people and free food? A few weeks ago I had the opportunity to remind myself why I will do anything to avoid the "reception immediately following" portion of any event I attend. I don't mean things like weddings or various mitzvahs, where the kindness of a friend has brought me to a celebration. I mean things like a book signing, a lecture, an art opening. An event where strangers have gathered to listen or see someone or something and then are reminded of the buffet that awaits them after they have paid attention to the someone or something that has brought them out of their homes in the first place.
My avoidance of free food stems from, of course, a childhood trauma. The summer I was eight my parents enrolled me in a field ecology day-camp at the Quogue Wildlife Refuge. At the end of the week-long adventure there was a little graduation party and reception. After a few remarks from the director and a counselor or two, they invited everyone to enjoy the snacks set up on the long table at the back of the room. Like semi-comatose teenagers brought to life at the ringing of the class dismissed bell, this group of parents and their kids raced towards the food, lunging for juice, grabbing cookies and fistfuls of pretzels. I was paralyzed. Then Dad and I witnessed a chubby man give his soon-to-be chubby son a little shove towards the buffet and utter these words of wisdom, "You gotta push to the front. It's the only way to get what you want in life." Horrified, Dad grabbed my hand and said, "We're out of here. I'll buy you ice cream on the way home."
So you can understand my issues. But recently an occasion merited a rethinking of my policy. My friend Abigail Pogrebin was interviewing Danny Meyer at the JCC as part of her What Everyone's Talking About series. Before the conversation began, Abby reminded her audience that, this being an evening with one of the most successful restauranteurs in New York, there would be a delicious reception awaiting us of dishes from the Union Square Café Cookbook. (For those of you unfamiliar with Mr. Meyer, the Union Square Cafe was his first smash hit restaurant.) The crowd appreciatively oohed and aahed and I looked at Marsha, my date for the night, to indicate, "Yum." We had planned on going out for a drink but now here was this alternative idea. Abby did a wonderful job peppering her subject with questions exploring everything from his childhood as an eater to his 20's as a cook to his success today. Mr. Meyer is the author of a terrific book that I read last year -- it's both memoir and business guide and his theories on hospitality are fascinating. Much of what was discussed further explored what he covers in Setting the Table, The Transforming Power of Hospitality in Business but hearing it from the boss' mouth was a real treat. One of the main qualities his Union Square Hospitality Group looks for when making a hire is a high "Hospitality Quotient." An "HQ" is defined as "how much pleasure someone derives from providing pleasure to others." Seems like a basic enough expectation to have if you are an employer in a service industry. What a pity that so many of the evening's attendees would not make it past the first round of interviews with Mr. Meyer's HR department.
When we got to the buffet a crowd had already gathered and as I looked towards the main entrance to the area all I saw were wild-eyed, starving masses clawing their way to the table. Marsha quickly grabbed a tiny glass of gazpacho while I spooned an artichoke something (I couldn't read the rest of the sign once a woman squeezed her way between me and the table but I think there were some potatoes too) onto a plate and jumped out of the way of the tangle of elbows, NPR tote bags and plastic weaponry, I mean cutlery.
As much as I love sweet treats I love my sanity more. So Marsha and I finished our snack and headed across the street for what had become a desperately needed glass of wine. But I was so sad. Among the mini-desserts I had to leave behind untasted was a teeny tiny apple tart. I could see the glistening puff pastry supporting the few bits of sugared apple, yet my arm wasn't long enough to stretch over the group of chatty attendees who'd commandeered that section of the table. I thought about what I'd missed out on for days. Until I remembered my mother has a copy of the Union Square Café Cookbook. Bingo! These tarts are so easy to make. I cheated and bought a jar of apple butter rather than make my own as indicated in the recipe. But they were still delicious and have a wonderful balance of crisp, bright and sweet. Vanilla ice cream brought the tarts to perfection and these would be lovely to serve if you are having a smaller gathering for the holidays. They're so festive and pretty. You could even make them a bit smaller so your guests can have more than one dessert!
I am back to my avoidance of free food. Oh, unless of course I have to go to Costco before turkey day. If they're sampling Cheesecake Factory Strawberry Cheesecake I may have to revise my policy. But I will never "push to the front."
Mind Your Manners Apple Tarts
Adapted slightly from The Union Square Cafe Cookbook, 1994, by Danny Meyer & Michael Romano

Ingredients
1/2 pound puff pastry (I used Pepperidge Farm)
1/4 cup apple butter (spiced without added sugar)
2-3 Granny Smith apples
2 Tablespoons butter, melted and divided
1-2 Tablespoons superfine sugar
creme fraiche, whipped cream, vanilla or cinnamon ice cream

Directions
(For more educational photos, click here)
On a floured surface roll the puff pastry to a 11-inch square.
Cut out four 5-inch circles with a sharp paring knife, using either a plate, a bowl, or tart ring as your guide.
Transfer the circles to a parchment lined baking sheet.
Place a Tablespoon of apple butter on each circle and spread it with the back of a spoon or a small off-set spatula leaving 1/4 inch border of plain dough around the disk. Refrigerate.
Preheat oven to 375
Peel, halve and core apples. Place the halves cut side down and turn the half so that the bottom stem end is pointing to the left.
Using a small paring knife, thinly slice the apple halves.
Remove pastry circles from fridge and arrange apple slices in a tight concentric circle, overlapping slightly. Using a pastry brush, brush the tarts with half of the melted butter. Bake 25 minutes.
Brush the tarts with the remaining one Tablespoon melted butter and continue baking until the apples are golden and the pastry is nicely browned.
Remove from oven and immediately sprinkle each tart with 1-2 teaspoons superfine sugar.
Serve warm with creme fraiche, whipped cream or vanilla or cinnamon ice cream.

Serves four
Related
Popular in the Community