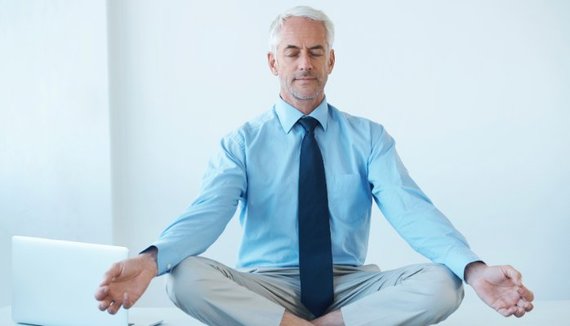 Years ago, our CEO had resigned and we were left with very little strategic direction. Rumors were floating of the company selling and the uncertainty was inducing fear amongst the troops. Would we have a job next month? Is the company going to downsize? Who is going to run the company? I sat idly by as everyone around me scrambled to make sense of it, asking question after question, all of which, they had no control over. One morning, a nervous member of our executive team looked to me and said, "How are you so calm during all of this?" I looked at her and softly said, "I meditate."

"Stress is the no. 1 epidemic of our civilization," Deepak Chopra said. "Indirectly or directly, it's related to things like insomnia, anxiety, fear, but [also] cardiovascular illness, inflammation in the body, heart disease, autoimmune illnesses. Many kinds of cancer are connected directly or indirectly to inflammation in the body. So meditation is a very effective way to start tackling this problem, this epidemic of stress." 1
Let's face it: We all have incredible mental and physical demands of our jobs, as business becomes more global, ever-changing and complex. All of us experience varying degrees of demands and stress throughout the day; spending long hours trying to manage a never-ending cycle of project deadlines, presentations, overstuffed email inboxes, an endless stream of competitive forces and dealing with difficult co-workers and sometimes bad bosses. With stress being the no. 1 proxy killer in America, I made a conscious choice years ago that life was too short to waste it being stressed out. Meditation was one solution to help me not get consumed by a sea of stress.
Having spent the past 10+ years practicing meditation, over the past year I have found myself optimizing peak productivity performance levels since integrating a 15-20 minute meditation each day at the office, as a supplement to my morning and nightly meditations. I do not consider myself an expert by any means, but simply a student for life.
Seven ways meditation at work has helped me and can help you too:
1. Decision making

How many times have you had a major decision to make and someone said to sleep on it? Same logic! Greater mental clarity is crucial for everyone, but especially for those who are entrusted with making difficult strategic decisions that could affect the future of the company. Big or small, you want to have clarity on your business decisions and reduce your risk. I personally do not make any major executive or life decision, until after I have meditated.
"Everyone always says 'stop being emotional' when they discuss decision-making, but in essence that's the wrong thing to say. Just don't let the wrong emotions cloud the decision-making process." -- Sigal Barsade, Wharton management professor 2
2. Emotional Intelligence (EQ)
After meditating, I find myself much more in tune with not only my own emotions, but also the emotions of others. By paying attention to their body language, facial expressions, overall vibe and energy level, I can help avoid tense situations and avoid knee-jerk reactions. By demonstrating greater empathy, I am able to connect to my employees better, and as a result, they connect to our customers better. Emotional intelligence is so vital in bringing out the best in people where they feel valued, appreciated, empowered, etc.
By being in tune with the present, I am able to hyper-focus the team on the current needs of the business while avoiding unnecessary distractions. By being disciplined every single day, this "focused" behavior becomes the norm over time: efficiency and effectiveness are maximized.
How many of you have envied that sharp person in the room who can rattle off names, numbers and facts without hesitation? In business, it is important to be on your toes and able to respond quickly. Also, the simple act of remembering people's names can go a long way in business. Through meditation, I am able to remove the clutter from my mind, and focus my memory towards important things that matter. The Omega-3's and daily brain exercises also help!
After meditating, I find myself listening attentively; seeking to understand. By fostering a safe environment where employees talk openly to me about how others are affecting them or how the demands of the job are weighing on them, trust is built and communication improves. The "I care" message reveals itself in an authentic way providing dividends for years.
6. Sense of Purpose

Everyone should maintain a sense of purpose and value in their lives. I wholeheartedly believe that all the answers lie within us, and by silencing our minds we connect to the source. Through meditation, we find clarity on our sense of purpose and we declare the vision for our lives. Towards that end, the work that we do every day becomes more meaningful and we exemplify passion and creativity at powerful levels, inspiring others to do the same.
7. Leadership

The positive energy we put out can have a huge impact on those around us. It is our duty as leaders to maintain control of our emotions, thoughts and feelings; acting from our highest self at all times. Without a doubt, I would not be the leader I am today had I not been practicing meditation all these years. I decided long ago that I would take control of my career path and continuously strive to be a better leader with every passing day. The same is true for you, should you act upon it.
Implementing meditation at work:
I encourage you to find a consistent time to meditate during work, so it becomes a daily habit. I personally like to during my lunch break because it gives me time where I know I'll be free from the interruption of others. Strive for at least 20 minutes. It won't be easy at first, but persevere!
While convenient to shut my office door, I prefer to be outdoors and meditate, as the fresh air further relaxes me. If not an option for you, stick to your office or find a comfortable room where nobody can bother you. Over time, you can meditate in any situation at any time under any situation. You won't need to close yourself off, close your eyes or shut the door.
There are many schools of meditation (transcendental, primordial, kriya, etc.) and even variations within specific styles. Some will focus on breathing, others won't. Some will have you repeating a mantra and others will have you focus on nothing. All of them serve a special purpose and there is no right or wrong.
I studied the Kriya Yoga techniques, as instructed by the teachings of Paramahansa Yogananda and would recommend them as a great introduction. When Steve Jobs passed away, family and friends attending his funeral received a small gift inside a brown box containing the classic spiritual book: Autobiography of a Yogi, written by Yogananda.
Another great resource is the free app Headspace.
The proof is in the brain pudding:
I am not alone in discovering the benefits of meditation in the workplace, as evidenced by some of the world's top companies who have incorporated meditation into their own mindfulness programs: Google, Apple, Intel, and Aetna to name a few. Even Harvard has unveiled a MRI study proving that meditation literally rebuilds the brain's gray matter in 8 weeks.
Google seems to be at the forefront thanks to the leadership of Chade-Meng Tan, Google's 107th employee and author of Search Inside Yourself: The Unexpected Path to Achieving Success, Happiness (and World Peace). Google's 3-part Search Inside Yourself (SIY) program has been taught to more than 2000 employees since 2007, focusing on: 1. Attention training 2. Self-knowledge and self-mastery 3. Creating useful mental habits.
"If you are a company leader who says employees should be encouraged to exercise, nobody looks at you funny," Tan says. "The same thing is happening to meditation and mindfulness, because now that it's become scientific, it has been demystified. It's going to be seen as fitness for the mind." - Chade-Meng Tan 3
Marc Lesser, CEO of Search Inside Yourself Leadership Institute (SIYLI) stated to me via email, "Google has meditation rooms throughout there campuses. SIYLI encourages all participants in the SIY Training to have a daily meditation practice of 20 minutes per day or more. And, say that a few minutes a day is better than no practice."
"Instead of having their brilliance diluted across multiple projects all the time, they can bring all of their brilliance into laser-like focus, go deep and apply that into one project." 4
I recently spoke with Lindsay Van Driel, a platform strategist in Intel's Software and Services Group and a co-founder of Awake@Intel. I was immediately inspired by the grass-roots nature of the program, which took 2.5 years before it finally got any publicity on the company's own website. It initially started with Lindsay, a certified yoga and meditation instructor, and a few colleagues meeting during lunch to meditate and discuss the feelings associated with working in the high tech industry, which is often stressful, fast-paced, highly-technical and complex. Through word of mouth, the group slowly started to expand, with as many as 5 different religions being represented at any point, although nonsectarian in form. After 3 years, the self-sustaining, volunteer-run program now has a waiting list of over 500 employees, as the results are undeniable with an average 2-point positive shift.
Awake's unique curriculum includes a 10-week course with 90-minute classes where the emphasis is on training people how to meditate. It has an arrival meditation, a topic and a second meditation. Each week the topics are respectively: Presence, Mindfulness, Intention, Emotional Intelligence, Empathy and Relational Intelligence, Vulnerability, Compassion & Gratitude.
In conclusion, I hope that you are inspired enough to give meditation a chance as you deserve greater peace in your life. For those that already meditate, and will now try it at work, I am confident your boss and colleagues will appreciate the new super-hero at the office. Towards that end, I hope that you will develop your own programs at your company and inspire an abundance of happiness.
ABOUT THE AUTHOR: Geoff Koboldt is a social entrepreneur and authentic spiritual warrior leading a charged life in Los Angeles, California. He is a senior operations executive with expertise in lean six sigma, culture transformation and change management, having held positions as COO, V.P. of Strategic Operations and Director of Operations. He serves on the board of directors of the Michigan State University Los Angeles Spartans, volunteers at Pepperdine University's Graziadio Alumni Network and advises lean startup AirFive.
Related