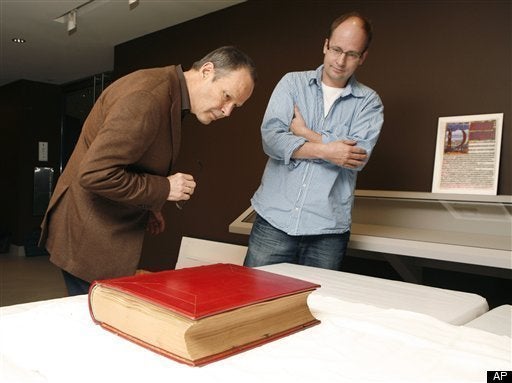 The other night I attended one of the Red Book Dialogues at the Hammer Museum in Westwood, California. The Dialogues are a series of discussions between a celebrity (that night was Helen Hunt) and a psychoanalyst or Jungian scholar (that night was James Hillman) around The Red Book, Carl Jung's personal journey into the mind. The Red Book is on display at the Hammer Museum through May.
At one point in the dialogue, Hillman and Hunt were pondering how 'meditation' may be similar or different to Jung's process in the creation of the Red Book. While Helen is a long-time meditator (as well as funny, creative, and intelligent), she felt unable to make the comparison being neither a Meditation Teacher nor Jungian scholar. Hillman also felt meditation was beyond his scope of knowledge and at a loss for words to compare the two.
As the founder of MARC at UCLA (www.marc.ucla.edu) -- a center dedicated to teaching meditation and disseminating the scientific research around it (and a sponsor of the evenings' event), I didn't offer my thoughts during the Q and A session about the topic; at the time, they were not quite clear to me how best to describe it. The next day I awoke with greater clarity and here's my belated observation.
Let me preface this with noting that I am not a meditation teacher but rather a student of it and other tools for investigating the mind, including Jungian analysis.
1.There are many types of meditation; Hillman thought meditation was about 'clearing the mind' and while there are likely meditations designed for that purpose, many are not. At MARC we teach mindfulness meditation -- a practice of being present with experience in a curious and open way . Mindfulness meditation is a means of exploring the mind (not clearing it) and in this way, there are parallels between Jung's creation of the Red Book and mindfulness. One thing that may arise with practicing mindfulness meditation is that there is an increasing clarity of mind, a finer and finer ability to see the mind and understand the origins of one's thoughts, feelings, and sensory experiences; perhaps in that way one could say it is in some way a 'clearing' of the mind, but not by a process designed to 'empty' it.
Hunt described her meditation practice as 20 minutes or so a day of attending to her breath and then when her attention is pulled away from it (for a thought or feeling or sensory experience), noting that, and returning to the breath. It is this sort of practice that helps hone attention (both science and experience document this) and with time, the attention may become so stable and calm that one can begin to investigate the mind itself -- the sorts of things Jung describes in his Red Book. The practice is such that the objects of attention can change -- perhaps from a breath or body sensation to a thought or a feeling or the 'meaning' of the life and the mind itself.
The parallels to the process of writing the Red Book are many. I've heard that Carl Jung put himself into a transcendental state as he wrote his Red Book over the many years it took to do so. How he entered his meditative state is unclear (as far as I know) but he learned to explore his mind with in its process, and in that way, his exploration is not unlike an exploration of the mind that might arise using mindfulness meditation.
Hunt had read the Red Book and brought many quotations from it with her. In one she noted that Jung had said his journey would not have been possible without self-love; noting that brutal honesty in seeing our minds requires courage and kindness. As his Red Book so vividly displays, the characters of mind are diverse and uncovering the roots (potentials) for cruelty, evil, and other negative emotions requires a sense of self-love to allow their realization.
2.Mindfulness meditation -- no matter how described -- is only realized through a first person investigation. We offer free 30-minute guided meditation sessions at the Hammer Museum every Thursday over the lunch hour (12-1). Alternatively, we offer ongoing classes and workshops (fee based) at UCLA MARC (including on-line classes).
3.For a better description of the role of meditation in exploring the mind and its relationship to Carl Jung and the Red Book, you might want to come to the Hammer Museum for the last dialogue talk with Jack Kornfield (a leading mindfulness meditation teacher) and Katherine Sandford on May 28 at the Hammer.
Related