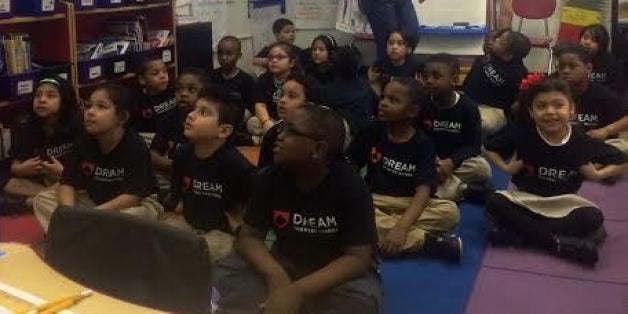 In cooperation with our longstanding partner Crowdrise, The Huffington Post is celebrating its 10 year anniversary by focusing on the promise of the next 10 years. We're highlighting causes that are near and dear to our ethos -- causes where we believe meaningful progress can be made in the coming decade -- and empowering readers to act and take part. Join us!
NEW YORK -- On a typical school day, the students at DREAM Charter School in Harlem don't return from recess to lessons in reading, writing or math. Instead, they walk up to the third floor of the cinder-block school building, enter a darkened classroom, lie down and belly breathe.
On a recent Tuesday, the 25 students in Kelly Baxter's first grade class listened to a recording of an Australian man who promised to take them "on a journey to the land of mindfulness." Following his instructions, they closed their eyes, took deep breaths, and pictured a glowing, colorful bubble moving through their bodies. "You've just put a big smile on your mind," the recording said, as the session ended and the lights were turned back on.
DREAM, which serves mostly minority and low-income students, is one of a growing number of American schools and workplaces offering training in mindfulness -- the cultivation of a focused, nonjudgmental awareness on the present moment, most commonly honed through meditation.
"When I first started doing it nine years ago, there were a handful of people figuring out how to take mindfulness practices and integrate them into school settings," said Daniel Rechtschaffen, a therapist, educator and author of The Way of Mindful Education: Cultivating Well-Being in Teachers and Students. "It's starting to become not just a strange sideline thing that only really progressive schools are doing."
Advocates cite stress reduction for students as a central reason for the shift. "We know that school can be a stressful place no matter what," said Eve Colavito, DREAM's principal. "Growing up as a child in East Harlem, where the poverty rate is extremely high, the asthma rate is extremely high and obesity rate is high -- in addition to the complications our families deal with as a result of living in poverty -- having a time to center yourself is important to allow our children to have access to learning."
Colavito said she has noticed that students are focusing more after being exposed to the new regimen. "When you've cleared your mind or gotten yourself centered," she said, "our engagement seems very high."
Such thinking has migrated rapidly to the American workplace, too.
When Janice Marturano, founder and executive director of the Institute for Mindful Leadership, began teaching workshops and retreats for business leaders almost a decade ago, she says, most people in the business world had never even heard the term "mindfulness."
But it has quickly become a major buzzword in the corporate world, with companies such as Google, Safeway, Target, General Mills and Aetna offering various forms of training for their employees.
"We need to make available to people a training of the mind that cultivates our ability to focus, to be more innovative and to embody compassion," Marturano said.
Aetna CEO Mark Bertolini offers his 50,000-plus employees such training, through free (and optional) yoga and meditation classes. The 13,000 employees who take advantage of the mindfulness classes have reported a 28 percent reduction in their stress levels and a 20 percent improvement in their sleep quality, in addition to an average gain of 62 minutes of productivity per week, according to company data.
It doesn't hurt that, with the extra productivity, Aetna earns an extra $3,000 per year for each employee who participates, the company estimates.
Mindfulness advocates stress that it's not all about the money.
"It's not that the next quarter's earnings aren't important, because they are," said Marturano. But "we need healthy, robust organizations that provide jobs for people. And at the same time, we need to help people to not feel like they live their work life on autopilot, just trying to make it through the day."
Here are more organizations that are battling stress and boosting engagement by bringing mindfulness into schools and workplaces across America.
Related