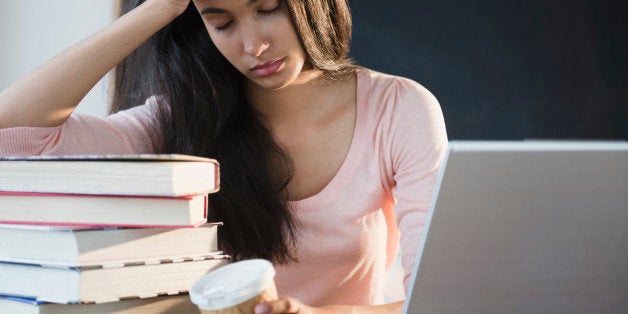 Do you ever have days when everything you do feels rushed or planned? Like you're on a constant shot clock from the time you wake up until you fall asleep late at night exhausted from everything you accomplished that day?
We've all been there - whether it's a race against that 11:59 p.m. term paper deadline, squeezing in a five-minute phone call with your mom while on the way to the next class, or estimating how long the Starbucks line will take this time. However, while having a booked schedule may give the impression that you're being productive, this overstimulation and constant feeling of "go, go go" has led to increasingly higher levels of stress among college students.
I noticed this in my own life last week when my mom encouraged me to visit the on-campus health center after I contracted a bad case of strep throat. My initial response was, "I don't have time."

"I had prioritized every other part of my life, and I just felt overwhelmed by my perceived lack of time."

I tried to justify to her that studying for a midterm, writing a sports article for the newspaper, and creating footage for a TV broadcast left me no time to take care of myself that week. Needless to say, she had no sympathy with this justification. I had prioritized every other part of my life, and I just felt overwhelmed by my perceived lack of time.
So, then, how does a busy college student slow down?
The University of Southern California has adopted one approach. It has begun promoting the practice of mindfulness meditation as a way to combat student stress. A campus-wide 'Mindful USC Initiative' was launched in Fall 2014 to emphasize stress reduction through mindfulness, a practice that "seeks to encourage participants to be aware of themselves and their environment in a way that leads to reduced stress and increased attentiveness."
Dr. Varun Soni, the Dean of Religious Life at USC, played a crucial role in the Initiative's launch. "I've been concerned over the past several years that many students who come into my office come because they are in crisis, they come because they are struggling and have mental health needs. As I talked to my peers in counseling, I realized counseling has also seen an uptick of students seeking mental health services," Soni said.
Inspired by his own personal experiences living as a Buddhist monk in college, Dr. Soni has helped bring the practice of mindfulness to USC. However, when introducing the practice to USC's campus, Soni decided to roll out the initiative from a strictly scientific and secular perspective. Resources are open to all USC students, faculty and staff and include mindfulness courses, meditation practice groups, free counseling and public programs.
"We were just trying to dip our toe in the water and see what the response was, but we were overwhelmed. We have not been able to keep up with the demand," Soni said. The list of thirteen programs offered just in the month of February was almost completely full. "They close within the first 2-3 hours of opening up," Soni said. "That's 400 people signing up per semester for a 5-8 week course not for credit or grade."

"While the full classes indicate that the Mindful Initiative is a success, the high demand illustrates just how widespread this stress epidemic really is on campus."

The mindfulness classes cater to the overwhelmed college student and are easily accessible. On the front page of the website, students can register for a single workshop or a 5-8 week class taught by certified mindful instructors. The best part? All the classes are free. "There's already enough stress about student debt. We didn't want students to worry over 'I want to do this class but can't afford it,'" Soni said.
USC student, Sarah Kane, speaks out on the importance of taking a timeout in college and prioritizing mental health. After struggling with stress in high school, Sarah trained in transcendental meditation, a practice that focuses on achieving a restful mind, in the summer before starting her freshman year at USC. "Taking a break more than once daily is really important, especially when you're stressed," Kane said. "However, I think a lot of people are hesitant of that because they think that they need to get something done right that second, when in reality, taking that extra breath will help you be more productive."
Dr. Soni has already started brainstorming ways the initiative can expand and become an integral resource to USC students. "People are using Mindful USC to the extent that they know about it or are able to engage," Soni said. "We need to do a better job providing mindful USC to all of our students."
There is clearly a strong demand on USC's campus for ways to alleviate stress, as evidenced by students making free time in their overloaded schedules to try out these new uncredited and ungraded workshops. While the full classes indicate that the Mindful Initiative is a success, the high demand illustrates just how widespread this stress epidemic really is on campus. The college high-achievement culture that fosters stress doesn't seem to be changing. Universities need to find new ways to provide students with resources and methods to help alleviate the increasing stress and anxiety.
This post is part of our series on sleep culture on college campuses. To join the conversation and share your own story, please email our Director of College Outreach Abby Williams directly at abigail.williams@huffingtonpost.com. And you can find out here if the #SleepRevolution College Tour will be visiting your campus, and learn how you can get involved. If your college is not one of the colleges already on our tour and you want it to be, please get in touch with Abby.
Related
Popular in the Community