As we end the back-to-school month there's no better time to learn about the program that's in its prime—Minds Matter.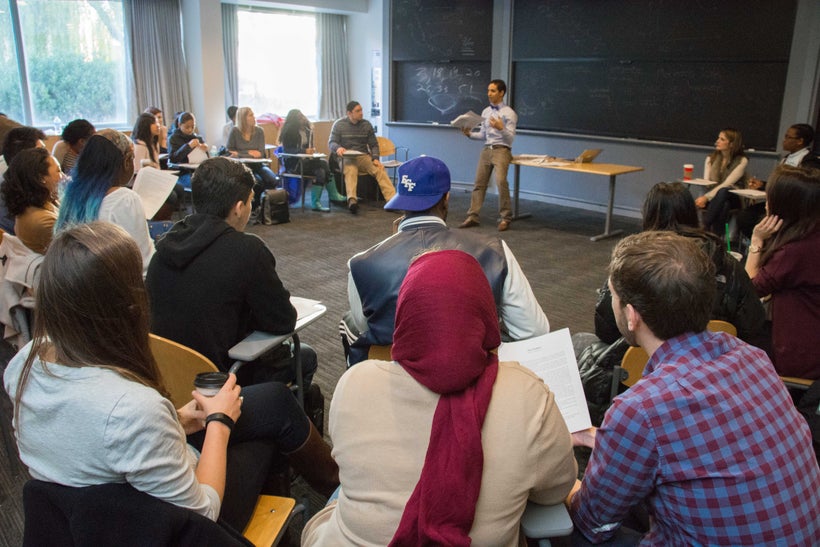 "We believe that any student dedicated to earning a college degree should not be limited by their socio-economic status," explains Rachel Kanter, the Executive Director of Minds Matter Boston.
The national, volunteer-based organization originated in New York, in 1991, with a mission to guide high-performing, low-income students through the college application process. Once a student is accepted into the program, they are assigned to their two mentors for three years of guidance and support to achieve their academic goals. This occurs through ACT preparation, general application and essay assistance, as well as the chance to participate in a number of community service roles. Along with character and classroom support, the mentees have access to tuition-supported summer programs at a variety of colleges and universities, and are encouraged to apply for scholarships to cover the majority of their post-secondary education.
Since Minds Matter opened its doors in Boston, in 2003, the chapter has expanded to include 17 schools throughout Cambridge and Greater Boston, offering, just last year, opportunities and motivation to 70 mentees throughout the Boston area.
Among this graduating class, the students had an average 3.7 GPA, yet, came from an average annual income of $25,000 with 68 percent of the class identifying as first generation college students. Rocio Pepen, from the Dominican Republic and Bilal Lafta, from Baghdad, Iraq represent two of these first generation, yet exceptional, college students that grasped the Minds Matter mission and realized their full potential. Both mentees graduated the program in May and began their freshman year at Brown University at the beginning of the month.
"I was lucky enough to interact with her [Rocio] at weekly sessions," said Minds Matter Board Member, Meaghan Mahoney. "She really was a leader in the class, but something that's unique is she's a silent leader. Letting others take the spotlight, even though she does a lot of the legwork to make sure everything goes smoothly."
"Bilal is an incredibly gregarious and confident young man with a savvy for networking and connecting that is well beyond his 18 years," Mahoney continued. "In fact, I can't imagine another freshman in college sending LinkedIn requests and updates on his first weeks at Brown to the board. I love it! It was clear what an impact the program and his mentors had on his life."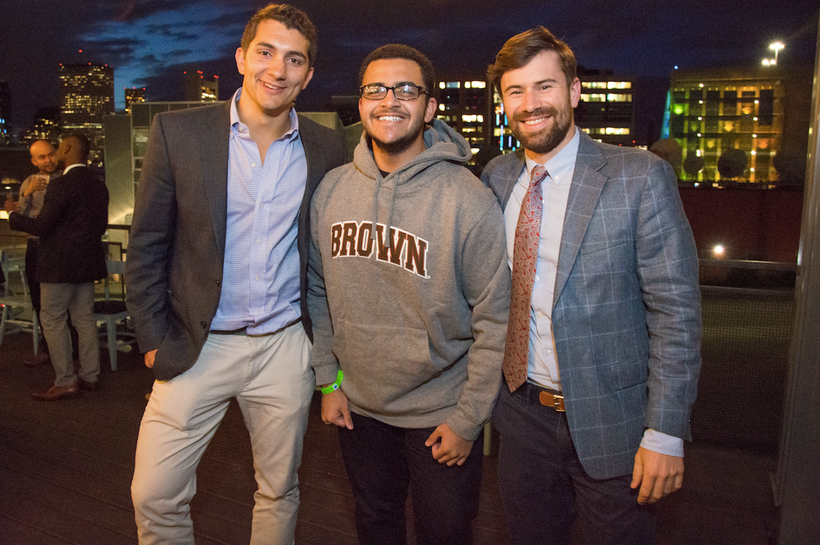 Growing up in Baghdad, Iraq, Lafta found himself in the midst of the conflict between Muslim Shias and Sunnis. "I lived in a society where marriages between different religious groups are not allowed and public education is not available to everyone," said Lafta, who remembers reading about the history of his country and learning why he was denied basic rights. "I found that Muslim scholars with my name—Bilal—were Sunni, while scholars with my brother's name—Haider—were Shia. My family had been separated because my mother is Shia and my father is Sunni." This separation is what ultimately forced the family to uproot and move to Boston, where the family could live under one roof and ensure the children received a fair education.
Similar to Lafta, Rocio Pepen came from a family looking to give their children opportunity. After living in the Dominican Republic until she was 7-years-old, Pepen's family moved to Boston and immediately entered her into an immersion program. "My parents always told me they were doing this for me so I started working really hard," said Pepen. "I would buy the English to Spanish dictionary and study really hard and I guess that's what built up my work ethic through the years; just knowing how much they sacrificed for me to be here."
As the oldest of their siblings, college became that aforementioned expectation, however, before the daunting college tuition, first came the research, standardized tests, essays and applications that neither Pepen, nor Lafta's family, were experienced with.
"I had parents who didn't know English and didn't go to college, and of course didn't know how the college system worked," said Pepen.
"I needed someone to guide me through the process," concurred Lafta. "I don't have any older siblings, I don't have anyone in my family that went to college."
As the two discovered Minds Matter through their high schools' resources and were accepted into the program, the college application process became manageable and navigable with mentors by their sides—Maxine and Jerek for Rosie; and Andy and Dan for Bilal.
"Having Dan and Andy as my friends really motivated me more because if I had them just as my "mentors," it would feel like a student-teacher relationship, where I am forced to do essays. But, it didn't feel that way," explained Lafta on the two mentors that kept him grounded during the most critical periods in his college application process.
"Bilal is such an outgoing, energetic guy that it was sort of easy from the getgo to have a working relationship but also a friendly banter," said Dan, a happy surprise to Lafta as he came back from the summer abroad program at Brown University, only to learn his new mentor, himself, had just graduated from Brown.
"It's great to have someone who has graduated from a college that you're about to enter," said Lafta. "It's a huge resource and I really, greatly appreciated it. And I'll still bother him about what's the best pizza shop nearby."
As the relationship evolved from mentorship to friendship, both Dan and Andy ensured that they remained, above all else, a productive and influential resource for their mentee. "I think it's important to establish somebody as a resource, who has been where you were, a few years prior," said Andy. "Mentors you can look up to are really useful throughout your life, so I hoped to serve that role for Bilal."
The three gentleman credit Minds Matter for the impeccable pairing of mentors to mentee, which is something that Rocio Pepen and her mentors can also attest to.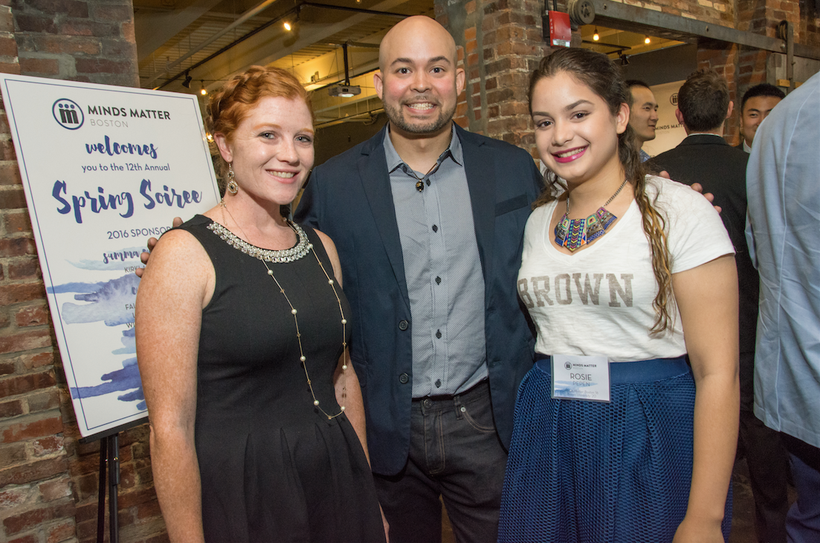 "I considered Maxine a sister," said Pepen. "It wasn't like she was telling me what to do, she was guiding me."
As captain of the volleyball team senior year and under pressure to apply for scholarships, Pepen experienced moments where she didn't think she could complete the essays and applications for college, let alone scholarship applications. "I think the way I was able to help her most was by knowing her and understanding when she was stressed out," said her mentor, Maxine. "Reminding her that everything would workout in the end when she was so stressed, while Jerek was able to help with the tactical things."
With an acceptance to Brown and as the recipient of the Gates Millennium Scholarship, Pepen looks to her mentors as the reason to why she's now able to attend the school she fell in love with. "At the beginning of our senior year, we had this activity where we had to solidify our college list," said Pepen explaining one of the standout memories she shared with her mentors. "I remember I kept lowering my standards and would take schools off. They [Jerek and Maxine] sat me down and were like, 'You need to realize how well you've done and that you can do more than you think you can.' They always saw so much potential in me and I would have never done it without them."
With Pepen and Lafta representing just two of the past year's 70 success stories, this academic year, both Meaghan Mahoney and Rachel Kanter are looking forward to welcoming their new, and largest class of incoming sophomores to date, as well as continuing to work with the program's existing juniors and seniors.
"We are incredibly excited to kick-off the 2016-2017 program year," Kanter beamed. "Minds Matter Boston is continuously striving to serve more students and deepen our offerings—and this year is no exception."
Calling all HuffPost superfans!
Sign up for membership to become a founding member and help shape HuffPost's next chapter
This post was published on the now-closed HuffPost Contributor platform. Contributors control their own work and posted freely to our site. If you need to flag this entry as abusive,
send us an email
.