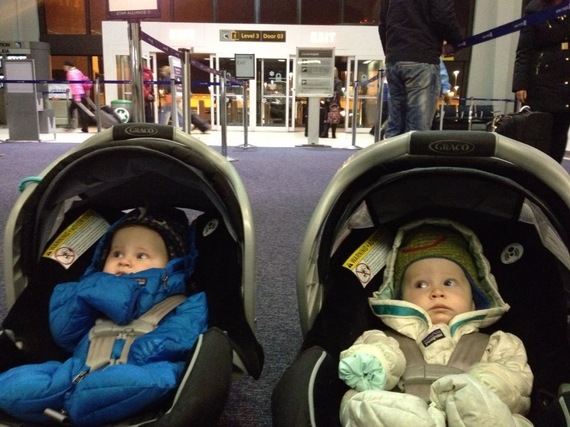 She said it like it was the Coachella set list being released: Zhi Yang, 16, high school junior at Thurgood Marshall in San Francisco's Bay View district said the most exciting moment in class this year was when she found out what books they were going to read in English class.
"I like English, but I'm not that good at it," she said humbly in sweatpants. It's the weekend, and she's spending it at Minds Matter in downtown San Francisco where she spends most of her Saturdays.
Minds Matter San Francisco is a non-profit of high achieving students from low-income families on the college track. Its peer mentorship and college prep started three years ago with its initial class of sophomores, 100 percent of whom are now attending a four-year university.
MMSF's mission is to be a catalyst for students' intellectual motivation. It fosters community and a place to dream, most importantly, to actualize those dreams, despite the many challenges urban SF offers in its less than fertile ground for college bound Millennials.
While the city by the Bay has been known for its progressivism, it's struggling on many fronts: its tenuous public school system, balkanized city politics, and a real estate market that galvanizes the highest bidder, kicking out its families who aren't privy to technocrats' economic privilege.
What's most impressive about MMSF's students is their sheer grit and ability to fight the odds. Grit, determination and resilience to overcome difficult circumstances, is a quality many college admissions counselors should consider more in its application review process.
Zhi, pronounced "Zee," is taking three science classes this year: Chemistry, Physics, and Biotech, along with Advanced Placement United States History, and Pre-Calculus. Holding a rigorous academic course load, she's also Junior Class President, cross country runner, football and baseball manager, and volunteers for numerous other organizations. Zhi doesn't get much time off, waking up at 6:30am and sometimes going to bed at 1 or 2am, depending on homework.
Last summer, she canoed 77-miles in Minnesota, and portaged, which was "the hardest thing I ever did," she said. Portaging is carrying a canoe on your shoulders, by yourself, Zhi noted, when you travel between lakes where there's a strip of land to traverse.
The litany of challenging courses and extracurricular seem to be the norm nowadays. Last year, the National Center for Education Statistics reported nearly 14.5 million undergraduates enrolled in a four year university, public and private schools combined. The numbers and competition aren't stalling anytime soon.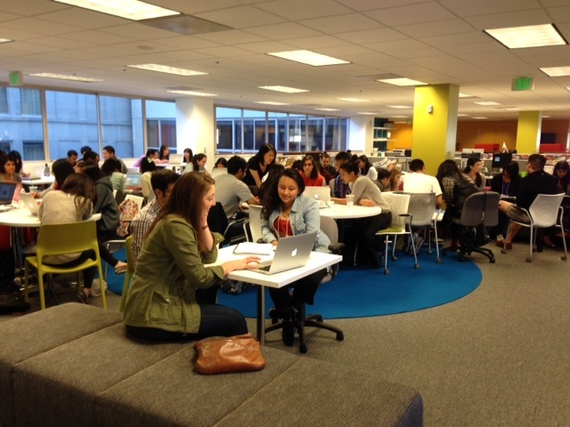 At MMSF, all mentors are volunteers, and the non-profit helps finance summer college programs and guide students through the college admissions process.
SF Chapter President Camille Merritt, a former Teach for America Corps member, admits, "As mentors, we often leave our students feeling inspired to get our lives together." Merritt's former mentee now attends UC San Diego, and was the primary caretaker of her little sister and translator for her non-English speaking family.
In the afternoon, small groups have Socratic seminars discussing articles from The New York Times or The Economist pulling a part the importance of scientific peer review protocol.
This isn't normal conversation amongst adolescents. That's probably because the mentees are high achieving paired with mentors who hold their students to an exceptional standard. What the students at Minds Matter SF share is a "get it done mentality." At MMSF, there's a tremendous duty to "set an example and be a good role model," Zhi said.
Part of the mentors' job at MMSF is to "celebrate the little wins," Merritt said, which helps with moral support. Adulthood comes quickly for many public school students in San Francisco.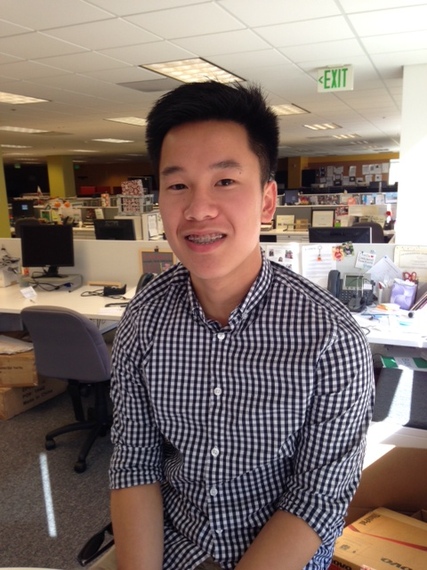 Leon Yuan, 17, senior at George Washington high school is reserved, wears a black and white gingham button up and pink braces on his teeth, which I presumed, honored October's Breast Cancer Awareness Month. He moved to the U.S. from Guangzhou, China, when he was 9, and felt, "completely lost," he said, "I couldn't communicate, it was a very slow process [becoming fluent.]"
"People who don't know me at George Washington probably think I'm an average kid just walking down the hall. GW is filled with Asian kids, and I'm just one of them. If you saw me without knowing me, you probably wouldn't think I'd be different," said Leon.
However, when I asked Leon how his close friends would describe him, he said one word: "Responsible."
Maybe it's because Leon's father passed away three years ago of lung cancer, and he began to tutor after school, giving up the option to play on the basketball team, to help him and his mom out financially. Leon also finds time to volunteer with Glide, helping the homeless in the Tenderloin, and spends time with his fellowship every Friday night.
Leon is particularly attune to education system, as a teacher himself; he doesn't like the how, "[his teachers at school] feel like they have this dominance over [the students]," dictating lessons. Rather, Leon is thoroughly engaged in Mr. Carl Ochi's economics class where they explore the philosophy of Adam Smith and supply-and-demand.
Leon admires how, "[Mr. Ochi] wants you to participate in class. He gives you this feeling that you want to discuss and he supports what you say."
"I didn't try in school until coming to MMSF," he said.
Though Leon associates feeling stressed with being productive, he knows that if he's busy he's working toward his goals, and he likes that. Last summer, he had the real college experience at UCLA where he took an Intro to Economics, a program shepherded by MMSF.
"I knew college was what you had to do, but I realized you have to get a college education to contribute more to society."
He lights up when he said he'd like to go to UC San Diego to study anything involving math, especially statistics because he likes using numbers to analyze things.
Minds Matter SF helps cultivate academic success and college acceptances for many first generation college students, sending and financing their way through summer programs, to help emulate the college experience, and then guide each student to write personal essays, fill out FAFSA forms, and finally "click the button," as Leon put it.
When I asked Zhi how she imagines college to be like, she simply said, "probably the best thing that will ever happen to me."
In San Francisco, a city that's pricing out its denizens with hiking rent and public school cut backs, Minds Matter SF is a refuge for the college bound whose work ethic will bring them closer to those college acceptances. The mentors are the volunteers and teachers saving the city by the Bay. Non-profits like MMSF are the remedy for San Francisco city programs that fall short.
REAL LIFE. REAL NEWS. REAL VOICES.
Help us tell more of the stories that matter from voices that too often remain unheard.