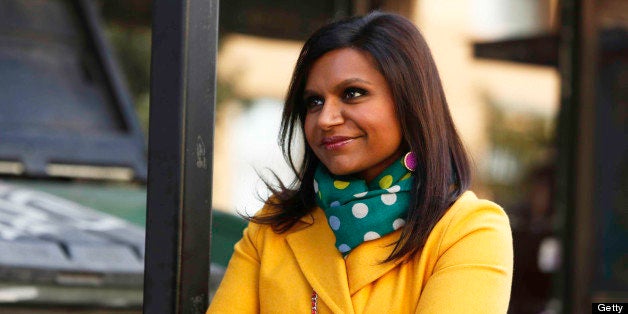 I was prepared to be outraged. As I listened to Aaron Paul and Neil Patrick Harris announce the Emmy nominations this morning, I didn't hear them call Mindy Kaling's name. Her Fox sitcom, "The Mindy Project," was one of my favorites of the past year, and her performance as Dr. Mindy Lahiri, an OB-GYN with a messy personal life, is hilarious. As Denise Martin at Vulture noted, Kaling has turned out to be a terrific physical comedian.
I went to the list to double-check that I hadn't just missed her nomination. Nope, not there. But then I looked at the nominees, and I stopped being upset.
Here are the actresses who got nods: Tina Fey, Laura Dern, Julia Louis-Dreyfus, Amy Poehler, Edie Falco and Lena Dunham. Admittedly, I don't know watch "Enlightened" or "Nurse Jackie" -- I know, I know, no need to make me feel guiltier -- but I've heard enough buzz about the shows and their leading ladies to know they deserved recognition.
So which actress would I would replace in order to include Kaling? I have no idea. And that is a good problem to have.
Diane Kruger, star of FX's "The Bridge" recently suggested that cable TV offers better roles to women than film: "From 'Mad Men,' to 'Homeland,' to Robin Wright in 'House of Cards,' those female parts are so well-written and unafraid ... I've never been offered an in-depth character like this in movies." Kruger mentions only dramas, but it seems this comparison extends to women in comedy as well -- on both network and cable TV.
The attention aimed at this summer's "The Heat" -- a buddy comedy starring Sandra Bullock and Melissa McCarthy -- and the discussion of whether anything will change in Hollywood indicate that it's still so rare to have funny women headlining a big-screen production. Meanwhile, we've got more comedic actresses getting laughs on TV than we have nominations to give out. As Paul Feig, director of "The Heat" and "Bridesmaids" said in January 2012, "TV is weirdly the place where women get to be equals."
"The Mindy Project" is only going into its second season, and I'm confident that Kaling will have her moment. (Two of her writers were nominated for their work on "30 Rock," so she'll surely have plenty of great material to work with in upcoming episodes of "The Mindy Project.") Given the awesome competition she faced, it's fine to think she was worthy of a nomination, but it's hard to call her omission a snub.
That doesn't mean I'm not hoping she will storm the stage with Zooey Deschanel and Melissa McCarthy.