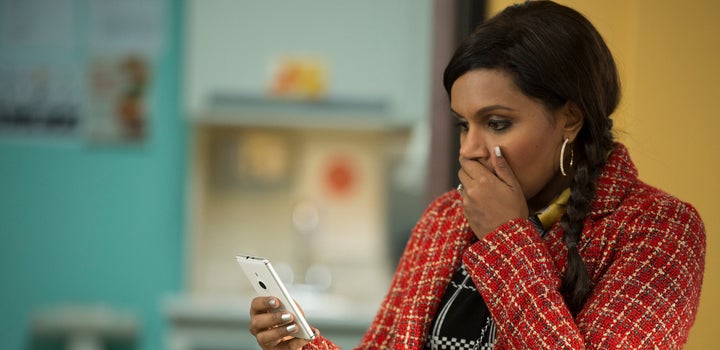 Mindy Kaling was built for a Reddit AMA. 
"The Mindy Project" star answered a wide variety of questions from inquiring Redditors Wednesday night. She talked love, life, her career and how she wants to hang out with Magneto. Kaling just released her second memoir Why Not Me?, so when it comes to fielding Qs about her personal life, she knows how to make us feel like she's talking to her BFF. 
Maybe that's her superpower.
Check out her top 10 AMA responses below:
"I want to be a Marvel character so bad. An evil one who hangs with Magneto."
"The worst date I've ever been on was with a guy who I was super excited about, really attracted to, and then on the date it became apparent that it WASNT a date. He was just a straight dude who was psyched to have dinner with me in a platonic way. He talked about an actress he really wanted to date and we split the check. Thus is dating in Los Angeles."
3. On her biggest inspirations for "The Mindy Project"
"Probably 'Pride & Prejudice' and 'South Park?' Bridge Jones a little. And of course I was inspired by the jokes-per-minute pace of 'The Office,' since that's where I worked for eight years."
4. On moving "The Mindy Project" to Hulu
"The show on Hulu has let the writers and cast create the best version of it. The creative freedom has allowed us to let moments breathe that we couldn't before, and tell stories that are closer to what I want to be telling. Craig, Mike, and our creative execs Brendan and Jessica have been terrific partners. I know saying 'terrific partners' sounds like I'm a robot programmed to say lame banalities, but it's true!"
5. On the probability of a "Broad City" - "Mindy Project" crossover
"I love Ilana [Glazer] and Abbi [Jacobson]. Nothing would make me happier than if Mindy was their gynecologist. Like, they found her on a Groupon."
6. On the biggest struggle in her late teens and early 20s
"My teens and twenties were really challenging. TV and film wasnt like it is now, where you could turn on the TV and there's a reasonable expectation that you could see people that bore resemblance to me. So I had to dream in a vacuum. I was never, ever, ever skinny, and therefore never considered 'pretty,' even though I loved clothes and makeup and dressing up. That was really hard in middle school and high school. I was always comforted by this strange little fire inside of me that when I got older things would not be like that. Some comfort, huh? It should be noted that I was a very focused, odd kid."
"This line, probably my most quoted lines ever, is 100% Paul Lieberstein."
8. On what scene from "The Office" she couldn't help but laugh through
"The Christmas episode where Michael asked Kevin to sit on his lap, and Steve had to pretend to be crushed under his weight. I think I'm laughing on camera."
9. On her feelings toward the "X-Files" revival
"Super excited. I was ADDICTED to 'X-Files.' Their episode 'Home' is the scariest hour of television I've ever watched. Then I saw Gillian Anderson (G-Money, as I call her) on 'The Fall,' and man, I loved that too. So I'm really excited. I hope Mulder and Scully do it."
10. On the Disney princess she identifies with
"I am no princess. I am Ursula the Sea Witch."
PHOTO GALLERY
Celebrity News & Photos
REAL LIFE. REAL NEWS. REAL VOICES.
Help us tell more of the stories that matter from voices that too often remain unheard.