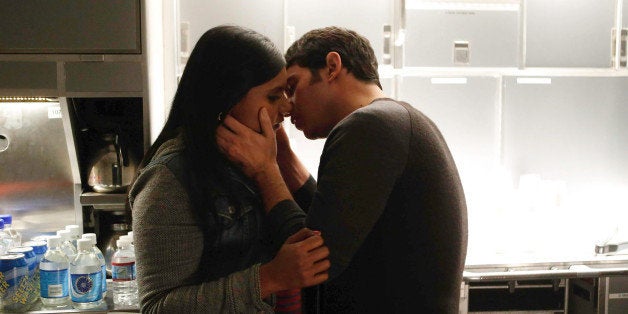 "Mindy Project" fans, we've got to talk about that kiss (again).
Yes, Mindy and Danny finally got their smooch on in the series' mid-season finale and -- spoiler alert! -- it was steamy.
The show is currently on hiatus, giving fans plenty of time to watch that final scene over and over while repeatedly muttering, "now what?"
According to Mindy Kaling herself, the drama is just beginning. Kaling, executive producer Matt Warburton and other members of the cast held a panel at Los Angeles' PaleyFest on Tuesday, March 25, where they discussed the big moment. Kaling noted that the kiss wasn't exactly a happily-ever-after, saying, "This was more an expression of passion and lust pent up than it was love and feelings." So what does that mean? "The fall-out is going to play out," she continued. "The last eight episodes build up like a roller coaster."
Warburton added that in the coming episodes, viewers would see "more bumps in the road" as Mindy and Danny navigate through uncharted emotional territory. Continuing the trend of emotional teases, Kaling posted an onset photo of herself and co-star Chris Messina (Danny Castellano) in bed together, so you know things are going to get even juicier.
So what's going to happen next? We have some theories ...
Possibility 1: Mindy and Danny engage in a hush-hush relationship. Everyone finds out.
This would obviously be a disaster. Morgan and Betsy would probably be ecstatic, simply because they love happiness, but Jeremy would undoubtedly find something to be disappointed about. Beverly and Peter would both be hilariously inappropriate regarding the whole situation, while the Deslaurier brothers would act insufferably judgmental.
Possibility 2: Mindy and Danny find themselves to be totally sexually incompatible.
If you're hoping for office tension, this would do it. Each would know a little too much about the other, which would definitely seep into their work lives. They would no doubt bump into one another at every turn, make accidentally awkward comments and generally be red in the face until someone else (we're guessing Morgan) figured something out.
Possibility 3: Cliff reclaims his love for Mindy ... in front of Danny.
There's no way Mindy would cast off Danny in favor of Cliff, right? Right. She was really intent on getting Cliff back before all of this, though. But what if Danny were to reveal that he wrote the apology letter? What if Mindy found herself unable to choose? This possibility simply has too many wild cards.
Possibility 4: Mindy and Danny decide to pursue a relationship. They immediately begin to royally irritate one another.
We can just picture the hilarious arguments that would brew out of everyday activities like trying to pick a film for movie night (because you know Danny doesn't want to watch her chick flicks), deciding where to order dinner from or planning weekend activities. There's simply no way Mindy and Danny could not to get on each others' nerves.
Possibility 5: Jeremy gets jealous.
It's a long shot, but Jeremy and Mindy did get it on early on during Season 1; he just wasn't interested in a relationship. It's plausible that seeing Mindy and Danny together could make Jeremy realize what he passed on, which would definitely result in some delicious office drama.
Possibility 6: Mindy and Danny fall in love, date, marry, never get sick of each other and live happily ever after.
Okay, so this is obviously never going to happen, but wouldn't it be great? Their children would be perfectly sassy, snarky and sarcastic. Sigh, we can dream.
What do you think will happen? Let us know in the comments below.
"The Mindy Project" will return to Fox on April 1.
REAL LIFE. REAL NEWS. REAL VOICES.
Help us tell more of the stories that matter from voices that too often remain unheard.
BEFORE YOU GO
PHOTO GALLERY
"The Mindy Project" Season 1