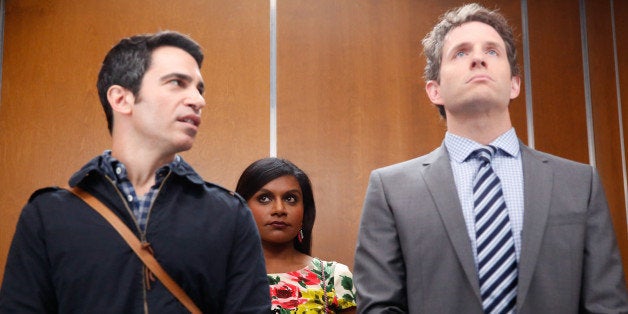 Now three episodes into Mindy Lahiri and Danny Castellano's relationship, the cat's come out of the bag.
On "Crimes & Misdemeanors & Ex-BFs," written by Matt Warburton, we catch up with Mindy (Mindy Kaling) and Danny (Chris Messina) as they run into the inevitable keeping-stuff-at-each-others'-places battle. In this case, it's a keeping-stuff-at-his-place battle since Danny keeps his place "tidy like a serial killer's lair," according to Mindy, and doesn't allow so much as a plastic bag containing a hairbrush and toothbrush to stay behind.
Of course, this is a metaphor -- in real life, most relationships would have already solved this problem by five months in -- as both Mindy and Danny are both forced to deal with a mess from their past they've been ignoring in this episode. While giving a presentation at the office, Mindy is served with legal papers and it is learned that she owes six years of back taxes, putting the practice in jeopardy.
The attorney Mindy hired to "take care of this" months ago turns out to be her ex Cliff (Glenn Howerton), who she (of course) cheated on with Danny. When she meets Cliff to discuss her tax issue, she lies and says she and Danny have broken up in order for him to take on her case. When she comes clean to Danny, he is initially upset but agrees to the temporary "fake breakup" for the health of the practice.
Cliff later reveals to Mindy that Danny is still legally married, and she confronts him about it, causing him to finally finalize the divorce -- a case Cliff also handles for the price of his beloved Yankee Stadium seat (which Mindy has carved "vintage curse words" into). After Cliff points out that none of Mindy's things are visible in Danny's apartment, Danny buys her a small pink dresser to keep (some of) her things in.
The best lines we can't get out of our head:
Danny to Mindy, about his Yankee Stadium seat: "Next to you, that's the most valuable thing I own."
Mindy calls the seat "that old bench I cut my toenails on."
Danny introducing his "loan" of a rolling suitcase for Mindy: "Ma got this for me when she sent me to divorced kids' camp."
Morgan (Ike Barinholtz), concerned about the post-meeting bagel supply: "He's just picking the seeds off! It was an everything bagel and now it's nothing."
Mindy to Cliff: "I've completely stopped eating as you can tell, I'm so thin. God, it's cold in here."
Peter (Adam Pally), about Lauren (Tracey Wigfield): "What happened with her and Jeremy? That was a crazy time! The leaves were changing, everyone was psyched about the new fall shows."
Beverley (Beth Grant): "Ain't a real kiss if it's above the belt!"
Mindy on Danny's claim that he cheated on her with a Knicks City Dancer: "More like you jumped at her from behind a bush, you pedo."
Danny: "Next time we break up, you be the Central Park perv." Mindy: "I can't, Danny, I'm already the Washington Square Flasher, I'm sorry!"
Lauren: "I'm sorry I couldn't get a sitter for Henry but Ethiopian food is basically baby food anyway."
Mindy: "Danny, I don't even know where a gym is!"
Beverley to Jeremy (Ed Weeks): "You seem happy, did your mom send you weird British candy?"
Cliff: "So you

are

still together with Mindy? Eh, I knew it. You know, my first clue was when Mindy posted a photo of you in the shower, hashtag #mysudsyboyflife." Danny: "I thought I saw a flash."
Mindy: "Wow, if I'm going to pay for national parks, I better check 'em out. What's that one called? Big Hole? Mount Facemore?"
Danny on the pink dresser he bought Mindy: "I got it at some girl boutique called Isabelle's Attic. The lady's cat was all over me." Mindy: "You met Doily?! If she likes you, that's huge!"
The highlight reel:
Danny still calls CDs "compact discs."
The noise of the squeaky wheel when Mindy wheels the rolling bag out of Danny's bedroom.
Danny and Mindy once had sex in a wax museum.
The return of Mindy's very strange brand of Republicanism, complaining about "PBS lining Laura Linney's pockets" and carrying a Sarah Palin book on her: "She's not just a politician, Danny, she's a wife, a mother and a hunter."
Danny invites Mindy to the bedroom for "folding socks and watching JAG."
Danny wants Mindy to dress up like Rizzo from "Grease." Or Frenchie will also do.
Danny: "I like watching your tush when you work out. It's like it's saying, 'Oh my God, I hate working out. I'm shrinking.'" Mindy: "OK, my butt does not sound like Fat Marlon Brando." Danny: "I know what your butt sounds like, don't tell me.
Lauren's son Henry is the cutest toddler ever.
Mindy wears men's deodorant.
Danny lounging on the couch wearing socks with sandals.
Peter's TERRIBLE/amazing "British" accent he uses when he calls Lauren's office impersonating Jeremy. It somehow fools Morgan.
Danny's ugly-cry face.
Mindy spent more money in July of last year on emojis than rent.
Once the INS found out Jeremy was "rich and white," they lost interest in possibly deporting him. Pretty much.
Mindy considers her personal brand to be "sassy but bangable brat."
Danny's closet is pretty much already full with his pressed jeans.
This moment:
What was up with..
How was Mindy getting ready when staying at Danny's place without any clothes or anything besides what fits in her purse there? We must know her secret!
Where's Tamra (Xosha Roquemore)?! Last week Jeremy was M.I.A., and now this. Don't play with our heart with these one-episode (we hope) disappearances, Team Mindy!
The elephant in the room is obviously the question of when (and if) Danny and Mindy will move in together. Over/under on how many episodes before the conversation happens? And who will propose it?
"The Mindy Project" airs on Tuesdays at 9:30 p.m. EDT on Fox.
REAL LIFE. REAL NEWS. REAL VOICES.
Help us tell more of the stories that matter from voices that too often remain unheard.
BEFORE YOU GO
PHOTO GALLERY
We ♥ Mindy Kaling