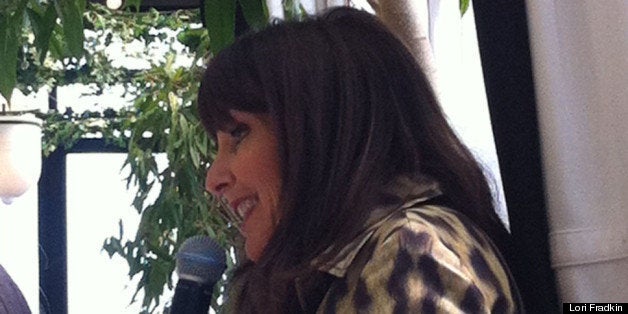 There's no official rule about adding "to the stars" to your title. Personal trainer to the stars. Caterer to the stars. Hairstylist to the stars. We've seen them all. But some names come up so often and in connection with so many stars that you just know they're the real deal. Wedding planner, Mindy Weiss, who counts Ellen DeGeneres and Jessica Simpson among her clients, is one of these people.
So when HuffPost Weddings got an invitation to have lunch with Weiss, an event hosted by Perfect Circle jewelry insurance, we RSVP'd with an enthusiastic yes. Though not every couple has the budget of, say, Gwen Stefani, another star who's worked with Weiss, the planner offered a lot of advice that can apply to any wedding. Here are 15 takeaways:
1. Rose-gold and yellow-gold jewelry is very in. Weiss was surprised when her daughter-in-law wanted a rose-gold wedding band, but now she's realized that it's on trend. "It's very cool, it's original, it's self-expressive," she said.
2. Creams and greens are the hot colors right now. Though she's still seeing lots of lavender, Weiss is noticing an uptick in pistachio bridesmaid dresses. She wonders if this has to do with the Pantone color of the year.
3. Engraving is back. Though letterpress isn't out entirely, engraving is popular once again. Weiss says gimmicks are fine for the save-the-date, but couples are going the classic route for the actual invitation. That said, more and more save-the-dates are being sent by email, a good way to save money.
4. "Lighting is out of control." Weiss says people are getting a little tired of chandeliers and looking for more interesting fixtures.
5. Lace is here to stay. Weiss likes either just a touch of the material or a ton of it. She's particularly excited about one over-the-top idea: "We are draping a whole tent in lace."
6. Rehearsal dinners should be fun and casual. Why should guests have to get dressed up two nights in a row? Weiss suggests something more low-key for the rehearsal dinner and mentioned Mexican fiesta and Italian family style as possibilities. "I theme everything," she said.
7. "The candy shop's going away." As pretty as these displays are, Weiss isn't doing them as much anymore. Instead, couples are opting for other old-fashioned desserts like cookies or Rice Krispies treats. "No one's doing fancy desserts."
8. Couples are more willing to skip videography and cake cutting. Weiss disagrees with both of these decisions. She's had brides and grooms tell her they don't even eat cake. Her response? "Just cut the cake."
9. Brides are carrying purses. Well, not necessarily carrying them. Weiss is the one who often ends up holding the handbag. Still, inspired by the looks on the red carpet, more women are deciding they need this accessory.
10. Many women are still buying two dresses. Weiss isn't opposed to different outfits for the ceremony and the reception, but she does think brides are changing too soon. She says they should stay in their gowns for at least the first dance and the cake cutting. She adds that grooms are also changing from tuxes into nice suits.
11. Tables should have lots of low flowers. Such arrangements help create a sense of intimacy, so guests don't have to talk around the centerpieces.
12. An empty chair is a good way to honor the deceased. Weiss thinks this tribute, combined with a mention from the officiant, is better than writing "the late ..." before the person's name on the invitation.
14. Artsy photographers are getting into the wedding business. Their style is "great for about 10 pictures," Weiss said. "[But] you still need Grandma ... it's not just a picture of the shoes." She says these photographers need to learn the important shots to take as they expand into this area.
15. DJs are becoming increasingly cool. If you don't have one at the reception, you may want to hire one for later in the evening. Because as Weiss says, "Everyone has an after-party."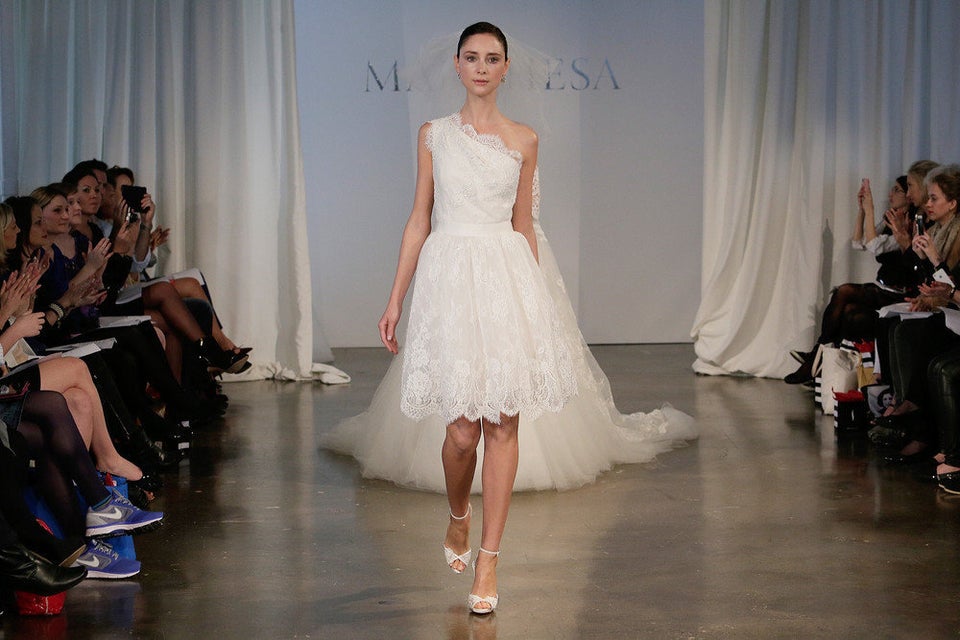 Spring/Summer 2014 Wedding Dress Trends