On April 4, advocates and observers around the world will mark another International Day of Mine Awareness and Assistance in Mine Action. Much has been accomplished since humanitarian landmine action came to the global agenda -- hundreds of millions of dollars have been committed to clear millions of acres in thousands of communities. As we mark this day, it is important to reflect on the vast number of people we will never meet who are the very real beneficiaries of this effort.
Yet two countries where this day could have special meaning are closed to the global community by conflict and unrest. For conflict survivors in Burma and Syria, where landmines are still being used, April 4 will pass with little recognition and even less change. Beyond new contamination from landmines and explosive remnants of war, populations in both countries are endangered by the long legacies of conflict. The voices of survivors are a unique opportunity for development and growth.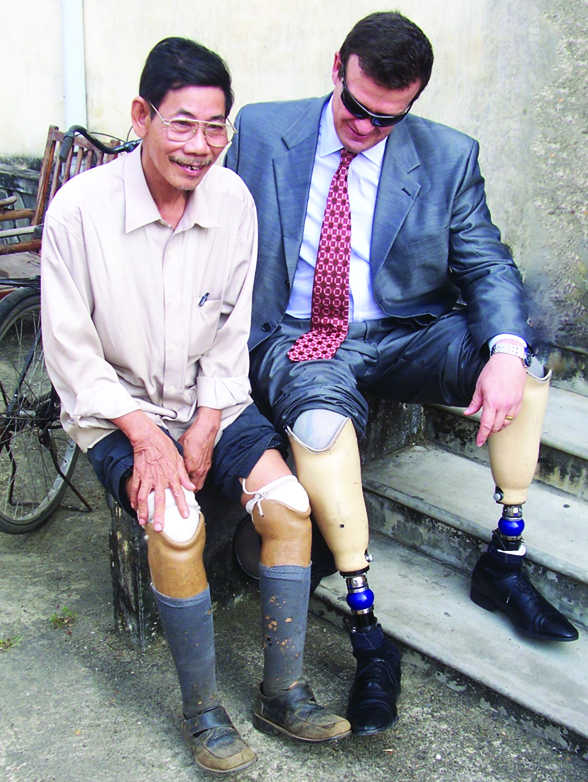 Dr. Ken Rutherford compares prosthetics with a patient at Prosthetic Outreach Mission in March 2012. Photo courtesy of Ca Tran/VNAH
As the survivor of a landmine accident, I can attest to the central triumph of the Antipersonnel Mine Ban Treaty (commonly called the Ottawa Convention) -- above and beyond stigmatizing and eradicating AP landmines, the treaty incorporated the voice of mine victims into its requirements, guidelines, and language. Survivors were critical to driving the agenda, changing opinions, and seeing the treaty through.
When the global community met to begin the discussions that led to a similar ban on cluster munitions, survivors played an even larger role. With the banner, "Nothing about us without us," we lobbied for increased protection of victims and their families. So it was with global discussions of landmines and cluster munitions, and so it must be for all conflicts.
This must not be another day marked by another spate of press releases -- this day calls for action. The global community has the opportunity and responsibility to assist all victims of conflict. The United States, along with Burma and Syria, is not yet a State Party to the Ottawa Convention. Although the current US policy is being actively reviewed, we cannot wait for policy to drive progress. As Burma and Syria evolve, we must anticipate a day when the idea of a just and prosperous future is available not only to the abled but also the differently abled.
The landmine that took my legs was indiscriminate. It easily could have taken the legs of my Somali driver, another passerby, or a child -- that an American aid worker should be injured was secondary to its function. The conflicts in Burma and Syria will be similarly callous, scarring the abled and disabled in ways we can see and ways we cannot.
As we mark another day for mine action awareness, we must be more active than aware for survivors in Burma and Syria. Before they call, we must answer and while they are yet recovering, we must hear.
Ken Rutherford, Ph.D., is Director of the Center for International Stabilization and Recovery at James Madison University. He was a co-founder of the Landmine Survivors Network and was a leader in the Nobel Peace Prize-winning coalition that spearheaded the 1997 Mine Ban Treaty and the movement that led to the 2008 Cluster Munitions Treaty.
Popular in the Community